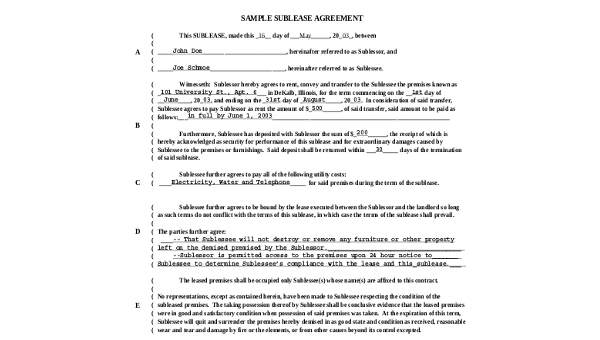 Subleases are distinct from regular leases, and any Agreement Forms concerning subleased property should reflect this. Lease contracts are signed by the original owner of a property and a (first) tenant. This tenant might then become a landlord and sublease the rented property to another (second) tenant. This system also works for equipment and vehicles.
If you're leasing a vehicle, or a residential or commercial property, and you want to legally lease it to someone else (perhaps to help you pay the original lease fee), you will find these free samples useful in drafting a sublease agreement form.
Sublease Car Agreement Form Sample
Sublease Rental Agreement Form
Free Sublease Agreement Form
Commercial Sublease Agreement Form
Sample Sublease Agreement Form
When to Sublease
It is often the case that the original lease holders will sublease or sublet a property or part of it to a subtenant. This may be done for a number of reasons:
in order to help them earn money through rent to pay the owner for the head lease.
to take over in payments and maintenance of the property while the original tenants are away during the lease term (e.g. on a vacation).
The subtenant has to, by contract, comply with the usual lease terms as stated in the sublease contract. But ultimately, only the original (first) tenant is accountable to the owner for the full payment and maintenance of the head lease.
Note: Subleasing – or subletting – is different from reletting. Reletting is when the original lease holders void their contract to bring in a new tenant who will then alone become fully responsible for that contract.
Naturally, these sublease agreement forms will differ from our other Sample Standard Lease Agreement Forms.
If you are looking to draft a head lease, you might be interested in our collections of free Sample Basic Lease Agreement Forms. Knowing about subleasing, however, could help expand your rental business options in the future if needed.
Here we have provided a series of sublease agreements for various situations, both residential and commercial, as well as for subleasing a car. Feel free to download as templates or points of reference.
Sublease Apartment Agreement Form
Generic Sublease Agreement Form
Office Sublease Agreement Form
Sublease Agreement Form PDF
Additional Resources for Landlords
You can find many more examples of Sample Sublease Agreement Forms here on SampleForms.com, if that's what you're looking for. If you are a landlord, however, you will want to search our archives for these helpful contracts:
Rental Applications- This will allow you to have a more standardized format for the process of selecting tenants.
Room Rental Agreements- Contracts for when you rent out a room to a tenant, instead of a large residential unit.
House Lease Contracts- Used if you want to rent out a residential building.
Short-Term Rental Agreements- Can be used when you are running a rental during summer vacation or if you are running a bed and breakfast.
Extension Forms (Lease Renewal Forms)- If your contract has a fixed contract, you can use this to extend your lease before it expires.
Eviction Letters and Notices- If you need to evict a tenant due to proper and reasonable grounds, the use of these forms are important to document such notice for legal and practical reasons.
Lease Termination Agreement- The final legal step to vacating the unit.
SampleForms.com is your one pit stop to getting professionally drafted sample forms for free download on these and many other business topics.