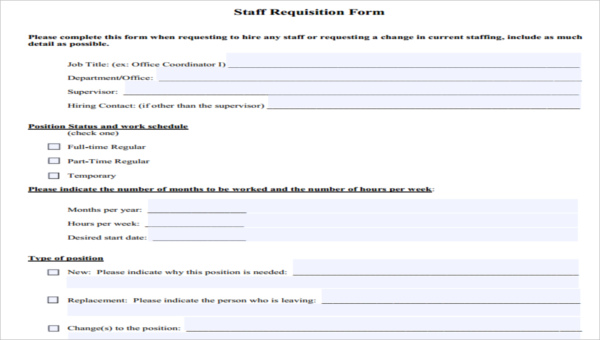 A requisition is something you make in the event that you need something. Let's say a person uses a custom requisition form for a t-shirt, that person is able to make any kind of request on a custom made shirt.
There are so many uses of requisition forms, but just because these people make these requisitions does not mean that they'll be accepted or authorized. They'll have to be properly authorized before they can be taken into serious consideration.  which is why these forms have to be requisitions have to placed in forms and properly assessed before they're accepted.
 Job Posting Staff
New Staff
Staff Purchase
Staff Employment
Staff Personnel
What is a Staff Requisition Form?
Think of these forms as purchase requisition forms but instead of making a formal request as to what you need to be purchased, your asking that you have more positions to be opened so more people can work. It's always used every single day by lots of companies and organizations because there's always a need for people to hire. So, in the event that you need someone to take up a role that somebody else left, or just to fill in a spot that requires a certain profession, then use these forms.
The Purpose of Staff Requisition Forms
The main purpose of a staff requisition form is to make sure that you get the right kind of person for the right position. Supervisors in charge of certain departments always have to see who they need to improve their work progress, which is why they use these forms to request certain positions to be opened, and state the kind of job that the position entails. They'll also have to state the necessary qualifications as to what the applicant should have. If you need to know more, then there are a lot of requisition form examples for you to check out.
Sample Staff Requisition
Staff Position
Staff Recruitment
Field Staff Requisition
Top 10 Tips for Attracting The Best Employees
It's always tough finding the best of the best, but here's some tips on how you can get them:
Make sure that you, as an employer, have a great reputation.
Show your benefits in a way that will entice any applicant
Try to have your employees involved in the recruitment process by referring as to who's a good fit for the job
Always check references from any source to see how many people recommended the applicant
Try to advertise your business in a way that shows how great your company is
Try to make sure that you pay more than what other companies offer
Get one of the smartest applicants with a lot of experience
Always try to get the ones who meet the qualifications or exceeds them.
Make sure that you extend your reach when recruiting, like involving others who are already employed into getting interested in your company
And always give out information that will hook in the best employees.
If you're going to be using employment requisition forms, you'll have to make sure that you know what you want so you can properly ask for it. Like when you use lab requisition forms to ask for lab results or materials, make sure that you use employee requisition forms to get only the best kind of workers.