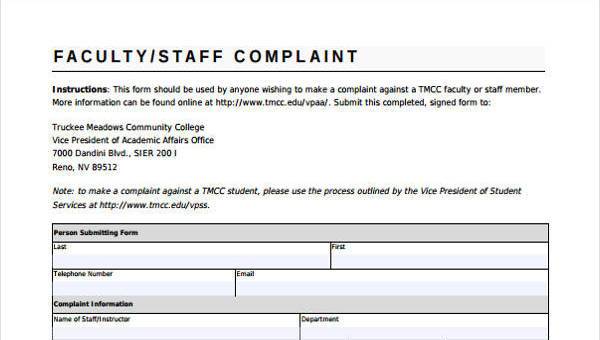 Every single day, people get up and make their way to their jobs. They get to their office and perform the job that they were hired for, in order to earn the salary they need to continue living their everyday lives.
However, what if there are things in the workplace that hinder their performance? This could be an unruly coworker or even faulty machinery.
This is when they use Staff Complaint Forms, so that these issues may be addressed and the higher-ups might just consider taking action to address these complaints.
Employee Complaint Form Example
Harassment Complaint Form
Participant Complaint Form Sample
Staff Complaint Form in PDF
Civil Service Complaint Form
The Different Types of Employee Complaint Forms
There are lots of Employee Complaint Forms that address the different kinds of issues that happen to the staff within the company. Here are examples of the different Official Complaint Forms that employees can use:
Discrimination Complaint Forms are used by employees who have undergone racial or even religious discrimination within the workplace from either their coworkers or even their higher-ups.
Harassment Complaint Forms can be for both male and female employees. These forms are used by those employees who have experienced verbal or even sexual harassment from coworkers or their higher-ups.
Civil Service Complaint Forms are used by those who wish to complain about the different professional branches of government offices.
Nursing Home Complaint Forms are used to complain about the different aspects of a nursing home. These can be used to complain about some of the residents who reside in the nursing home, or it can even be used to tackle the issue of some of the employees not performing their duties well.
Internal Complaint Forms are used by employees who have undergone a variety of harassment, discrimination, and even abuse and would like to make a case out of it.
Discrimination Complaint Form
Faculty Staff Complaint Form Example
Internal Complaint Form
Nursing Home Complaint Form
Staff Complaint Form in Doc
The Importance of Using Staff Complaint Forms
No matter how well a company owner thinks he knows about the business and his employees, there are details he may miss, and unfortunately those tiny bits of information are often the ones they can least afford to overlook. That's why smart business owners set up a formal mechanism for employees to report problems, whether the complaint happens to be with one of their managers or even their own coworkers.
These allow company owners to figure out the kinds of problems their employees have undergone. Some employees might be continually discriminated against for their beliefs or race. Some might even be physically assaulted by their own workmates. Or it could be that the equipment in the office is too obsolete to perform the necessary tasks for the company.
All of these things should be addressed if business owners want to make sure that their business stays alive and successful.