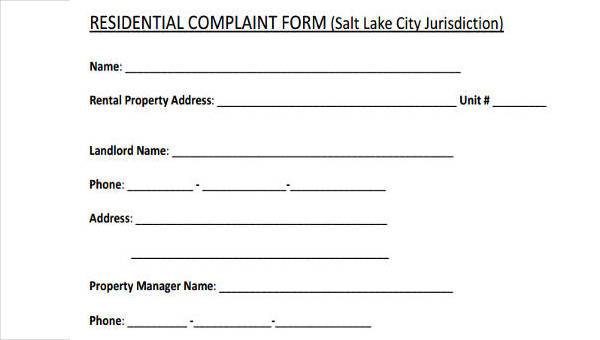 In the event that one resides as a tenant in certain establishments, they might happen to chance upon certain factors that may ruin their living conditions. And these factors can be anything from maintenance problems, or even unruly neighbors which disrupt the peace.
So when these issues arise, these people need to consult with their landlord as to what these issues are, as well as what can be done to ensure that these issues or resolved, or at least looked into. However, these people need to state what exactly the problem is, and they have to be properly documented to be fully considered by the landlord.
A way for them to do that is by using the proper residential complaint forms.
Residential Services Complaint Form
Residential Accommodation Complaint Form
Residential/Business Complaint Form Sample
Residential Rental Complaint Form Example
First Service Residential Complaint Form
Types of Residential Complaint Forms
Think of these as customer complaint forms but instead of customers complaining about products or services, these are tenants having complaints on issues that's disrupting their living conditions. So in the event that these tenants need to make any form of complain, they can turn to these forms to help them out.
There are lots of different types of these forms and here are some examples of some of them:
Residential noise complaint forms are the kind of forms that are made use by tenants for when they need to file a complaint against noises within the building. The people using these forms will have to state descriptions as to where the noise may be originating from, as well as the cause of the noise.
Residential/farm assessment complaint forms are used on those residential areas that compose of farms. These are for when proper evaluations were done and that the people that reside in that place have certain problems that were found during the assessment.
Residential student complain forms are mainly used by those students who decide to take up residency within school dormitories or other establishments which house students. These forms allow these students to raise their concerns on problems regarding their residency which may  hamper their educational progression.
Residential Noise Complaint Form
County Residential Complaint Form
Residential/Farm Assessment Complaint Form
Residential Student Complaint Form
Residential Complaint Form Example
Residential Complaint Form in Doc
Importance of Residential Complaint Forms
In every establishment, there will always be official complaint forms that can be used by those who have problems. And there are new problems that arise as time passes.
While most people see these forms as a negative, these forms can actually benefit establishments. By knowing the source of certain problems, the owners of these establishments are able to look into them and provide the necessary actions to resolve them as quickly as needed.
These forms benefit both the people taking up residency and the owners of the establishment. The tenants who made these complaints will be able to let their landlord know of these problems in the hopes that they are immediately seen to. This can promote communication between both parties as well as improving the quality of the establishment.
These are very helpful from preventing certain problems from growing and getting out of hand. So in the event that you have found issues within a building that you reside in, then make good use of these forms to aid you.