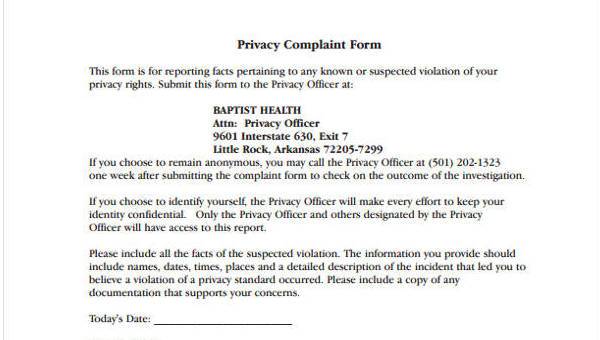 There are certain information that some people just don't want others to figure out. They have to make sure that all confidential information is secured and for their eyes only, or at least for the eyes of those people they deem trustworthy.
However, what if someone was able to gain access to that information without permission? Or what if there are some employees who publicly display a client's confidential information?
There are  Privacy Complaint Forms that allow people to make sure that companies know that they've violated the privacy of their own clients.
Health Information Privacy Complaint Form
Privacy Complaint Form in PDF
Request for Privacy Complaint Form Sample
Data Privacy Complaint Form Example
Transport Privacy Complaint Form
The Different Types of Privacy Complaint Forms
There are various ways for a client to address the possibility that his or her private information may have been mishandled by a certain employee or even by the entire company. Here are some forms that allow clients to tackle these issues:
Patient Privacy Complaint Forms are forms for when a patient's medical information or any other personal information was not properly protected.
Customer Privacy Complaint Forms are used when specific customers, such as those online, have their information stolen and used against them, such as in a breach of a customer's credit card information.
Privacy Violation Complaint Forms are used in cases where information such as a person's financial information has been breached. These are when people take action by complaining to a government body.
Health Information Privacy Complain Forms are used by those who have had their health information accessed by unwanted people, especially if those people aren't doctors or nurses.
Request for Privacy Complain Forms are used by those people who have had their personal or even private information continuously breached and that they would like to request to have it all secured.
Data Privacy Complain Forms are for those office workers who have had important data, such as company sales or employee salary information, mishandled by others and would like to file a complaint to their higher-ups.
Patient Privacy Complaint Form Sample
Free Privacy Complaint Form
Privacy Violation Complaint Form
Printable Privacy Complaint Form
HIPAA Privacy Complaint Form
The Importance of Using Privacy Complaint Forms
Privacy helps individuals maintain their anonymity and individuality. Some people have information that they just want to keep to themselves. If they do need to share it with someone, then it has to be with authorized government officials or those licensed to handle such information to make sure it doesn't go public.
Should their privacy be accessed without their permission, this is when these forms come into play. They have to make sure that companies know that their information is being leaked and they should expect immediate action regarding that issue. Otherwise, it could take a turn for the worse and it might prompt the client or customer to take legal action against the company.
So companies just have to make sure that whatever confidential information they receive stays confidential.