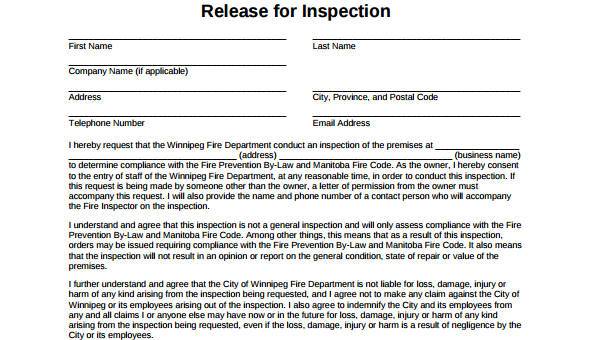 In releasing a formal note for documentation concerning an ongoing case or an agreement, you must present a disclosure of the terms and conditions made beforehand. This is usually made when you need more time to accumulate enough money to pay off your debts or loans.
You will be able to clearly state your reason on paper to ensure the company or person you lent from that you should be able to pay them back at a specified date. See our Release Forms below.
Promissory Note Release Form
Inspection Note Release Form
Third Party Inspection Release Form
Bond Release Request Form
Inspection Release Note Form Example
Aside from promissory notes, these forms are also used to release copyrighted material that might need permission before publication. These will also state your purpose and reasons as to why you want to release a specific item to the public. It is basically asking for permission to do a specific action in order to avoid legal actions against the people whose names are indicated in the agreement. This means that you will be able to publish a couple of photographs with full legal consent from the artist.
This also covers different instances that need to be published like inspection notes in order to show the higher-ups. It provides the information you need and it will also serve as proof if there is a need to review it on a future note. These forms will help you organize the entire record of the company or business involved if there is a time needed to review it again.
Why is it important to keep written records?
This serves as proof for when there are moments you need to show a hard copy to prove there was a breach in the agreement. It also keeps the parties involved in the agreement secured throughout the whole duration of the project. See also Model Release Forms.
Project Note Release Form
Common Spot Note Release Format
Product Note Release Form
Note Release Form Sample
Note Release Form in Doc
But also keep in mind that not all notes are available for publication. Some might rather offend the people involved in the incident if ever the file is published. Through these forms, you will be able to justify your reasons for publishing private articles and set out terms and conditions with the private individual involved.
Why are Medical Records Release Forms important in a study?
Aside from asking permission about publicly showing their personal details and using these for medical studies and such, these are also used as proof that there was an agreement that allowed you to use their information for your research. These also secure both the parties involved in the agreement and make it easier for investigations if ever push comes to shove.
These are also ideal for those who want to use certain brands or products in a mass media project like film or even photo shoots. It is important to ask their permission first before doing your project in order to avoid legal difficulties in the future or during the duration of the project.