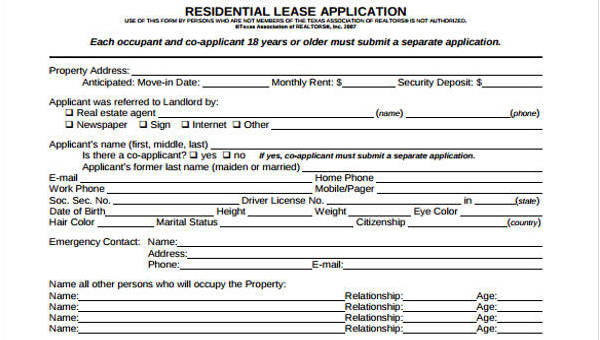 Leasing something means a person allowing someone else to use his or her property in exchange for compensation, usually money. There are some who can't afford to buy certain things such as a house or equipment, which is why they do the next best thing and rent them instead.
However, the agreements made for these leases must be placed in the right kind of documentation. A client would not want to lease anything unless they know all the important details and agreements that need to be made, and to make sure that they're official.
So what can guarantee that these leases are official? Well, one of the things that can do that is through the use of Lease Application Forms.
Residential Lease Application Forms
Residential Rental Lease Application Form
Free Residential Rental Lease Application
Commercial Lease Application Forms
Commercial Property Lease Application
Commercial Real Estate Lease Application
Commercial Lease Application
Commercial Lease Application Form
Rental Lease Application Forms
House Rental Lease Application
Blank Rental Application
Sample Lease Application Forms
Residental Lease Application
Commercial Lease Application
Why People Tend to Lease Their Property
People have their own reasons as to why they would put up any of their properties up for lease. Some might do it because they plan on opening up a business that leases certain equipment and others might do it simply because they have more than one of a certain thing and they can lease it out for another easy source of income.
And for these people who are leasing these properties out, they will have to let their clients use these Lease Application Forms so that they'll know what it is they want to lease, why they want to lease it, and the duration of the time they'll want to use whatever it is they need or want. So if you plan on leasing anything out, make sure you use these forms to your full advantage.
The Different Types and Purposes of These Lease Application Forms
There are many varieties of these types of forms, such as Commercial Lease Application Forms, that just about any person can use in the event that they want to apply to a certain business on the things they need to rent. Here are some examples of these kind of forms.
For Residential Lease Application
Residential Lease Application Forms are used whenever someone wishes to apply for any kind of residential property that they would like to reside in. Some people cannot afford to buy homes, so they decide to rent out places such as rooms, apartments, or a condominium. With a variety of possible places to live in, one does not experience a shortage of choices.
However, they cannot do so unless they fill out these forms with the necessary information such as their name, address, social security number and so on. And they'll also need comply with the needed requirements and agreements before they can start living in these residential properties.
One example would have to be paying the necessary amount for a security deposit as a kind of insurance that these people will comply with the agreements. So if you want to apply for that nearby apartment you found that you think can provide you with the living arrangements you need, then make sure to take a good look at these forms first before you do so.
Lease Credit Application Forms
Commercial Lease Credit Application
Business Lease Application
Lease Credit Commercial Tenant Application Form
Property Lease Application Forms
Commercial Property Lease Application
Residential Lease Application
Lease Application Forms
Consent to Lease Application
Printable Commercial Lease Application
For Rental Lease Application
House Rental Lease Application Forms are used by those people that have a desire to lease out specific homes. As much as everyone would like to buy a house, the economy today makes it harder for everyone to do so. Which is why there are those who opt to rent these houses instead. Before they can do so however, they'll need to use these forms to hand out the necessary information in order to apply for any home that they either need or want.
Such information would include the person's name and address, his or her employment along with the amount of income, name of additional occupants, vehicles that he or she may have and so on. So if you plan on renting any kind of home, make sure to use these kind of Rental Application Forms so that you can understand what requirements you need to provide and the amount that you'll need to pay.
For Commercial Property Lease
Commercial Property Lease Application Forms are used in the event that anyone would like to lease any kind of commercial property. Commercial properties are any kind of building that generates income. So think of it along the lines of a building owned by a landlord that collects rent from the tenants or a building that sells lots of different goods. The people that would like to lease these buildings will have to state their personal information.
They will also have to put in other information such as the date they applied, the location of the property, and the purpose as to why they would like to lease these commercial properties. If everything is properly covered, then there should be no problem with these people leasing out these commercial properties. Provided that these people stick to the terms and conditions originally agreed upon, then they can use these properties.
The Importance of Having These Lease Application Forms
Whether you're the one leasing out certain properties or if you're the person that wants to lease the property, you'll have to make proper use of these forms. If you're the one leasing these properties, then you can use these forms to specify the duration that these people may lease it, the amount of compensation required during the duration of usage, and certain other agreements that they'll have to comply with.
If you're the person that's planning on leasing them, then you can use these forms if you think that all the agreements that are necessary to be complied with are acceptable. You'll also need to provide all the requirements stated in these forms so that there will be no issues with whatever it is that you want to lease. If you happen to break certain agreements that were made upon your application, then you'll have to be able properly compensated. This is why it's always best to know all the terms and conditions beforehand.
So whether it's Apartment Rental Application Forms or Real Estate Lease Application Forms, there are forms that are here for whatever purpose you need.