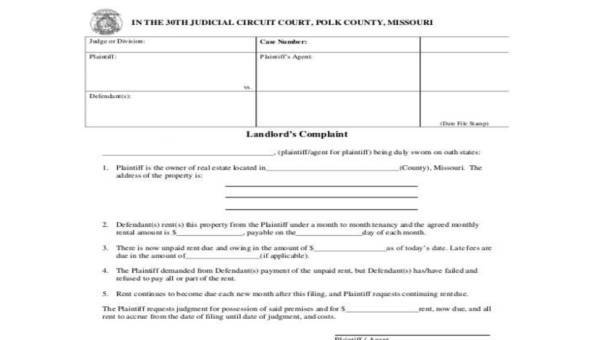 If you're a person who doesn't own a home, then you're most likely living in an apartment. You know what it's like to have to pay monthly rent and make sure that you abide by the rules of the apartment building. Who makes the rules? Who do you pay the rent to? It's all in the hands of the Landlord. They'e in charge of making sure that you stay there as long as you pay up and follow whatever rules they make.
However, what if the rules seem a bit too much? What if there are one too many things that seem unfair to you and the other tenants?
That's where Landlord Complaint Forms come into play. They help you, and anyone else under a Landlord, raise concerns about how he is running the place.
Landlord-Tenant Complaint Form
Property/Landlord Complaint Form
Simple Landlord Complaint Form
General Landlord Complaint Form
The Different Types of Landlord Complaint Forms
There are various types of forms that allow tenants to complain about the different ways a Landlord manages his establishment. These forms are somewhat similar to Customer Complaint Forms in a sense that if a customer doesn't feel satisfied with the way a store is handled, then he or she raises the concern in the same way a tenant would to a Landlord. Here are some examples of the forms these tenants can use:
Landlord / Tenant Complaint Forms are the kind of forms that are used when either the Landlord or the tenant has a complaint about the other. These are used to settle disputes between both parties and make sure the issue is resolved as smoothly as possible.
Property Landlord Complaint Forms are used when tenants have complaints about how the Landlord is possibly mishandling the management of the property he owns.
Simple Landlord Complaint Forms are used, as the name implies, when tenants want to file complaints as simple as possible. These are mostly used when tenants wish to file complaints in a very quick and easy manner.
Landlord Complaint Form Example
Landlord Complaint Form Format
Free Landlord Complaint Form
Simple Landlord Complaint Form
Landlord Complaint Form in Doc
The Importance of Raising Complaints to Your Landlord / Tenant
There's a reason why there are Official Complaint Forms that tenants use to raise concern to their Landlords. These are used to make official and orderly concerns to a Landlord to ensure that he or she notices the problems in the establishment.
It can also settle disputes between both parties. If a tenant has issues of the time period as to when rent needs to be paid, then he or she can address it straight to the Landlord with the proper form. If a Landlord has a problem with how a tenant is living within the establishment, an example would be if the tenant isn't following the rules set by the Landlord, then the Landlord may file a complaint and give notice to that tenant.
These forms help improve the relationship and living conditions of both Landlord and tenant. It's up to them if they want to solve things in a peaceful and orderly manner or not.