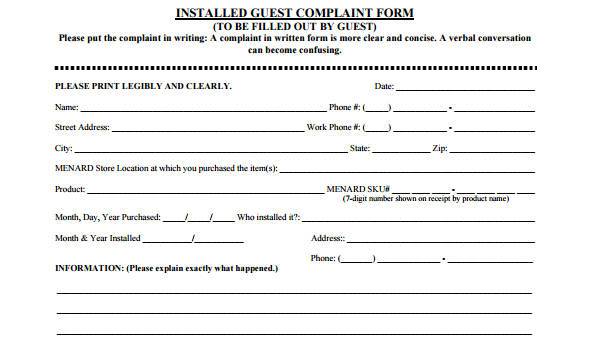 Many people would rather choose to be entrepreneurs than to be white- or blue-collared employees. It does sound better when you are the chief as opposed to spending your day subject to someone's whims and caprices. Being in business means dealing with plenty of things, and one of these is the customers. They are always important. While there may be some demanding, unreasonable ones, it is nevertheless necessary to keep track of their concerns just the same, and in order for that to be done, they have to have a Complaint Form where they can express whatever dissatisfaction they experienced.
Installed Guest Complaint Form
 Customer Complaint Form Example
Guest Complaint Form Sample
Complaint Submission Form
Fillable Customer Complaint Form
It is likewise vital to take note of customer's grumbles and two cents' worth, and here is where the Customer Complaint Forms are needed. For instance, the Americano arrived later than what was promised by the barista. You called the latter's manager, reprimanded them both, then as a compensation, they offered any of their products of your choice, regardless of the price, for free. You declined, because you also do not want to come across as an opportunist, but instead you chose to leave a comment using Customer Complaint Forms specifying the delayed service. But you still keep your composure so as not to show the personnel in a bad light, and you know the management will even be grateful for your comments.
We have a library of all forms dedicated to complaints, in case you need one. You can check out our website for supplemental information about the said forms and all other forms that you think you might need at a later time or just need to study further. They are always available here on our website and will never run out. You are more than welcome to download them anytime. Worry not, the instructions are so easy you might no longer consider them instructions.
Customer Complaint Form Example
Hotel Customer Complaint Form
Complaint Feedback Form
Guest Relations Concern Form
Guest Complaint Form in Word Format
I am glad to inform you that Employee Complaint Forms are already posted here on out website and are free for the taking. Answering the questionnaires, though, is not that pleasing to be honest, for it would demand you to call to mind the specifics of the unfortunate incident that took place between you and the party you are complaining against.
In order for your complaint form to be taken seriously, it has to have these qualities:
First, you have to mind your tone. It has to be bold and assertive and also calm.
Second, though it is never wrong to express yourself more, it is likewise never wrong to cut to the chase.
Third, you also have to consider the fact that it needs to sound optimistic despite the pessimism weighing you down.
And finally, make sure your penmanship is at least legible. No, it does not mean you have to possess awe-inspiring handwriting skills to write down in detail the affront you experienced.
See to it that the discontent is made plain, but do so in a courteous manner. No one and nothing can make you quiet, and you have to fight for your right as a thinking, intelligent human being.