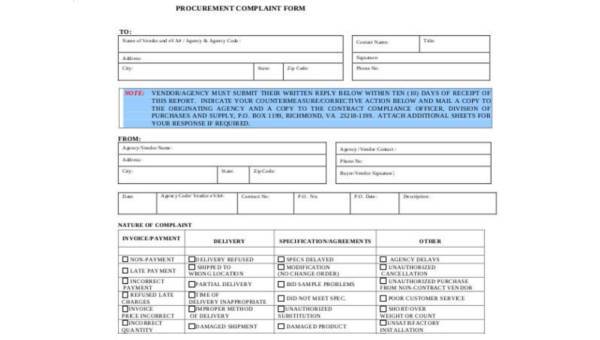 In every type of job, there's always something that's bound to go wrong. When something does go wrong, there's always going to be some form of complaint that follows soon after. Whether it's from an employee or from a customer, if there's something that happens to ruin their experience, the managers will definitely get an earful of complaints.
This is when Complaint Forms can come in very handy. These allow anyone to file a proper complaint in a formal and proper manner, assuming that the complaint is sensible.
Generic Employee Complaint Form
Generic Workplace Complaint Form
Generic Customer Complaint Form Example
Generic Confidential Complaint Form
Generic Blank Complaint Form Sample
The Different Types of Complaint Forms
There are lots of complaint forms that anyone can use when they want to file a report on any kind of service or product that doesn't satisfy them. Here are some examples of these forms:
Employee Complaint Forms are forms used by employees when they have complaints regarding the workplace, such as the office atmosphere. These can also be used to complain about certain coworkers who might be hindering others from progressing further in their work.
Customer Complaint Forms are used by customers who are unsatisfied with the service or product that they received. They can even use these to complain about the employees who provided these products and services.
Workplace Complaint Forms are used to mainly complain about the workplace. Any employee can use these forms to complain about any aspect, such as atmosphere or furniture and much more, of the workplace.
Confidential Complaint Forms are used by those who wish for their complaints to be completely confidential. These make sure that nobody other than the higher-ups know about the form of complaint made by a certain employee.
Generic Statement of Complaint Form
Generic Anonymous Complaint Form
Generic Cancellation Complaint Form
Generic Procurement Complaint Form Sample
The Importance of Complaint Forms
In today's generation, customers have a lot of influence in the crafting of policies and approaches of certain businesses.
A satisfied and happy customer can either share their wonderful experience with a bunch of friends, or an angry customer can rant about the horrendous service to anyone they can. And let's say other people take another person's negative complaint to heart, there's a huge possibility that they'll never do business with that company ever again.
Complaint forms can help any company and business figure out what it is they're doing wrong. They can use these to improve on the kind of services or products they sell. If it's something related to the workplace, then companies can work on whatever it is to give their employees that satisfaction of being able to work in a great atmosphere.
If companies don't take complaints seriously, then they may very well lose their customers and also their employees.