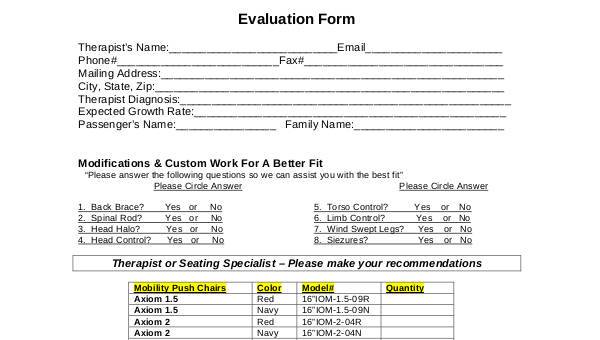 An evaluation is also known as an assessment. It is a process of periodically measuring a person's level of performance to determine if he is productive in his work and is able to consistently deliver accurate and efficient outputs or if certain methods of training are needed to help him improve.
An evaluation consists of different criteria and may vary from one organization to another. Its process can be done in various ways. Evaluation forms are utilized when one wants to conduct an evaluation. The different types of evaluation forms differ according to use or purpose.
General Performance Evaluation Form
General Training Evaluation Form Example
General Employee Evaluation Form
General Course Evaluation Form Sample
General Contractor Evaluation Form
The Benefits of Conducting Performance Evaluations
A lot of people consider evaluations to be a hassling and tedious process, oftentimes misconstrued as the management's excuse to demote or terminate people. Evaluations, however, are constructive tools that do more good than harm. Using Employee Evaluation Forms will help an assessor properly evaluate a person's level of performance. Regardless of the use or purpose of your evaluation, below is a list of reasons why a periodic Performance Evaluation can benefit your company:
Allows companies and employers to set goals and objectives.
Allows employees to identify goals and objectives.
Helps benchmark companies and employees.
Enables individuals and employers to determine if productivity metrics are attained.
Allows employers to pin-point internal problems that could affect the company's revenue and profit.
Allows supervisors to communicate with employees.
Provides a perfect opportunity for supervisors to commend employees for their strengths and abilities.
Lets employees be aware of areas where they can improve on.
Aids in the fulfillment of future plans.
Aids in the structuring of strategies.
General Presentation Evaluation Form
General Interview Evaluation Form
General Manager Evaluation Form
General Evaluation Form Example
51. Non Exempt Staff Performance Evaluation Form
52. Consultant Performance Evaluation Form
Careful planning and execution are important when it comes to conducting evaluations. Doing it haphazardly will deem it useless and will not garner the information you wish to gather. You will find below some essential aspects that need to be in an evaluation for it to be effective.
Should only tackle performance or action that is directly or indirectly related to what is being assessed.
The findings and results of a good and effective evaluation have to be accurately and objectively taken note of.
The criteria and the corresponding consequences should be plain and clear to be easily understood.
Criteria should be not only be quantitative in nature but should also include qualitative characterizations.
Should be practical, unbiased, and measured fairly and equally.
Should have a set standard or goal to exhibit proper measurements of performance.
The results of a performance evaluation can make or break an employee's status in a company. It is important that the findings to an assessment are properly documented to allow supervisors and employees to review their results and discuss them. Using performance evaluation forms can help you document your evaluations properly so you will be able to collect clear and accurate data.