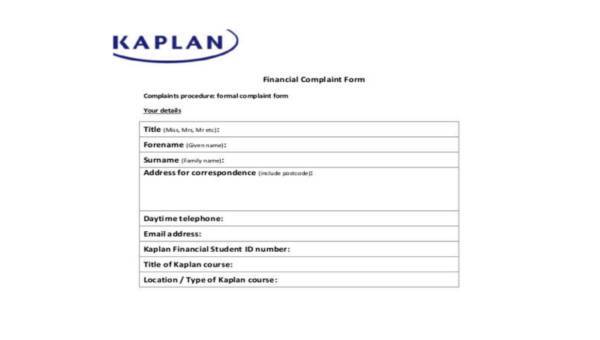 As humans, it is near-impossible to run out of stuff that maddens us: from the petrol station attendant who, besides having a hard time paying attention, cannot simply press the exact numbers even if he was already told more than twice, or the diner lady who cannot maintain a cheerful air. A complaint is not entirely a bad thing; in fact, it is encouraged in some cases, and I am happy to let you know that Complaint Forms are now available here on our site as well.
Financial Registrar Complaint Form
Policyholder Financial Complaint Form
Financial Regulator Complaint Form
Financial Conduct Authority Complaint Form
Filing an Official Complaint Form is never fun, to be honest, especially since you need to remember all the distressing events you would rather wish you could delete from memory; on top of it all, these have to be as accurate as possible. I would not think twice before filing a Complaint Form.
For an Official Complaint Form to be as gripping and effective as possible, you need to make sure it has these four components:
First, make sure it still sounds positive and hopeful, even though you are already on the verge of hurting that person physically.
Second, your handwriting should be readable, but I do not mean you have to have a stunning penmanship.
Third, your tone should be authoritative, not peremptory.
Lastly, please, make sure, as stale as the expression sounds, to never "beat around the bush." I assure you, it would not help, and besides it is a waste of time.
If you noticed the Complaint Forms are running out on you, please do not hesitate to head over to our website, because we have another library of those consent forms dedicated for complaint forms as well. You can browse through our website for more information about these forms and all other forms that you think you might need in the near future or just need to know more about.
Financial Complaint Form Example
Consumer Financial Complaint Form
Financial Complaint Form Sample
Additionally, it is vital to take note of customer's complaints and opinions, and here is where the Customer Complaint Forms come in. A business without any complaints does not exist, or at least has not existed yet, and below are the different sorts of complaints an entrepreneur should take into account:
The Repeated Complaint – This is from a consumer telling something they do not want that is recurring, say, a delayed service he experienced twice in a row. This needs to be dealt with immediately, for there is a chance this is some form of extortion, some crooked person's way of asking things he or she does not deserve. Be careful.
The Public Complaint – The type which is vent publicly, and in this era, via a social media platform. Though it may seem like they are only seeking attention (via reactions or comments), it is still important to handle them as quickly as possible.
The First-time Complaint – Like the ones above, this is the type a business handler should also take seriously because of the fact that they still are, albeit first-timers, customers who also have rights to request for good service.
Good Customer Complaint – Yes, even the regulars themselves; a complaint like this should warrant a speedy remedy.