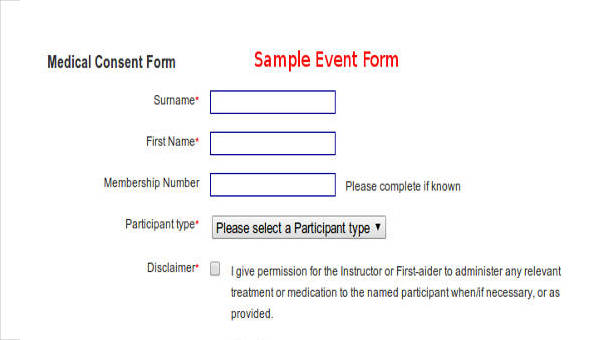 Events are social affairs organized specifically for mingling and promoting social interaction. A lot of people enjoy going to events and soirees not only because there's free-flowing food and wine, but also because it is a chance to rub elbows with other people and talk about recent news, business trends, or simply because it is an opportunity to meet clients and conduct business with other people.
Events can be fun, and planning one can be an even more gratifying endeavor. Organizing or hosting an event is always a tedious yet a gratifying thing to do. With all the planning, the preparations, and the hectic schedules, at the end of it all, you cannot help but feel a tingle of pleasure for having been able to pull it off.
Event Evaluation Form
Basic Event Evaluation Form
Event Participant Evaluation Form
Event Organiser Evaluation Form
Post-Event Evaluation Form
Event Registration Form
Fundraising Event Registration Form
College Event Registration Form
Cycling Event Registration Form
Event Booking Form
Event Photography Booking Form
Internal Event Booking Form
Special Event Booking Form
Event Request Form
Event Planning Request Form
Special Event Request Form
Catering Event Request Form
Corporate Event Request Form
Event Management Form
Event Management Registration Form
Event Management Request Form
Event Management Request Form Sample
Event Management Planning Form
Events are a public or a social assembly that are done for a myriad of reasons. It could be a mere celebratory gathering, a reunion with friends, or the death of a loved one. Either way, events bring people together and can vary according to purpose, style, size, and context, and are usually planned by an event organizer or a planner.
If you are into the business of event organizing or planning, then you would know how much it means to make sure that the events you organize are perfect to a T. As an event planner, you heavily rely on your customer's word of mouth, which means that the actual events that you plan for are your portfolio and the clients (and your client's guests) are your walking advertisements.
Some of the things that can help you ensure that you can deliver an event that is spotless and praise-worthy are as follows:
Make sure that as an event organizer or host, you or any other person will be on top of the event planning. This way, everything will be synchronized.
Be keen even with the smallest details as it can affect the entirety of the event.
Always be organized when it comes to putting suppliers all together.
Make sure that you have proper documentation of everything that is necessary for the event's full implementation .
Use an event form so you can see all the details that you and the stakeholders of the business need to be aware of.
Rely on a planning event form so you can identify the necessary details of the event planning process which includes proper timeline creation and development phases allocation.
Use an event budget plan so you can see how much is the initial budget that is needed for the event. Adjust based on the capacity of the host to pay and the developments that may occur within the planning duration.
Do not forget to use an event evaluation form which shall be disseminated to the attendees at the end of the event. It is very important for you to identify how the event went through the eyes of the people to whom the event is for.
Use a template as a guide when making the different event forms that you need. This way, you can easily make the forms that are essential for you to achieve your objective and goals for a particular event that you are heading.
Before you run off to plan an event, you will first need to determine what type of event it is going to be exactly. As soon as you are able to determine the event classification, the other details can follow suit.
1. Social Events – Events such as birthday parties, engagement parties, weddings, anniversaries, graduation balls, stag or hen parties, funerals.
2. Fundraising Events – Events such as auctions and charity galas are examples of such events.
3. Academic Events – Events such as school fairs, education fair, job fair, workshop, seminar, debate, contest, competition, etc.
3) Athletic Events – Events or activities such as the Olympics, the World Cup, marathons, Wimbledon, wrestling matches, etc.
4) Entertainment Events – Events such as music concerts, fairs, festivals, fashion shows, award functions, celebrity nights, beauty pageants, flash mobs, jewelry shows, fashion shows, etc.
5) Political Events – Events such as political processions, demonstration, rallies, political functions etc.
6) Corporate Events – Events such as meetings, conferences, product launches, etc.
7) Religious events – Religious events are events focused on religion, such as religious processions.
Event Planning Forms
An event planning form is one of the event forms that are initially used during the brainstorming phase of the event. It is important for all the plans for the event implementation to be decided upon in an objective and measurable manner. This way, event planners can see whether the event is feasible, achievable and time-bound. Some of the information that are usually found in event planning forms are as follows:
The name of the event
The type of event
The date and time of the event
The location of the event
The budget
The number of expected guests
Registration Requirements
The objective or the goal of the event
Event Sponsorship Form
Free Event Sponsorship Form
Event Sponsorship Request Form
Sports Event Sponsorship Form
Sample Event Survey Form
Special Events Survey Form
Community Event Satisfaction Survey Form
Events Committee Survey Form
Event Planning Form
Event Theme Planning Form
Sample Event Planning Request Form
Event Planning Evaluation Form
Student Event Planning Form
Vendor Event Form Example
Vendor Application Event Form
Community Event Vendor Application Form
Event Vendor Contract Form
Event Registration Forms
On the off-chance that the occasion that is being prepared for is a private occasion or requires a charge, an enrollment is now and again required. An event registration form allows visitors or individuals who are intrigued to join, to give insights about them so that their names can be recorded in the list of attendees. Marathon occasions, for instance, as a rule, require interested registrants to enlist and to pay an enrollment fee. The expenses utilized for enlistment are typically given to philanthropic causes or are utilized to fund the occasion's reward framework.
Event Budget Forms
One of the most important items that you need to consider when hosting or organizing an event is the budget that will be used for the event implementation. The budget that the host is willing to spend can provide a great impact with regards to the suppliers that will be hired and the items that can be acquired and presented during the event. Using an event budget form will help an event budget planner or an event organizer to ensure that the breakdown of the event budget are accurate and updated. This way, the needs of the budget will be specified accordingly.
Being able to use an event budget form can help a host or an organizer to identify whether an event is profitable or not. It can specify the losses of the event, if there are any. With this, it is essential for event budget forms to be prepared. Also, using an event budget form can help present the event budget and funding needs  during meetings in a more professional and formal manner.
Many companies or organizations have run into severe financial difficulty and even bankruptcy from the lack of proper budgeting. Preparing a budget is a crucial aspect of event management in order to properly control the amount of cash needed and consumed when staging an event.
1. Budgets Should Be Aimed Toward Profit
Creating a budget for an event is implemented to avoid losses. If an event is deemed to create a loss for the company, then plans or adjustments have to be considered for the event to at least break-even.
2. Create Realistic Plans
Oftentimes, making overwhelming and too optimistic decisions can lead to a financial loss. When planning for an event, an Event Director has to be realistic and be balanced in planning or predicting the amount of sponsorship to be gained or the number of participants.
3. Have a Contingency Plan
Event directors or coordinators should always have a plan B and in some instances, a plan C if in case a good idea will not turn out as expected. Contingency plans help coordinators properly pick up the pieces and still make an event a success even after a good idea fails to be executed.
How to Manage Expenses for an Event
Track and Compare Prices for Rental
Events need a venue and equipment, and these stuff require rental fees. Canvass possible sites for the event and suppliers and compare prices so that you will be able to book suppliers and venues that are economical and offer good quality as well. Be sure to verify costs such as lighting and security costs as they are usually hidden.
Monitor Transportation Fees
By keeping track of the expenditures for transportation, you will be able to create a more realistic budget plan and will allow you to trace expenses properly.
Estimate the Cost for Caterers
Explore your options when it comes to caterers. Ask for quotes and catering proposals from them to let you see which one can provide the best deal. Remember that caterers can make or break an event so be sure not to sacrifice quality over price. Finding the best deal means looking for the vendor that can provide quality service at the lowest price.
Provide Costs for Equipment and Entertainment
If food makes an event, entertainment would be its life support. Sound systems and means of entertainment such as bands and DJs provide life to a party; however, they do not necessarily have to cost an arm and a leg. Canvass for a good means of entertainment at a low cost and utilize equipment that is already in the office or comes free with the rented venue before looking for a supplier who can rent them out.
Don't Sweat the Small Stuff
When planning for an event, you will notice that several small items actually total into a bigger expense when being combined together. One example of this is the printing of invitations, badges, gift items, trophies, and vice versa. One way to save up on the cost for invite items is to personally print invitations or create online invitations.
Summarize Your Actual Expenses
After properly canvassing for vendors, rentals, and suppliers, create a summary of your total expenses. This will serve as your projected list of expenses which you can later on use to compare with your actual list of expenses.
It is always a good idea to gather feedback from guests and clients after a project has been done. Feedback is a crucial and useful tool that is especially helpful to small businesses. Through customer feedback, business owners will be able to determine if the event was successful or not.
You can use our event feedback forms to help you gather comments and suggestions from guests and clients. Our feedback forms are easily accessible and can be downloaded and printed out to save you from the hassle and inconvenience of making one from scratch.
Special Event Form
Outdoor Special Event Form
Special Event Request Form Sample
Special Event Approval Form
Special Event Approval Request Form
Event Order Form Sample
Banquet Event Order Form
Special Event Order Form
Catering Event Order Form
Event Order Form Sample
Event Evaluation Forms
If you have hosted or organized an event, using an event evaluation form is suggested. If you will use an event evaluation form, some of the benefits that you can get are as follows:
You can identify the effectiveness of the events team.
You can ensure that objective assessment of the event and the entire program is available.
You can assess whether the event met its objectives and goals.
You can look at the strengths of the event as well as the weak points that can be improved on your next events.
You can identify the factors that made the event a success, or the other way around
You can have measures to take for the purpose of improvement and development.
The above mentioned benefits can also be applicable to the suppliers of an event. As well all know, an event needs different suppliers for the vision of the event organizer to be visualized in a particular gathering. Here are more advantages that suppliers may get if an event evaluation form will be used:
Help companies to determine if their goals as suppliers have been met.
Allow the identification of challenges and to correct them.
Obtain information relating to the varied options for target-markets.
Help marketers determine the amount of marketing exposure that is needed to campaign for the event.
Determine if an event was able to impact on business and other related industries.
Determine if the event was able to satisfy the expectations of guests, patrons, or community stakeholders.
Evaluating an event can sound foreign to some people, especially if they do not understand the target, the objective, or when they do not know where to start. Our evaluation forms can help you properly organize your checklist of evaluating factors so that you can properly assess the outcome of an event.
An event is basically composed of physical elements and event organization elements. These factors, when blended in together in perfect symmetry, have the potential to create an impacting function. The physical elements of an event include the factors such as the quality of the food, the efficiency of the service, the number of guests who are expected to come versus the number of guests who actually came, the quality of the program, if the guests were entertained, and if the host and the guests were satisfied with the overall event preparation.
Planning events can be a gratifying experience; however, in this competitive world, you need to constantly diversify your business. Be sure to carefully plan, budget, and evaluate the events that you create. Organize your plans well and make sure you keep an open ear for positive criticism. Download our sample event forms now to help you properly manage your event planning.