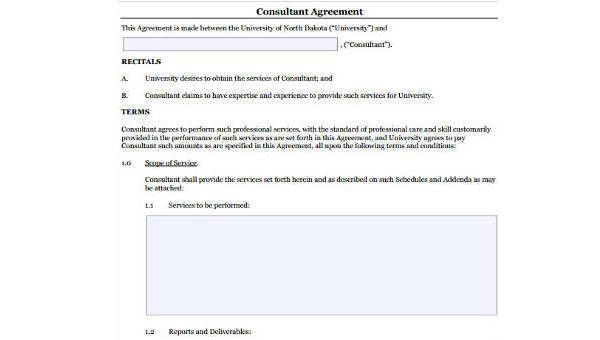 Consulting is the business of giving expert advice to other professionals, typically in financial and business matters. So whenever there are those professionals who are having trouble with their jobs, or if they just need something to get them back up on their feet, then they may opt to have consultation sessions to help them out.
However, these consultants have to make agreements with their clients on how these sessions are going to go. And they also have to make sure that these agreements are indicated in the right kind of documentation. So how are they going to do that?
The one thing that can help them out with that is the use of the right Consulting Agreement Forms.
Sample Marketing Consulting Agreement Form
Management Consulting Agreement Form
Sample Business Consulting Agreement Form
Accounting Consulting Agreement Sample
Human Resources Consulting Agreement Form
The Different Types of Agreement Forms
There are lots of these types of Consulting Agreement Forms that just about any person can use for whenever they need to see what kind of agreement they have to accept before they can proceed with any kind of consultation session. Here are some examples of these types of forms:
Business Consulting Agreement Forms are the kind of forms that are utilized by those who need to make sure that they get the kind of business consultation that they need. However, these agreement forms ensure that the consultant may only discuss matters about anything company related. Anything else that isn't related to company matters should be disregarded, and if the agreement is broken, then it could lead to some serious issues.
Human Resources Consulting Agreement Forms are generally used by those who need to come into some sort of agreement before being consulted with the head of human resources. The job of human resources is to find people who could be valuable to the company, while at the same time taking care of their employee's needs. Hence, they use these forms to make an agreement as to the confidential information that should be discussed and not disclosed to anyone, along with other important matters.
Consulting Contract Agreement Form
Master Consulting Agreement Form
Consulting Fee Agreement Form in PDF
Business Consultant Agreement Form
Restaurant Consulting Agreement Form
The Importance of Consulting Agreement Forms
Think of these forms in the same way as you would Independent Contractor Agreement Forms. Much like how one person needs to make an agreement with a contractor on how certain services should be provided, a Consulting Agreement Form is needed with a consultant. The point of these forms is to make sure that both parties come to an understanding as to how a consulting session is going to go.
It also discusses the kind of information that can be disclosed or should be disclosed during the session. You wouldn't want to be talking about your deep personal life in a business-related consultation session now, would you? It also helps out the consultant in letting the client know just how much the session is going to cost. The more well-known the consultant and the longer these sessions go, the higher the cost will ultimately be.
So in the even that you need to have these sessions because you're having a hard time making certain decisions with regard to your profession, then don't be afraid to use any of these forms.