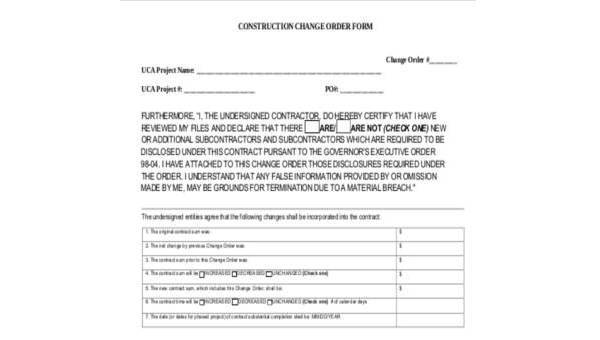 There's always going to be some sort of construction project every single day. When a company decides that it needs a new building to house more employees and new facilities, then they request for construction in order to house them.
However, how would one request for anything to be constructed? There are Construction Forms that allow companies to know about specific information such as cost estimates, management, and even time allocation of certain construction projects.
Sample Construction Change Order Form
Generic Construction Estimate Form
Sample Construction Proposal Form
Basic Construction Contract Form
Sample Construction Submittal Form
The Different Types of Construction Forms
There are various types of forms before companies proceed with any construction project. Specific forms are used depending on the type of construction or construction information that the company requires. Here are some examples of these forms:
Construction Contract Forms are used by companies, or those that start a construction project, to form contracts before starting certain projects. These are important to make sure of the terms and agreements.
Construction Change Order Forms are used by construction project managers who need to change certain aspects of the project. An example would be a case in which a different material is needed instead of the current one, then the necessary changes will have to be made.
Construction Daily Report Forms are forms used to make sure that project managers take note of the day-to-day progress of the project.
Commercial Construction Agreement Forms are used when construction projects are built within commercial areas.
Construction Order Forms are used when construction project managers have specific orders that workers are required to do.
Construction Proposal Forms are used before the start of a project. These propose the idea of the construction of the building and planning, as well as managing everything out.
Sample BID Construction Proposal Form
Construction Daily Report Form
Sample Construction Invoice Form
Sample Commercial Construction Agreement Form
Pre Construction Risk Assessment Form
General Construction Application Form
The Importance of Construction Forms
It's important for companies entering into any significant economic transaction to have written contracts and forms. This is especially true for construction projects which are, by their nature, complicated and complex. A contract on a construction project sets forth the obligations to both sides of the party and determines how risks will be shared or divided on the project.
Once two parties agree to have construction work performed and the builder commences with the work, there is a construction contract that exists, regardless of whether the agreement has been reduced to writing and signed by both parties.
There are many additional benefits to having a written form for a construction project. Even if the parties have a significant form of trust between one another, a written contract provides a crystal-clear plan at the beginning of the project of how the parties will proceed in carrying out the work.