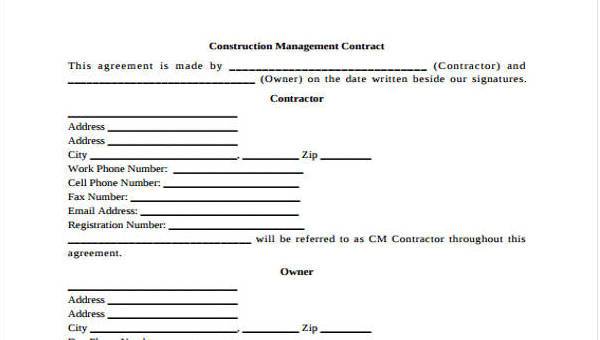 Construction work is no easy feat. For those who are in charge of making sure that these construction projects go well, need to make sure that everything is in order. That means knowing the schedules on when certain things should be done, knowing what kind of materials need to be used, and knowing what kind of building they're supposed to be constructing.
However, before any kind of construction can be done, there needs to be some form of proper contract first. These contractors can't start any kind of construction unless both parties are under agreement as to how the process is going to go,
So how would they go about this? The one thing that can definitely help them out with this is by having the right Construction Contract Forms that can help them out.
Construction Management Contract Form
Construction Contract Form Sample
Construction Service Contract Form
Construction Contract Addendum Form
Standard Construction Contract Form
The Different Types of Construction Contract Forms
Construction Contract Forms are to ensure that both the client and the contractor in charge of the construction have decided on how everything will take place. There are also a wide variety of these Construction Forms ready to be used. Here are some examples of these types of forms.
Construction Management Contract Forms are the kind of forms that are utilized by those people that need to guarantee as to who's going to take charge of the construction. This helps set the terms and conditions of who gets to manage the project and how they're going do it.
Construction Service Contract Forms are forms that are used by contracts that need to sign a contract as to the type of service they'll be providing during the construction. It could be that they're just handing over equipment, or they're in charge of actually doing the constructing.
Construction Contract Addendum Forms are used for when contractors have addendum at the end of the contract. Addendum's are an item of additional material, typically omissions, added at the end of a book or other publication. In this case, a contract.
Free Construction Contract Form
Printable Construction Contract Form
Construction Contract Form Example
Construction Contract Short Form
Letter of Intent for Construction Contract
The Importance of Having Construction Contract Forms
If you were to hire anyone or any company for a construction job, then you would want to discuss how it will take place. Which is why there are forms such as  Contract Assignment Forms that will ensure that both the client and the contractor are in agreement in regards to the specific details on the construction service.
These benefit the client greatly as it allows them properly negotiate with the contractor before the service is done. It will allow them to talk about the materials that need to be used, the type of services that are going to be rendered, as well as payments for everything that is to be provided and so on.
These also help out the contractors in charge of the project. If they find that there are no problems in the contract, they may proceed straight to work. However, if there are certain disputes about it, such as the working hours and schedule, then both sides can come into some form of negotiation. Otherwise, either party can decide to cancel it altogether.