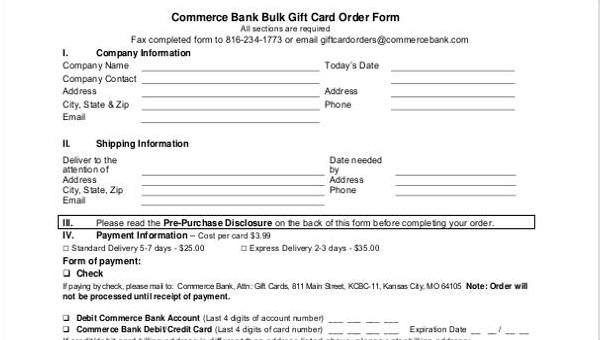 Order forms are made to bridge misconceptions and misunderstandings between a customer and a seller. The form will serve as a simple binding contract that indicates the details of what the client wants to order. The document could also help in the financial reports and forecasts of a certain company.
Some printing companies do not allow retail or individual orders especially when dealing with business cards or card orders. They require their customers to order in bulk and submit a Wholesale Order Form. Discounts may apply depending on the minimum quantity the company will need to start the process of making the layout of the cards.
Business Card Order
Gift Card Order Form
Commerce Bank Bulk Gift Card Order
Token Card Order
Student Card Order Form
What's a Card Order?
Card Orders are used by printing companies to document their customers' purchases. There are designing companies that do not only aid in making printed cards but also in maintaining their client's online business cards. When a client will request their service, they must submit a Work Order Form to specify what type of work needs to be done. The Work Order Form must also indicate the period term, payments, and the conditions associated with it. The client may also attach a design that he would like to have on his card and for other personal uses.
Ordering a Replacement Card
There will be instances wherein a client is not satisfied with the product he received, so he may submit a Change Order Form. The new request of the client will be subjected to an agreement, and when the company agrees with him, they will send in new batches for the replacement cards after a few working days.
The client must be very specific with his preferences with the card's design; from its size and shape to its type of material, to avoid wasting the company's products and to lessen his burden of having to pay more for every detail to change.
Compass Card Order Form
Additional Card Order Form
Credit Card Order
Volume Card Order Form
General Credit Card Order Form
Cancelling a Credit Card Order
When you have filled out and submitted the Purchase Order Form of an online store, it would be hard to cancel your orders instantly. Though there are few companies and sellers who will grant their clients a money-back guarantee, they may give it to you the hard way. If you really need to cancel your purchase, here are things you need to do:
Immediately call the seller or the supplier. Let them know of your reason why you are cancelling your order. Also, prepare your credit card and order numbers for them to access your purchase details.
Inform the bank about your situation. You may send an email or a written letter to the credit card company that allows them to know your situation. Be clear with your intent in the order cancellation.
Check for your refund. Follow up the process of cancelling your order by calling, emailing, and sending messages to the seller. Some suppliers will not deal with your cancellation, but if you are persuasive enough, they should hand in your refund in a day or two. If you still did not receive the refund, it would be time to file a dispute with your credit card company or the bank.
You may also view our samples for Money Order Forms.