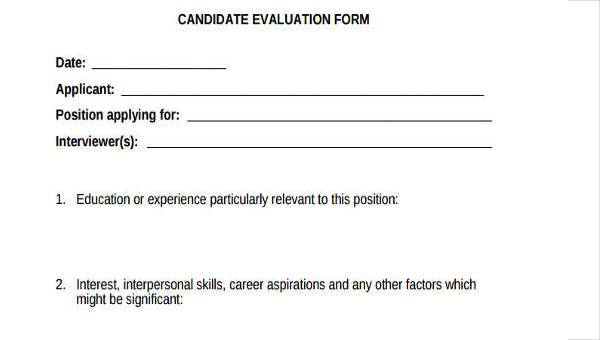 In order to allow an individual to develop personally and professionally, it is important that opportunities for growth and feedback are provided through the use of Evaluation Forms. This approach will give the individual a more mature outlook in life and a greater feeling of responsibility. For the form to serve its purpose, it should be easily accessible, user-friendly, concise, and clear. Instructions could also be indicated in these forms so as to avoid confusion and clearly define the purpose for evaluation. Aside from instructions, a descriptive scale can also be used to rate the performance of the individual and identify areas for improvement.
Candidate Interview Evaluation Form
Job Candidate Evaluation Sample Form
Overall Candidate Evaluation Form
Employment Candidate Evaluation Form
Candidate Evaluation Form Example
The basic step in acquiring the most qualified individual to fill in different positions in an institution or organization is through an interview. In this way, an exchange of information between a certain candidate and the organization is done to enable each party better access to what they exactly need. To fast track the process, organizations or institutions create Interview Evaluation Forms for them to be able to gather relevant information pertaining to a possible candidate.
Through these forms, the interviewer's personal bias can be eliminated since the interviewer relies on a scoring system to determine the right candidate for the job based on the candidate's knowledge, skill, attitude, and experience. This also helps an organization determine the current employees' potential for promotion once a job has been offered. Typical questions such as situational, behavioral, and knowledge-based ones are practically embedded in the form for ease of reference by the organization to profile all qualified candidates. Some interviewers also use rating scales as a way of measuring the individual's qualifications and how an individual may perform in any given tasks.
Sample Faculty Candidate Evaluation Form
Candidate Evaluation Form in PDF
Candidate Presentation Evaluation Form
Candidate Evaluation Form Format
General Candidate Evaluation Form
Candidate Rating Evaluation Form
Another systematic way to determine the value or worth of a particular job in relation to the goals and objectives of a certain organization is through Job Evaluation Forms. These forms pave the way for an organization to systematically compare jobs and assess their relative worth in order for an organization to come up with a more rational pay structure. It comprises a comprehensive analysis of each position's tasks, responsibilities, knowledge, and skills to assess the value to the employer of the job's content. This should be conducted after completing a thorough and comprehensive job analysis, which is then used as a basis for a comprehensive salary structure. It also enables institutions or organizations to provide rational, consistent, and fair treatment among all its members.
These forms can also serve as an effective tool for an organization to meet pay equity legislation. A comprehensive evaluation structure can serve to ensure objective and fair decision-making regarding the compensation and benefits structure of an organization as well as staffing and promotion. Though there are a number of approaches in which such evaluations are implemented, the intent of each method is basically the same. In choosing a particular approach, an organization needs to consider relevant costs and how to access the required information.