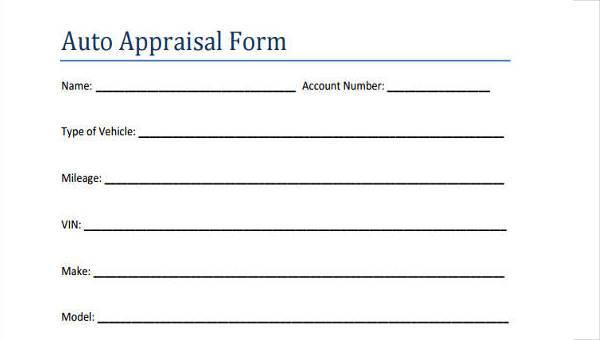 A proper appraisal is done by someone to determine a property's value. There are many things that could deduct a property's value such as damages or issues regarding its performance. Which is why it is important that only a professional appraiser be the one to do the job.
So if you want to know what something is worth, have it appraised. Because the information given after an appraisal can help you determine how much you should pay for a certain property, or how much loan you are able to acquire to purchase it. To help organize the results of these appraisals, one must make use of the right appraisal forms.
Free Auto Appraisal Form Sample
Blank Auto Appraisal Form
Used Vehicle Appraisal Form
Auto Appraisal Form Example
What Is Auto Appraisal?
Auto appraisals are usually done whenever an insurance company hires an auto appraiser to inspect vehicles damaged in accidents. The appraiser then go to the location of where the vehicle is situated at, take pictures of the damage, and assess just how much the insurance company should pay for the repair costs.
An auto appraisal can also be done in the event that one wishes to sell a car, but needs to determine its actual value before any transaction can take place. This ensures that the customer is not getting cheated on a deal, and that the exchange is also fair for the dealer. So make sure to make good use of vehicle appraisal forms  to help you with either situation.
3 Things You Need to Consider When Appraising Your Vehicle:
Auto insurance companies will only accept vehicle appraisals by professional car appraisers. Always make sure that the appraiser you hired is a professional and has had the proper training and degrees to perform the service.
Visit your vehicle on-site and have the appraiser document and take pictures so that the insurance company knows what is going to be insured. Any other documents such as invoices or work orders can be photographed to make a detailed report.
Be sure that your appraiser is not on the "do not use list" by any insurance company to ensure you get the proper value of your vehicle.
Generic Auto Appraisal Form
Auto Vehicle Appraisal Form
Basic Auto Appraisal Form Sample
Vehicle Appraisal Form in PDF
Frequently Asked Questions Regarding Auto Appraisals
When and why would I want an appraisal for a car?  In the event that you are buying a new care, the appraisal will give you all the information  you need to know if you are paying for a car that's worth it, or if you are being cheated on a sale.
What information should be contained in a professional appraisal? There is a wide variety of evaluated information provided every type of appraiser. Things such as physical condition, mileage, previous use, maintenance and more are all things that are looked into.
What are the qualifications of a certified appraiser? A certified auto appraiser must have undergone the training and acquired experience from a professional association to regulate these professionals in their field.
Why would I want a certified appraisal? Because it helps establish a true and accurate value before you purchase a new or used vehicle.
If you would like to learn about our other appraisal forms, such as retail appraisal forms which is used to assess the performance of any retail store, then go through our different samples of appraisal forms to help you gain the information you need.