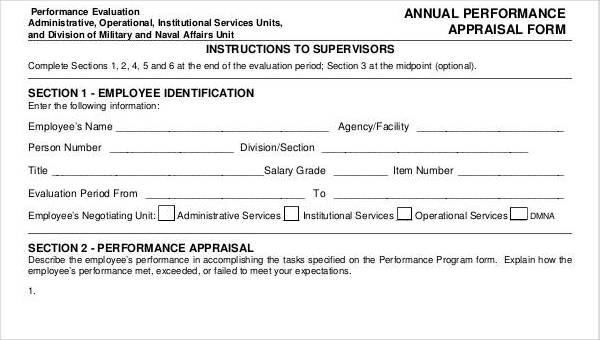 When you appraise something, you're trying to determine the value of what that thing is worth by assessing every detail about it. And every business has to appraise everything about themselves that makes them successful. One of the things that they have to carefully assess is the performance of their employees.
Companies always perform a yearly assessment of just how well their employees are performing their jobs. And they have to keep these assessments in the proper documentation for future purposes. And one of the best things that can do just that is through the use of the right kind Annual Performance Appraisal Forms.
Staff Annual Performance Appraisal Form
Annual Employee Performance Appraisal
Annual Faculty Performance Appraisal
Annual Performance Appraisal ReportThe Different Types of Annual Performance Appraisal Forms

There are many types of these forms that just about any business can use in the event that they need to evaluate just how well their employees have performed throughout the course of a year. Here are some examples of these types of forms.

For Employee Annual Appraisal

Employee Annual Appraisal Forms are forms that are utilized by just about any supervisor for when they need to properly appraise the work of a particular employee within a year. It's always important for every employee to do their best at their jobs, but there are so many factors that have to be looked into within a year that could greatly affect how well they've been doing.

Supervisors of these employees make use of these particular forms so they can provide a full assessment as to how the employee has performed throughout the year. This means everything that the employee has done within that period will be evaluated and commented on by their supervisor.

Senior Administrative Annual Performance AppraisalSample Annual Performance AppraisalAnnual Performance Appraisal ChecklistAnnual Performance Appraisal Form in Word FormatFor Staff Performance Appraisal Forms

Staff Performance Appraisal Forms are forms that are made use of by every business for when they need to appraise the performance of their staff members. It's one thing to make sure that one employee's performance is doing well, it's a whole different story when it's all of them.

These forms aim to assess the staff of a particular department within a company. Details that supervisors in charge of these appraisals should place in these forms are the department that the staff are involved with, along with the goals that they set from the previous year. So whether the appraisal is in the form of a positive or negative note, supervisors will have to use these forms to make a proper report to their superiors on the condition of their staff within a particular year.

The Importance of Having These Annual Performance Appraisal Forms

These Appraisal Forms aim to see if these employees manage to reach their goals within the year, and the methods done to achieve that goal. Anything can happen within a year's time and the growth of an employee depends solely on himself. It's just up to the supervisors to make a report on their growth within that year, and these forms can help them do just that.

These can help in improving the employee by allowing them to assess what her strengths and weaknesses were for that year. And it allows the employee to aim for either the same goal or a different one that can benefit both them and the company that he or she works for.