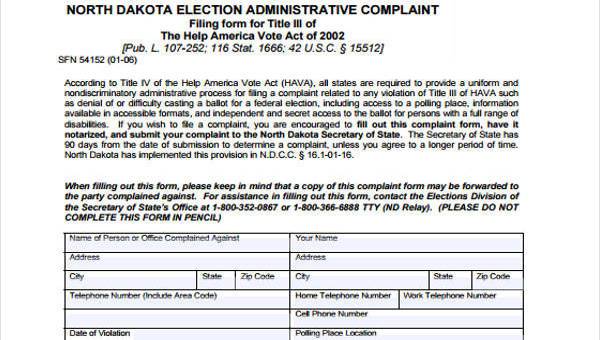 Many people would rather choose to be entrepreneurs than to be a white or a blue-collared employee. It does sound better when you are the boss, rather than spending your day at someone's beck and call.
Being in business means dealing with a gazillion of things, and one of these is the customers. They are important. While there are definitely some are unreasonable ones out there for sure, it is necessary, just the same, to record their complaints. In order for that to be done, they have to have Complaint Forms, which this website happens to provide for free.
Election Administrative Complaint Form
Formal Administrative Complaint Form
Administrative Complaint Form Sample
Administrative Review Complaint Form
Official Complaint Forms are now available here on our website. They are being produced by a squad of mostly young professionals. Filing a complaint form is never fun to do, honestly, since this entails you needing to recollect all the unpleasant episodes you would rather just expunge from memory. On top of that, it has to be as accurate as possible. But then again, if you want to be heard, then you have to understand what these forms are all about and their ultimate aim. I would not think twice before filling a complaint form out, especially knowing that future clients and customers will benefit from them once the issue is addressed.
For a Official Complaint Forms to be compelling, you need to make sure it has these following elements:
First and foremost, your penmanship should be legible, but it does not mean you need to have amazing handwriting skills.
Your message's tone should be be assertive, though not autocratic.
Cut to the chase. Beating around the bush, as stale as that expression sounds, does not always lend a helping hand.
Lastly, make sure it still sounds genial and buoyant, even though you are already in the mood to get back at the guy who wronged you.
Printable Administrative Complaint Form
Administrative Complaint Form For Discrimination
Lodging Administrative Complaint Form Example
Free Administrative Complaint Form
Administrative Complaint Form in Doc
Employee Complaint Forms are a sub-type of Complaint Form. These forms are for employees, in which they can get their grievance across regarding their employer or their co-employee. You can report a venomous colleague spewing unsavory rumors against you, or that other colleague who is obnoxiously domineering. Employee Complaint Forms should be available for employees, though they are a tad complicated, for filling them out entails recalling the explicit facts of the whole thing that went down.
When it comes to Complaint Forms, I suggest to not look someplace else since we already have got you covered. We are not limited with release forms alone, let me tell you. We have a vast library of forms that we built just for you here on our website, which you can freely check out right now. They are always available on this site, and they are just right at your fingertips. Here you will never run out of forms and you are more than welcome to download them anytime, so go ahead and do so. The site is also pretty easy to use; it is quite navigable as well, so getting lost or confused should be the least of your concerns.