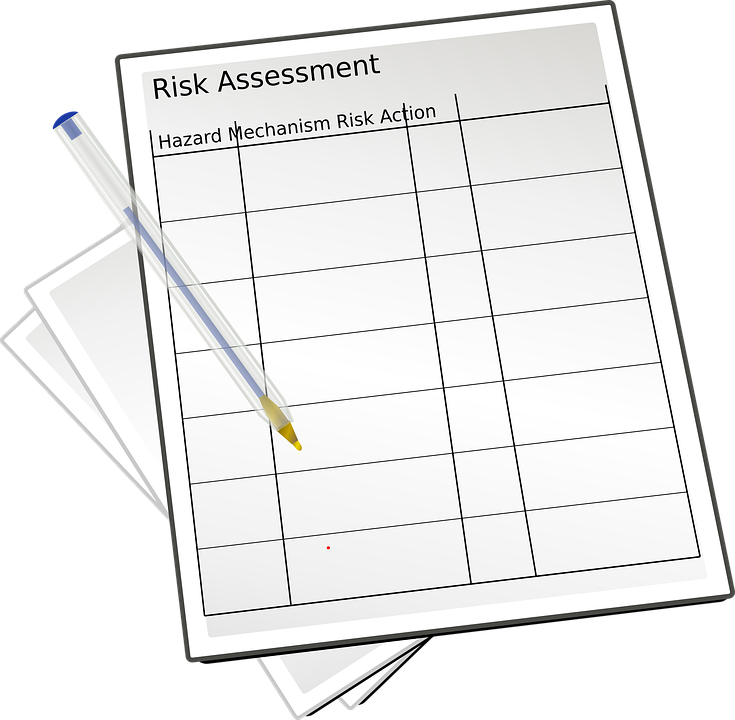 When running a business, it is inevitable to face different kinds of risks from different types of hazards. That is why wise decisions must be made in controlling these risks and in implementing the best solution. The company should be able to make long term solutions to avoid the risks from occurring over and over again. And in treating these risks, a responsible and well trained team must take charge for the sake of everyone's safety and security.
Further on this article, you will be given some simple tips that you could apply and you will be oriented with the benefits of assessments forms for risks. Follow these tips in order to have an effective and efficient way of assessing each and every inevitable level of risks found in your company.
What Is a Risk Assessment?
A risk assessment is an evaluation of how much risk the equipment has if these are not properly maintained, and how much risk these could cause an individual in the company. This assessment of risk is an examination of how things operate and how things are used accordingly.
If there happens to be some complications regarding the business operations, a risk assessment is conducted in order to better understand how things resulted in a hurdle. Conduction of risk assessments are made effective if these are listed or documented in a risk assessment form.
Simple Tips in Conducting Your Risk Assessment
A risk assessment is often conducted once or twice a month depending on the situation. This is to make sure that the risks are controlled and managed appropriately. The comparison of previous risks to the current ones is also important in order for your company to determine how often risks from the same thing occur, and identify any new risks you are facing every month. These are compared using monthly review forms.
The risk assessment is also conducted when there are new equipment, materials, or resources have arrived. The reason for this is to examine the nature of these things, and how they operate. Now here are some simple tips for your risk assessment.
It is important that you check the equipment user guide or manual in order to better understand how these behave and how to control them when there are unnecessary variation.
Gather your team and have a meeting regarding the business operations. In this way, each and everyone will be aware about unusual happenings in the company.
Meetings should be prioritized and must be specifically scheduled. Although, there are times when managers call for an emergency meeting.
Give chance for others to be heard by letting them speak about their opinions, suggestions, recommendations, and reactions. Listen to your employees' suggestions since they might have a great idea that could lessen your loads.
Remember that each individual has different perspectives on how they see things form their point-of-view.
Synergize and give importance to the team. Remember that you need a helping hand in solving the issues that you encounter in your company. Do not disregard the teams' cooperation and tr to solve things on your own.
Take charge of your team and control them in a manner that everyone is fair. If one member is passive, encourage and train him or her accordingly. Don't be too hard on them.
All hazards that are found in the company and how much risks these hazards contain must be listed and documented accordingly and comprehensively.
Each and everyone, most especially the members in the team, should be trained enough to handle different kinds of hazards and risks, most especially when these hazards have worsened. This is to make sure that when any equipment or hazards have caused any damages, the team will be able to execute the appropriate solution in treating them.
The use of standard risk assessment forms is mandatory since these are used in order to determine all the hazards and risks found, and rank them according to the level of how they will affect internal and external individuals.
In treating the risks, there should be proper designation of each member in order to solve or reduce the risks before they cause any damages. This simply means that you should appropriately appoint your people in order to work as a team, and in order to reduce level of risks immediately.
Communication is important to fill in the gap between you and each member of your team. It is important that you often communicate in order to build a strong bond, especially when treating the risks and hazards.
The team must be followed up with and provide different feedback regularly depending on the risks that are found, and see whether these risk levels are reduced, treatable or have worsen and made complications.
If risks have worsened, conduct another meeting to brainstorm with the team in coming up for effective and better solutions than the previous one.
Risks should be analyzed and understood well. Each must have a solution first before treating or moving to another different risk.
Risks that are ranked as lowest should also be taken seriously since there are possibilities when the level of these risks are increased.
These are just few of the simple tips for risk assessment. And to sum it all up, in order to avoid the worsening of risks which hazards contain, a preventive actions should be formulated. And in order to not commit the same mistake or have the same risks over and over again, corrective actions should be devised.
How To Fill Out a Risk Assessment Form
A risk assessment form must be secured and obtained whenever risk assessments are conducted. In order to know how to fill out the form for risk assessment, here are the essential components that the risk assessment form has.
The risk assessment form reference number
The date of when the assessment takes place
The dates of when was the previous risk assessment conducted and when will it be conducted next
The information of the assessor/s or the team's representative such as name, position, department
The information of each member in the team such as name and position (if they have different kinds of position)
The list of hazards that are identified and found in the company and where these hazards resulted from
The nature of hazards whether it is an equipment failure, chemical spill or radiation, physical from activity, concerning with health, etc
The possible injuries or ill health that corresponds these hazards
The people who will be affected by these hazards
The percentage or level of risks that these hazards contain
The existing controls in reducing the risks from the specific hazards and the additional controls to be taken in order to make an even more effective risk control
The member's name who treats or implements the control/s for the risks of certain hazards
The date when hazards and risks are controlled and resolved
The comments or remarks about the hazards' risk control, whether they are reduced, treatable, or aggravated
Additional notes are necessary if there are more information to be given
The signature of the assessor leader affixed at the bottom together with the date of when it is reviewed or processed
The signature, name, designation and date of when the risk assessment is approved by the officer in charge
The Importance of Risk Assessment
Risk assessments are mandatory, and should not to be taken for granted since the safety of each and everyone depends on how risks and hazards are treated. And it is the responsibility of every organization to ensure the safety and security of their workforce.
Risk assessments do not just protect the safety of the people involved in the organization, but also the company's business management and operations, and the people outside the company. It is also important that the company is cleared from any harm that may result in significant damages.
One way to make sure of this is by the completion of a company clearance form. This form pertains to the business operations if these are held legal, and if the company have all the legal documents to support their business management. The clearance form also pertains to the company's location, workplace, environment or surroundings and equipment (if these are safe and legal to use).
Another way of preventing risks and hazards to aggravate is by conducting an orientation with all the employees, teams, managers and/or department heads regarding the possible threats that they might encounter. Each and every one should be reminded on how things should be done in order to avoid the risks, and how to practice good conduct and proper use of the company's properties for work-related operations only. This orientation is also conducted in order for the management to hear the feedback from employees. And be aware of the things that they find wrong about the management and the operations.
To sum it all up, risk assessments are conducted to create or increase the awareness of each and everyone in the company. And risk assessments help them to determine what are most likely to happen, what are the consequences and what are the circumstances if the company is in a complete ignorance of what these risks can cause. In order to prevent injuries and health complications, safety and security precautions must be practiced and followed at all times.