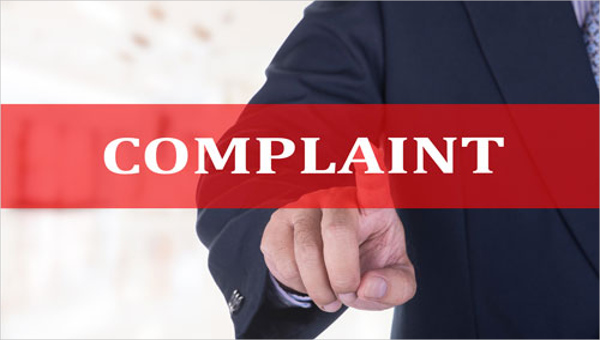 Making a complaint is something that one does in the event that there are problems that negatively effect that person and/or others. Filing complaints can help certain authoritative figures take action should these issues require them. Which is also why it is important to learn how to handle each and every complaint that people come across.
Many businesses receive complaints due to either poor service, low quality products, or even uncooperative customer service. A good example of delivering a proper complaint would be through the use of customer complaint forms. With these forms, a customer is able to provide information about the type of problem that has occurred which ruins everyone's customer experience.
Residential Accommodation Complaint Form
Noise Complaint Form
Residential Eviction
How to Make a Complaint About a Residential Home
When making a complaint about any residential home, think of it as the same way as using Vendor Complaint Forms wherein you will need to provide the proper information before the complaint is assessed. So one must provide the following:
The resident's name
Resident's rental property address and unit number.
Name of the landlord
Landlord's contact details and address
Name of the property manager
Property manager's contact details an address
Date of when the complaint was made
The purpose of the complaint
How to Make a Residential  Noise Complaint?
When creating a residential noise complaint, one must make use of any of the General Complaint Forms that caters to the purpose. That person must then provide details regarding the noise such as the address of where the noise is coming from, the type and source of the noise, the time of day it occurs and how frequently the noise happens.
It is also important to note if you have discussed the problem with whoever is making the noise to help see if there were any actions taken to prevent it from happening. Provide any relevant information if necessary and place in the date of  when the noise complaint was made to complete it.
Residential Assessment
Residential Complaint
Guidelines for Creating a Residential Complaint
When making your complaint, provide all information regarding who you are, the address of where you are currently residing, and who your landlord is.
Make that when creating the residential complaint, you provide details as to why you are making it. If it's for a landlord complaint, then specify what the landlord did and why it violates the landlord-tenant agreement.
If you are a landlord who wishes to evict a specific  tenant in regards to the multiple complaints through other tenants that you have acquired,  sent a notice that within 1 week's time of that tenant's eviction, along with the reason as to why.
While there are many different complaint forms, people and businesses need to learn their purposes to better understand how to deal with them. So if you would like to learn on forms such as Employee Complaint Forms, which shows problems that an employee encounters that the employer needs to be aware of, then you may go through our different complaint form samples to aid you.