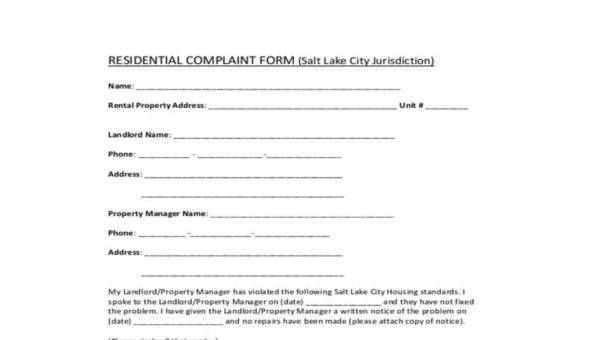 Observing regular maintenance procedures for your home may be taxing, especially if you are no expert in home improvement. Moreover, it is much more complex when your home is rented. You will find yourself looking at request forms and Complaint Forms just to have your amenities checked or repaired.
Another alternative you can turn to is the services offered by residential maintenance contractors. Getting much-needed repairs or upgrades for your home will prove to be easier when you turn to experts. All you will need to do is conduct a bit of research to find a service provider you can count on.
Residential Accommodation Complaint Form
Residential Complaint Form in PDF
Residential and Commercial Construction Complaint Form
Residential Complaint Form Example
Choosing the Right Residential Maintenance Contractor
When acquiring maintenance services for your home, there are certain points you will need to consider, especially when choosing a service provider. Getting your money's worth is simply a matter of doing your research beforehand, whether it is looking into the track record of a particular service provider or browsing Customer Complaint Forms of contractors online. Furthermore, being critical in choosing a contractor will guarantee you excellent quality in terms of the procedures.
These are some of the points you should consider:
Determine which specific areas in your home require repairs. In doing this, you will know what services in particular you would need from your chosen contractor.
Get word-of-mouth recommendations from friends or relatives. One simple and foolproof way of acquiring reliable services is by talking to the people you know. Surely, your friends and relatives, and even your neighbors, can provide you with excellent recommendations and relevant information.
Talk to various contractors or service providers. When you think you have found a good contractor offering affordable services, it is still advised to talk to other service providers to widen your options.
Ask the right questions. It is best that you find out where else a contractor has rendered their services to. You should also look into the skills and specializations of their workers.
Residential/Business Complaint Form
Residential Complaint Form in Doc
Free Residential Complaint Form
General Residential Complaint Form
What to Look for in a Residential Maintenance Contractor
Finding a residential maintenance contractor can be as simple as looking through your local online classifieds and handpicking the first service provider that comes up. However, if you really want to be guaranteed exemplary service, knowing what to look for will prove to be advantageous for you.
Just like how one would search for Patient Complaint Forms that have been filled out online to learn more about the services of a particular clinic or hospital, looking for reviews on several residential maintenance contractors will prove helpful. Furthermore, you can also take these points into consideration:
Various services or procedures available from a single provider. The contractor to opt for is one that specializes in more than one residential maintenance procedure. Choose the service provider that also offers mowing, irrigation, and landscape maintenance services.
Excellent customer service. Select a contractor that goes out of their way in terms of customer service.
Responsiveness to your needs and requests. One trait you should look for in a contractor is one that observes prompt communication; one that answers your inquiries in a prompt manner.
High quality tools, materials, and products. Bear in mind that the better the equipment a contractor uses in carrying out procedures, the more durable the outcome.