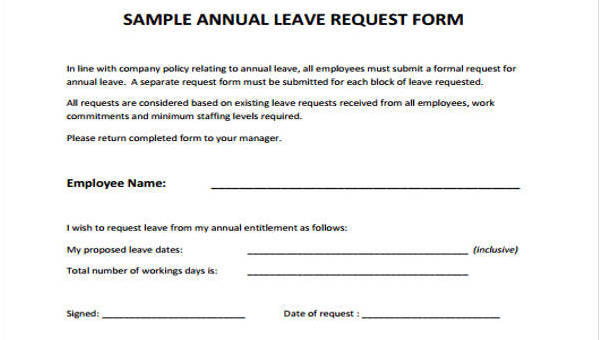 Who does not love a vacation? I, for one, would actually not think twice before spending my savings just to get away from the daily grind and the toxicity it endlessly produces, even for just a short amount of time. Most managers believe that going on vacations is of utmost importance to maintaining or rejuvenating team energy levels, and that time away from work can boost employee attitudes and makes them more productive. If you want to increase the chances of your vacation request's approval, I suggest you fill out a Vacation Request Form found here on this website.
Sample Vacation Request Forms
Employee Vacation Request Form
Free Vacation Request Form
Personnel Vacation Request Form
Check Request Forms
Duplicate Check Request Form
Check Payment Request Form
Check Reimbursement Request Form
Leave Request Forms
Leave of Absence Request Form
Vacation-Sick Leave Request Form
Annual Leave Request Form Sample
Parental Leave Request and Notice Form
Sample Purchase Request Forms
Purchase Approval Request Form
Student Catering Purchase Request Form
Purchase Card Account Change Request Form
Everyone deserves to take a break from work from time to time. Increase your chances of having your leave request approved by tendering a well-written vacation request letter to your supervisor well in advance of the dates that you want to take the time off. The letter that you write to request time-off does not need to be intricately long; though, it does need to be well-written and embody an appropriate level of professionalism. I suggest you use the Free Vacation Request Form shown here as a starting point for composing your own vacation request, based on the length of time you plan to be away from work.
One should also keep in mind that time-off requests are more often approved in the order they are received, so present your letter as soon as you know that you would like to schedule a vacation. It would dispiriting to find out the request is denied because a colleague has already been granted leave for the same time. But if the request is approved, confirm if there is a specific form that you need to submit so that your leave is properly documented, but most likely you will be asked for a Personnel Vacation Request Form, which this website happens to have.
If you need to ask for a leave of absence from your line of work, it is always wise to tender your request in writing. The Leave of Absence Request Form available on this website has always been a helpful document, and you can use it as a first move for putting together your own letter. Do not forget to review your company's leave of absence policy so you can be sure your request is consistent with any requirements that exist. As a responsible employee, always file for a leave of absence ahead of time. Consider the amount of work that you need to do when you come back to work to ensure that your leave application will not affect the operations. Also, be sensitive with the timing of your leave especially during the peak seasons of the business.
When it comes to requesting time-offs, your employer may ask for supplementary documentation verifying the reasons as to why your leave is necessary. You may want to be proactive and tender a Vacation-Sick Leave Request Form, which this website also produces, along with your initial letter. This might not always be needed, but expect that your co-workers will likely be curious about your reasons for taking a vacation, so come up with a plan ahead of time for sating their curiosity. As much as you wanted to avoid them, there is no guarantee they you can avoid them a hundred percent.
Before making your mind up to file and request for an Annual Leave Request Form, ruminate carefully on whether the circumstances of your need for time away from work are weighty enough for you to make the request. If it is, make sure that you are prepared to handle the financial implications of not working during the time frame requested, as the time you are out on a leave of absence will most likely leave you with a good amount of backlog. Think about talking your situation over with a supervisor in advance before submitting the written request, or deliver the request in person so that you can be there to explain things.
Sample Holiday Request Forms
Sample Holiday Request Form
Holiday Request Form
Simple Holiday Request Form
Product Request Forms
New Product Request Form
Product Review Request Form
Work Request Form Samples
Facility Services Work Order Request Form
Maintenance Work Request Form
Physician Request Forms
Physician Treatment Request Form
Sample Physician Request Form
Free Physician Order Form
A Check Request Form is used to identify the information needed by an organization before issuing payments for a variety of transactions. There are many reasons why a check request form is needed but it is mostly used for the processes concerning refunds, membership, royalties and postage. These can also be used in most organizations to request payment when an invoice is not available or was never provided. Theoretically, it is a solution – a solution which helps make a payment request become an easy task (when an invoice is missing). In reality, however, it can create numerous headaches for organizations using them, not to mention causing duplicate payments by the boatload (which a Duplicate Check Request Form, found here, would be needed). Since most payments made on Check Request Forms will not go through the painstaking three-way match in accounts payable, the documentation supporting the check request is absolutely vital. Fraud can also occur in response to an exasperated vendor claiming nonpayment. Some vendors have learned if they get on the phone and are generally abusive with a staff threatening credit holds, they can sometimes get a harassed controller to sign off on a check request form giving the payment the go signal.
There should be backup documentation, preferably something like a Check Payment Request Form perhaps, which builds up the check request and provides details regarding the payment amount, the payee, and the reason for the payment. The one exception to this is when organizations need a check request for every single payment. While this is not considered the best practice, some organizations with regulatory requirements find it necessary to use it. Check Request Forms are often used to accommodate rush check requests. Though there usually is an organized process when it comes to the submission and request of invoices, there may be instances or emergencies where it is necessary to provide payments to vendors right away. It normally happens when a payment is late and a disappointed vendor threatens to put the firm on credit hold. Since most payments made on Check Request Forms will not go through the painstaking three-way match in accounts payable, the documentation supporting the check request is of utmost importance. Being able to properly record and document the issuance of checks will help the people involved within the process, especially those in the finance and accounting department, to know why it is essential for the check to be given to rightful entities at a particular time.
A Check Reimbursement Request Form is often used to accommodate check requests that are needed to be rushed. Be reminded that the structure, content, and document format of this form depends on the regulations of the establishment who issues it. Check reimbursement request forms should always be filled-up accordingly and must be properly documented and attached with the documents that supports the need for the check reimbursement. These processes can lessen the chances of request duplication. Without the invoice to perform the three-way match, the purchase order and receiver, or POR, often remains open on the organization's books. One should require proper paperwork for every check request. If an invoice or copy of an invoice is not available, affix a copy of the contract, and an email detailing requirements or whatever is available. Great care should be taken to steer away from sending in the form without any auxiliary documents.
Customer Request Forms
Customer Refund Request Form
New Customer Request Form
Sample Customer Service Request Form
Sales Request Form Samples
Manufacturer Sales Visit Request Form
Sample Sales Request Form
Service Request Forms
Sample Service Request Form
Customer Service Request Form
Transcript Request Forms
Official Transcript Request Form
Generic Transcript Request Form
Change Request Form Samples
Record Change Request Form
Name Change Request Form
Project Request Forms
New Project Request Form
Marketing Project Request Form
Purchase Request Form Sample
Project Request Form
Service requests generally involve a query. For example, on requested logs and actions, requests for information about products or services, etc. can be assisted by a Service Request Form. Moreover, a request for specific services account maintenance activities such as change of address, request for new checkbook, request for invoice copy, balance transfer request, and insurance premium refund request can also be made easy through the said form. A service request normally goes through getting in touch with the enterprise's help desk to record their request, and commonly, this is done over a phone call. Alternatively, the requester may choose to contact via email, or as of late, social media platforms, which are also being extensively used for the purpose. They may then close the request or pass it on to the help desk to verify with the customer and close the issue, as per company rules, right after the customers hand over the Customer Service Request Form. In addition, there may be a third-party involvement as well. One of the few challenges in running a service request is to maintain transparency throughout the process. It is to ensure that the customers and the resource interacting with the customer have complete visibility into the activities being performed for fulfillment and state of completion.
If you would like to have a time for yourself and leave work for a while, it is highly suggested to put your request for a time-off into writing. A holiday request letter will demonstrate the employee's professionalism as well as properly document when the request was made and what dates the request should include. The letter should be short while including all the essential data. Also, the tone of the letter will have an impact on the recipient for granting the request, so it is always recommended to be formal and courteous. Before beginning the letter, the employee should research the vacation policies of the company, should there be special forms that need to be filled out or a specific amount of time before the date of departure that the request must be given. The employee has a better chance of getting approval if they follow the company guidelines and will have a better chance of getting the leave request approved if the Holiday Request Form found here is well-written and sent well in advance of the date that they want to be out of the office. Especially in the hospitality and service industries, filing of vacation leaves play a vital role when it comes to leave approvals due to the tedious work activities that are needed to be done and the amount of workforce that is required to be present during operational hours. That is why it is wise for employees to send the letter as soon as they know when they want to take their vacation. Even at times when an oral discussion has already been made, it is still important for employees to file for a leave in a written manner so there is an actual basis of the request that employers can document and take a note of.
The vacation request letter should have these components:
A clear and precise reason on why the vacation leave is necessary to be given to the employee
A well-formatted body which contains short and direct statements about the request and other information necessary to be known by the employer regarding the vacation request
The name of the people who should approve the vacation request letter. In most cases, the expected receiver of a vacation request letter is the immediate head of the employee.