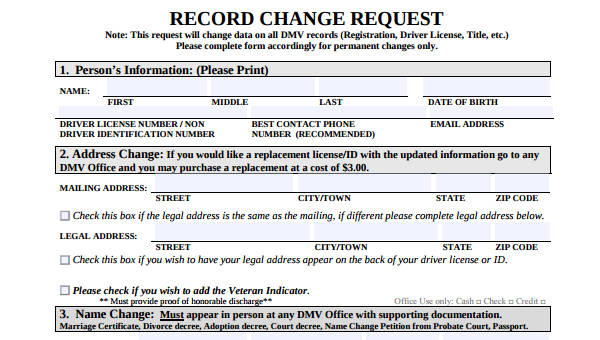 Businesses have various departments that work closely with each other. There are customers who need to send requests for their orders. Employees need to send in requests to their employers. It is necessary to use Request Forms for such functions to make everything organized and to give ample time for the receiving party of the form to work on or process the request.
There are several kinds of Request Forms, depending on what the item or subject requested is. You may browse through our samples below or check out our other Request Form Samples for other downloadable samples.
Customer Request Forms
New Customer Form
Sample Customer Request Form
Research Request Forms
Funding Research Form
Information Research Form
Pricing Research Request Form in PDF
Outpatient Request Forms
Outpatient Consult Form
Outpatient Treatment Form
Outpatient Treatment Form
Student Request Forms
Graduate Student Form
Student Conduct Appeal Form in PDF
Student Services Form
Service Request Forms
Factory Service Form
Service Request Enrollment Form
Customer Service Form
What Is a Request Form?
A Request Form is a formal document that allows anyone to send in a request and its details to the appropriate department, company, or organization. There are various formats available depending on what kind of Request Form it is. For your other business needs, you may also check out our sample Business Forms, where you will find a lot of downloadable templates that you can use.
Benefits of Using a Request Form
Request Forms are divided into sections and subsections so that they will prove very user-friendly. This avoids confusion for the persons who will fill them out. This way, one can make sure that no necessary details are left out of the form. Processing a request is not always so easy. There are requests that are complex and require a lot of details for them to be completed, so it it crucial that your Request Forms have all the needed information. This will also avoid having to follow up for more information with the person sending in the request, which may frustrate both parties. One example is the use of a Purchase Requisition Form, in which it is necessary to know all the details of the items that have to be purchased so that you will not purchase the wrong item that is not even needed, thereby wasting the money spent, or your time and energy in buying that item because you will need to have it exchanged.
Request Forms also make sure that every request being submitted is feasible and practical before they are actually worked on. This is done by sending the Request Form through the proper channels and departments that will have to evaluate every aspect of the request. If they do approve it, they will have to affix their signatures on the Request Form so that other departments will be aware of that when they take a look at the form. Although it is not always the case, there are requests that are pretty costly, and so it is imperative that the reason for the request is justified first. For Employee Vacation Requests, it is important that necessary arrangements for a substitute are planned first before the employee will file his leave, so that this substitute can take over his responsibilities while he is gone. This will help ensure the continuity of the business and avoid any disruptions in the daily operations of the company.
Aside from these benefits, there are also other benefits to using a pre-made Request Form. You can do away with having to make your own Request Form from scratch, which can take up a lot of your time and energy. This allows you to focus on more important and productive areas of your business. Also, because these forms are properly labelled, you can easily organize them depending on what kind of Request Form they are. That way, it will be easier to send in bulk requests before a cut-off period, which makes the whole process easier and more seamless. A lot can go wrong in a business, so it is best that everything is done properly and is organized to prevent problems.
Vacation Request Forms
Student Vacation Form
Employee Vacation Request Form
Holiday Request Forms
Annual Holiday Form in PDF
Employee Holiday Request Form
Leave Request Forms
Annual Leave Form
Employee Leave Request Form
Leave of Absence Form
Change Request Forms
Record Change Form
Name Change Form
Room Change Form
Purchase Request Forms
Purchase Request Form PDF
Simple Purchase Form
Customer Request Forms
These are Request Forms used by business organizations to be filled out by their customers who want to send in certain requests, such as applying for a loan or a credit card, requesting samples of products, and many others. You may also see our Customer Information Forms to record and keep the information of your customers for whatever purpose this may serve.
Research Request Forms
This is used by various business organizations and entities to allow their consumers to submit requests for research, such as checking if a piece of information is accurate, or to fund certain research studies. A Funding Research Form is used to request funding for a research study. Information on a Funding Research Form include the details of the study, how the study will be beneficial to the community, and how much the requested amount is. Aside from these information, there may also be other information included based on the specifications of the company or organization. You can also see our Research Proposal Forms.
Another example of Research Request Forms is Information Research Forms. This can be used by credit bureaus (Equifax, Transunion, and Experian) to be filled out by individuals who want to initiate an investigation for certain items on their credit reports. It is important to check your credit report from time to time to check for inaccuracies, since these inaccuracies might be affecting your credit score. When you do find certain inaccuracies, you can then submit an Information Research Form to the credit bureau where you got your credit report from, so that they can investigate the item that you find to be inaccurate or you feel should not be there.
Outpatient Request Forms
This is used by the outpatient department of medical care facilities, such as hospitals and clinics, to be filled out by their patients who want to set up an appointment for a physical check-up and / or medical treatment. The following bits of information are included on Outpatient Request Forms:
Patient information: This includes the patient's name, address, gender, date of birth, and contact details. These are basically information used for demographic purposes.
Emergency contact information: This includes the name and contact details of the patient's emergency contact.
Insurance information: This includes the type of insurance the patient has and the name of the insurance company. This is important so that the medical care facility will know who to contact for the payment of covered medical expenses, because the medical care facility will have to submit a medical claim to the insurance company.
Medical information: This is where the patient indicates what symptoms he is experiencing, which would also be the reason for his visit. In this section, the patient also indicates the date of the appointment he prefers. He can also indicate if he wants just mere consultation, or consultation and treatment.
Aside from these information, there may also be other specific information that the medical care facility wishes to include in an Outpatient Request Form. They may also ask the patients to fill out a Patient Information Form, especially new patients, so that they can have information on the patient's medical history, which will help them facilitate the patient's medical treatment.
Refund Request Forms
Business Refund Request Form
Student Refund Form
Business Request Forms
Business Name Request Form
Business Card Request Form
Travel Request Forms in PDF
Faculty Travel Form
Employee Travel Form
Attorney Request Forms
Attorney Fee Form
Attorney Information Form
Transcript Request Forms
Transcript Form
Official Transcript Form
Information Request Forms
Personal Information Form
Information Technology Form
Vacation Request Forms
Vacation Request Forms are used by business organizations and companies to be filled out by their employees and faculty who want to file for a vacation leave. A vacation leave is necessary for employees to be able to attend to personal matters, take a break, and basically maintain a healthy balance of work and life, or work-life balance. But it is also important that every employee will think of his responsibilities and obligations to the company and not just take off on a whim. This is so that the necessary adjustments and substitutes can be arranged in the absence of the employee or faculty to make sure that business operations will not be disrupted. You may also look at our Employee Vacation Request Forms for more downloadable samples and information.
Aside from employees, students also need to submit Vacation Request Forms whenever they will be absent from class. They will need to submit this form to the Director's office and have their teacher sign it as well. The reason for the absence should be valid so that when the student returns, he can catch up on all the schoolwork that he missed.
Change Request Forms
Change Request Forms are used by business organizations and public offices to be filled out by their employees and members who want to request changes on a purchase order, a vacation leave, or on their personal and employment records, such as a name change.
Upon joining an organization, one's information is collected and kept on file. This information kept by your company or organization is necessary for various reasons, such as for future reference. One example is the information that the Social Security Administration keeps on their members. This is crucial for the members to avail of their respective benefits and financial aid. Another example is the information kept by your company on your Emergency Contact Forms. This contains information of your emergency contacts, which could be your spouse, family members, or other relatives, to be used during emergency situations. Because of how crucial one's emergency contact details are, it is very important to keep this information updated so that there will be no problems in the future when these information has be accessed. For keeping them updated, Change Request Forms are utilized.
There are also instances wherein changes in a previous request are necessary, such as changes to vacation leave dates and purchase orders. There is a certain period of time when these changes are allowable, and Change Request Forms make it easier to document such changes for them to be processed promptly. Like any other business process, everything should be documented for proof and future reference.
Purchase Request Forms
Purchase Request Forms are used by business organizations to allow employees to request materials and equipment needed for the daily operation and development of the business. These materials may also be those that the employee needs to perform his daily tasks and responsibilities. Purchase Request Forms help the employer, especially the finance department, make sure that each purchase request is reasonable and has a valid business purpose.