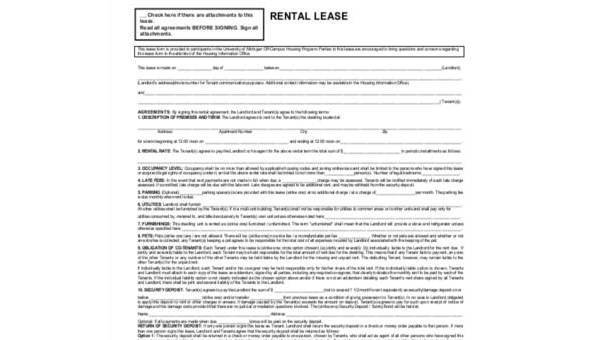 A Rental Lease Agreement is a necessary contract between a landlord and a tenant in order for them to close a deal for tenancy. Rental Lease Agreements are legally binding contracts that contain pertinent information related to the lease of a rental unit, such as the amount of rent due, terms of payment, as well as the duties and responsibilities of the landlord and the tenant.
Rental Lease Forms establish a formality in the negotiation between a landlord and a tenant. Having a written agreement is important in order for both parties to avoid misunderstandings, disputes, and maintain peaceful business relationships.
Rental Lease Agreement Form
Standard Rental Lease Form
Residential Lease Rental Agreement Form
Basic Rental Lease Form
Printable Rental Lease Form
The Advantages of Having a Rental Lease Agreement in a Lease
Rental Lease Agreements serve as a means of protection for the landlord because they enable him to set proper expectations for his tenants and tackle issues pertaining to the repair and maintenance of the property, sanitation, house rules, and payment terms. Rental Lease Agreements also safeguard a renter from sudden rate increases in rental dues.
Constructing a Rental Lease Agreement can be quite a challenge. You have to make sure that all important points are covered to avoid misunderstandings or disputes between your renters and you. Our Lease Forms, Rental Lease Agreement Forms, and Rental Lease Forms provide the key components of a Lease Agreement to make sure there are no loopholes. Below is a list of essential items that need to be included in a Rental Lease Agreement.
Names of the Parties Involved
When constructing your Rental Agreement, be sure to indicate the full names of all occupants. Indicating the names of every person residing in the leased space obligates each and everyone of them to pay rent when it is due and to abide by the terms and conditions in the agreement. This way, if one tenant loses his job or fails to pay rent, you can ask for payment from the other occupants and you won't get stuck having to ask for rent from only one person whose name is indicated in the contract.
Set Proper Expectation on the Limits of Occupants
Another way to set proper expectations among your renters is to establish a clear indication of the allowed number of tenants in one rental unit. These people have to be the people whose names are indicated in the contract and have signed it. Applying this technique on your Rental Agreements will guarantee you that the only people residing in your rental space are those who have been properly screened.
Duration of the Lease
Rental Lease Agreements should specify the duration of a lease. Leases usually last longer than rentals. Rentals renew each month while leases renew for at least a year.
Amount of Rent Due
Monthly rental dues, schedule of payments, mode of payments, penalties, late fees, etc. need to be clearly stated in the Rental Agreement.
Free Rental Lease Form
Rental Lease Application Form
Room Rental Lease Form
Apartment Rental Lease Form
House Rental Lease Form
Deposits
Advanced deposits and security deposits, their uses, and how they will be refunded have to be clearly defined in your contract, as well as terms for repairs and maintenance. Tenants have to be properly informed that it is their responsibility to maintain the cleanliness of the property and that any incurred damage to the property – whether intentional or unintentional – will have to be covered by the tenant or may be taken from his security deposit.
Restrictions
House rules and restrictions such as certain guidelines if a tenant has a pet, engages in illegal business, or causes excessive noise or disruptive behavior have to be clearly defined in your Rental Agreement to avoid trouble among your tenants and damage to your property.
Lease Forms can be quite a challenge to construct. It is important that your contract has the key details that need to be specified in a Rental Agreement to make sure that good relationships between the landlord and the renter are maintained all throughout the rental period. Our Rental Lease Agreement Forms and Rental Lease Forms can help you get the job done right when it comes to whipping up contracts for your land-lording business.