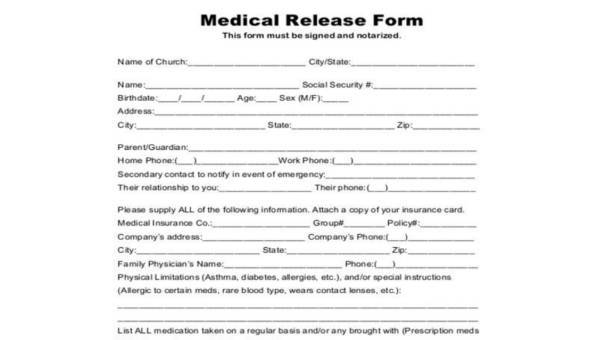 In today's legal world, almost every transaction has to be documented and signed to make it official. Although Contract Forms are there to lay down the terms and conditions of a transaction, there are really transactions and activities that would require the use of Release Forms to release a company from any legal liabilities. Not only do Release Forms exist to protect a company, but they protect their customers as well. Such is the case with HIPAA Release Forms, which are used to protect a patient's right to privacy. No matter what your company is, we have a lot of downloadable samples below that you can browse through. They are easy to edit and comprehend for your own perusal.
Release Forms
General Talent Release Form
Minor Talent Release Form
Model/Talent Release Form in PDF
Documentary Talent Release Form
Standard Talent Release Form
Consent Release Forms
Junior Player Release Form
Guest Player Release Form in PDF
Base Ball Player Release Form
Participant Player Release Form
Coach Release Forms
Life Coach Release Form
Player/Coach Release Form
Coach Photo Release Form in PDF
Volunteer Coach Release Form
Definition of a Release Form
A Release Form, by the name itself, releases a company from any claims or liabilities in the future. Basically, the releasor, who is the signee of the Release Form, gives up all rights to use and make any claims against the releasee, which is the other party in the Release Form. There are various formats of Release Forms available online. Each of them is tailor-fit for the specific needs of the company, their field of business, and the purpose it will serve. For your other business needs, you may also check out our downloadable Business Forms.
Advantages of Using Release Forms
Like any other Legal Forms, Release Forms exist to protect a business by ensuring its continuity. There are laws that exist to protect the well-being of consumers, and it is because of these existing laws that Release Forms are necessary. The proper use of Release Forms will ensure that a company will not be taken to court by properly gaining consent and authorization for every transaction they will do. Legal proceedings are very expensive, time-consuming, and can very well affect the reputation of your company, so it would be best to do everything you can to avoid them.
Using our pre-made Release Forms will allow you to free up your time and resources for more productive areas in your business. It can be quite a hassle to have to come up with a Release Form from scratch, so instead you may just browse through our forms here and find one that best suits the needs of your business. You may also edit these forms if you need to.
Our Release Forms are properly labelled, which allows for better organization of the forms to avoid any clutter in your office. Although electronic and online forms are widely used nowadays, there are disadvantages to using them. Given that they are electronic, they are prone to leakage of information and should always be maintained. They can also be easily accessed by hackers if you are not careful enough.
Because of these aforementioned advantages, there are a lot of users of Release Forms. Educational institutions, sports organizations, businesses, medical facilities, health insurance providers, and lending companies are among the myriad of Release Form users. For each user, the format and purpose varies. This is why Release Forms are flexible. You may also see our General Release Forms for more downloadable general samples.
Photo Release Forms
Standard Photo Release Form
Generic Photo Release Form
Model Photo Release Form
Employee Photo Release Form
General Release Forms
General Settlement Agreement Release Form
Free General Release Form
Employee General Records Release Form
Mutual General Release Form
Authorization Release Form
Agreement Release Forms in PDF
Location Agreement Release Form
Listing Agreement Release Form
Security Agreement Release Form
Rental Agreement Release Form
Real Estate Agreement Release Form
Talent Release Forms
Prior to the production of a film, photo, or video, a Talent Release Form has to be signed first by the participating actors and / or models. A Talent Release Form is used by producers, photographers, videographers, and any company in the film-making industry.
Advantages of Using a Talent Release Form
Unless a Talent Release Form is signed by all the actors and models who will participate in the making of a film, photo, or video, the rights to it will not belong entirely to the producer. This means that the actors and models will have legal claims to the material, unless they have released those claims over to the producer by signing a Talent Release Form.
Because a Talent Release Form then transfers all rights and claims to the material to the producer, he may then use it for whatever purpose it may serve and on all necessary platforms, both of which have to be properly stipulated in the Release Form. That means that if the producer would distribute or sell the material, it would be done by his own discretion. He does not need to ask permission from the actors and models, so long as a Talent Release Form was signed.
A Talent Release Form also protects the actors and models by clearly indicating what type of performance is going to be needed for the making of the material. That means that anything outside of what is agreed upon may be subject to legal action. You may also see our Talent Show Registration Forms for your registering talent shows.
Components of a Talent Release Form
Model Release Forms, Photo Release Forms, and Video Release Forms have basically the same format, because their purpose is more or less the same. Here are the components:
The name of the actor/s and model/s, along with their signatures
The name of the production company or the producer/s, along with their signatures
Details about the program or film, like the title
Location where the film will be shot
Date when the film will be shot
Explicit statement of the terms and conditions of the Talent Release Form, which could include the compensation for the actor/s and model/s
Signature of the parent/s and or guardian/s, if the actor or model is a minor or under the age of 18
It is important to have Talent Release Forms signed before production starts to avoid any problems as you are filming, and always remember to keep the forms in case you will need them in the future.
Medical Release Forms
Child Medical Release Form
Generic Medical Release Form
Blank Medical Release Form
Free Medical Release Form in PDF
Medical Information Release Form
Model Release Forms
Minor Model Release Form in PDF
Photography Model Release Form
Standard Model Release Form
Free Model Release Form
Video Model Release Form
Music Release Form
Payroll Information Release Form
Player Release Forms
Player Release Forms are used by sports organizations to protect them from any legal liabilities during sports events and tournaments.
Uses of Player Release Forms
Playing sports entails risks of physical injuries and can be very dangerous. There could be unforeseeable events that could lead to these physical injuries that would in no way be the sports organization's fault, which is why they need to be protected in case accidents happen.
Aside from that, a Player Release Form, much like a Medical Consent Form can provide consent for the organization to get medical treatment for the player during a medical emergency or if any accident would occur during the game. There are also specifications regarding the player's health information that should be included, such as his preferred healthcare facility and physician, any medications he is currently taking, any allergies to food and medication, and his medical history. This would help the healthcare facility in determining the course of his medical treatment.
Aside from the above two information, there should also be a statement that the player is physically fit to enter in the activity or tournament. This is so that if there are any accidents resulting from an underlying medical condition that was not disclosed, the sports organization will not be held financially and legally liable for it.
Player Release Forms can also be used to release a participant from further participating in the game if he suffers from an injury, such as a concussion.
Also, if a player does not wish to play in his current or home association and wants to transfer, a Player Release Form should be used to authorize such transfer. This is necessary because the form would have to be signed by various organization heads and subjected for approval.
Aside from Player Release Forms and Talent Release Forms, there are other types of Release Forms, such as Medical Records Release Forms, which are used by medical facilities and health insurance providers prior to releasing protected patient health information to other parties for whatever purpose it may serve.
Another type is the Agreement Release Forms, which is used to release the parties involved in an agreement after the agreement has expired or after the conditions of the agreement has been met. An example is when a debt or mortgage has been cleared or paid off already. Such Release Forms are used by real estate companies, landlords, and rental companies, among others.