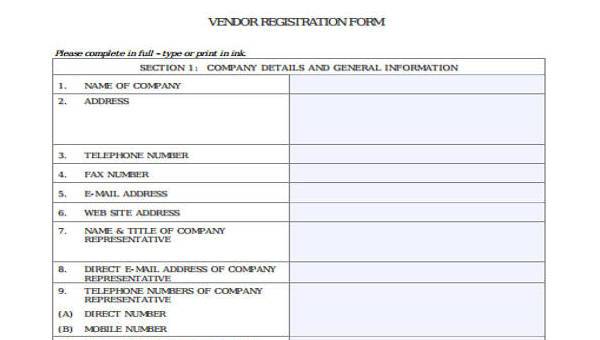 Registration Forms are used by various companies and institutions to obtain information on individuals who wish to be a part of their company, either as an employee or a regular customer. Aside from this, there are various business purposes that a Registration Form serves aside from registering, such as statistical or demographic purposes, which would depend on what type of Registration Form it is and what field of business the company is in.
You may browse through our HR Registration Forms, Event Registration Forms, and other types below for the samples. You may use these samples as basis for your own Registration Forms.
Voter Registration Forms
Voter Registration Application Form
Printable Voter Registration Form
Federal Voter Registration Form
Fillable Registration Forms
Fillable Patient Registration Form
Fillable New Account Registration Form in PDF
Convention Registration Forms
Sample Convention Registration Form
Convention Registration Form in PDF
Company Registration Forms in PDF
Company Application Registration Form
Company House Registration Form
Target Audience of Registration Forms
There are various users of Registration Forms. Both private and public entities use these forms when registering their constituents. Such registrations include voter registrations and job registrations.
Business organizations use Registration Forms when registering their employees or customers. Employers need to have all the information necessary for the employment of their employees, and Registration Forms are a great way to obtain them. The same goes for customers. Businesses also obtain information about their customers so that they can serve them better and cater to their needs. They can also obtain statistical or demographic information which will help them with market research. You may see our Customer Registration Forms for downloadable samples of such forms.
Educational institutions also use Registration Forms when their students register for enrollment. This is especially true for first-time enrollees, wherein additional documents are required to be submitted along with the Student Registration Form. Such documents include birth certificates, proof of residency, educational documents from previous school attended, and others. Student Registration Forms also include the student's emergency contact information and medical history information in case of emergencies. Since the school is a child's second home, this is important to keep them safe and healthy at all times.
Healthcare facilities, such as clinics and hospitals, also require Registration Forms to be filled out upon the arrival or admittance of a patient. Such Registration Forms are called Patient Registration Forms. There are many bits of information on a Patient Registration Form that will aid the doctor or healthcare personnel in determining the course of medical treatment for the patient. Such information includes the patient's medical history and family history, any present symptoms experienced by the patient, any allergies the patient may have to food and medication, and the patient's immunization history.
Government agencies also use Registration Forms. One example is Car Registration Forms used by the Department of Motor Vehicles to register cars and any other vehicles to deem those vehicles roadworthy. Another example is Voter Registration Forms used by state or local election offices to register citizens who are over 18 years of age to vote. The government uses Registration Forms for record purposes for future reference and also for regulation purposes.
Given these uses, one can conclude that Registration Forms are used by almost every existing company or organization, both private and public, and in any field of business. Because of the variety of uses of Registration Forms, there are also a variety of formats available online. No matter what format you use, it is important that you have all the necessary information you need to go about with the process of registering these individuals.
Benefits of Using Registration Forms
Using pre-made Registration Forms is beneficial to saving time and avoid too much hassle in coming up with your own forms. You may also use our samples as your basis. You would only need to tweak and edit the forms, and add sections that are applicable, and remove sections that are not important. Using Registration Forms are great for keeping records for future reference, so make sure to have one filled out for each individual who wants to be a part of your company or organization, or simply be a part of an event or conference.
Job Registration Forms
Job Seeker Registration Form
Job Consultancy Registration Form
Employment Registration Form in PDF
Conference Registration Forms
Conference Vendor Registration Form
Conference Pre-Registration Form
Conference Registration Form in PDF
Event Registration Forms in PDF
Free Event Registration Form
Sample of Event Registration Form
School Event Registration Form
Church Event Registration Forms
Church Ministry Event Registration Form in PDF
Church Conference Registration Form
Church School Registration Form
Voter Registration Forms
Voter Registration Forms are used by state or local election offices to register individuals who are citizens of the country and are 18 years of age or over. This will allow the registered individual to vote during local, state, and federal elections. A person's right of suffrage has to be exercised because every vote counts. As taxpayers, it is important for us to have a say in who will handle our tax money and how this tax money is used.
Where Can I Register to Vote?
You may register online at Vote.USA.gov, where you can also download a form, fill it out manually, and mail it to the location listed for your state.
You may also register in person with your local or state election offices. If these offices are nowhere near your vicinity, you may also check with nearby alternative public offices if you can register to vote with them. Such public offices include the Department of Motor Vehicles (DMV), armed services recruitment centers, and state and county public assistance offices.
For United States citizens who are living outside the United States, a person serving in the Armed Forces, or a spouse or eligible family member of a person serving in the Armed Forces, then you can register to vote through the Federal Voting Assistance Program, which according to Wikipedia, is a voter assistance and education program established by the United States Department of Defense in accordance with Federal law to ensure that members of the US armed forces, their eligible family members, and US citizens overseas are aware of their right to vote and have the tools to do so from outside the country.
Once you are registered to vote, it is important that any updates, such as a name change or change in permanent address, are recorded. This is so that the new election office for your new address or location can notify the previous election office so that they can cancel your registration there.
Patient Registration Forms
Patient Registration Forms are used to obtain the information of a patient upon arrival or admittance. As stated in the earlier section of this article, the information on Patient Registration Forms will help the doctor determine the course of medical treatment for the patient. Such information include the patient's medical and family history, any allergies to medication and food, any present symptoms the patient is experiencing, and the patient's immunization history.
Aside from this purpose, a Patient Registration Form also collects demographic information that will help medical organizations determine the trends of certain diseases, like the age group or gender that are more susceptible to the disease. These trends can be used to identify possible causes of the disease and formulate preventive methods.
There are also Patient Registration Forms that have disclosure agreements and consent forms attached after the registration information to protect the healthcare facility from any legal and financial liabilities in the future. Such disclosure agreements include the statement that the patient's information will not be disclosed unless otherwise authorized by the patient or required by law. You may also see our Patient Information Forms for more samples.
Teacher Registration Forms
Application for Teacher Registration Form
Teacher Council Registration Form
Teacher Training Registration Form
Travel Registration Forms
Travel BaseBall Registration Form
Travel Softball Registration Form
Vendor Registration Forms
Sample Vendor Registration Form
Vendor Registration Form in PDF
HR Registration Forms
HR Consultancy Registration Form
HR Conference Registration Form
Convention Registration Forms
A convention is a large meeting and conference attended by members of a certain political party, a particular profession, or members of an organization. There are various conventions being held worldwide simultaneously for various reasons. The participants of a convention could be gathering because they are enthusiasts of a certain movie or television program, such as a Star Trek convention, or the Comic-Con or Comic Convention for enthusiasts of comics and other related art forms. They could also be gathering to set up an agreement to address a particular issue. The various uses and necessities of conventions result in the availability of various formats of Convention Registration Forms. You may also see our Event Registration Forms and Conference Registration Forms for other downloadable samples.
Importance of Using Convention Registration Forms
The use of Convention Registration Forms will help you confirm the attendance of your participants so that you can anticipate how many participants will attend. This will allow you to prepare the venue, meals, and other necessities of your guests based on the number of participants who will attend. Overestimating can lead to a waste of resources, while underestimating could lead to a social embarrassment of the host or organizer of the event or convention.
Not only will a Convention Registration Form help you confirm how many participants will attend; it can also help you take note of the specific needs of the participants. Such specifications could include the need of wheelchair accessibility, dietary needs, language preferences, and others. This is important so that no participant will feel left out and unimportant because their needs are catered to promptly. You will want to make sure that your participants are comfortable and happy with their experience throughout the length of the conference so that you can gain positive reviews and more people will attend your conventions the next time around.
Aside from making sure that the participants are happy, it is also important to ensure their safety. These Convention Registration Forms can also contain emergency contact information for use during emergency situations, because it is of utmost importance that the participants are safe while they are in the venue, not only for moral reasons, but for legal reasons as well.
Aside from the ones outlined on this article, there are various types of Registration Forms that you can download here, such as Company Registration Forms and HR Registration Forms. Whatever purpose you may use it for, you are sure to find a Registration Form on our website that will cater to the specific needs of your organization.