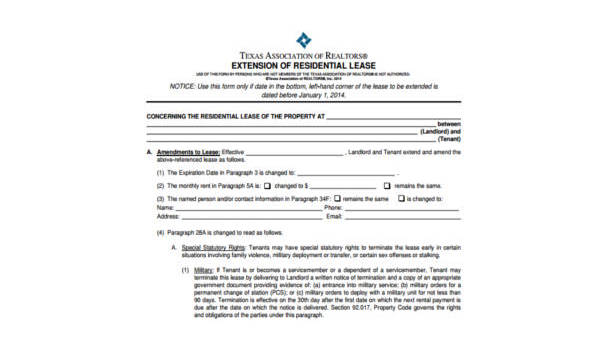 A Real Estate Lease Agreement is a written document that incorporates certain terms and obligations when a lessor or an owner of the property rents it out to a lessee for either short-term or long-term use. Lease Forms are a crucial type of paperwork since they set forth the relationship between the landlord and the tenant.
Lease Agreements should be a necessary requirement when a tenant's Lease Application is accepted. A Lease Agreement not only helps outline terms and obligations; it also equips a tenant with the right proof or evidence for a landlord not to make outrageous rent increases. Our Real Estate Forms will help you conjure the Lease Agreement that properly fits your needs.
Real Estate Lease Agreement Form
Commercial Real Estate Lease Form
Real Estate Rental Lease Form
Real Estate Master Lease Form
The Advantages of Having a Lease Agreement
Undoubtedly, having a written Real Estate Lease Agreement Form not only provides certainty, it also provides clarity. A Lease Agreement clearly defines the obligations of the tenant and the landlord and can immediately serve as a reference when disputes arise.
It is crucial for a tenant to properly read a Lease Agreement prior to signing it. Some Lease Agreements may contain clauses that you may not want to agree to, such as:
The automatic renewal of a lease
Automatic rent increases
The requirement of renter's insurance
Unwanted penalties or fees
Real Estate Lease Forms and Their Contents
Typically, a Lease Form may vary according to a landlord and a tenant's preferences, or according to its use. However, a standard Lease Agreement Form normally covers the following information:
Complete names of the tenant and the landlord
Specific location or address of the leased property
Amount of rent due and its mode of payment
The schedule of payment or its corresponding due date
The duration of the tenancy
Specific terms and obligations
House rules
Forfeiture clauses
Real Estate Lease Form Free
Real Estate Lease Extension Form
Real Estate Lease Application Form
Real Estate Lease Renewal Form
Residential Real Estate Lease Form
General Real Estate Lease Agreement Form
Below are the necessary terms and conditions of a typical lease:
Possession of the Property
Lease Agreements, especially ones pertaining to Real Estate Properties, give full permission to the tenant to take full possession of the property for their enjoyment. However, a landlord may be required to enter the leased property especially in instances when repairs have to be made.
Lease Terms
Leases generally indicate a duration period to specify the start and end dates. Most leases are effective for months and some even take years.
Maintenance and Improvements
More often than not, improvements done on a leased property can be done so by the tenant, but they will eventually become the landlord's property once the lease is over. In most residential property leases, the maintenance and repair costs are covered by the landlord.
Security Deposit
Most Lease Agreements typically require security deposits. Security Deposits are a landlord's means to protect himself from tenants who fail to pay rent or tenants who may cause damage to the property. Once a tenant's lease is over, a security deposit is then returned to the renter after inspection of the property.
Real Estate Disclosure
Real Estate Disclosure is when a seller of real estate discloses details and information about defective appliances or systems, repair issues, leaks, or environmental hazard to the buyer of the property. You may download our Real Estate Disclosure Form samples, which will help save you from the hassle of having to structure one from scratch.