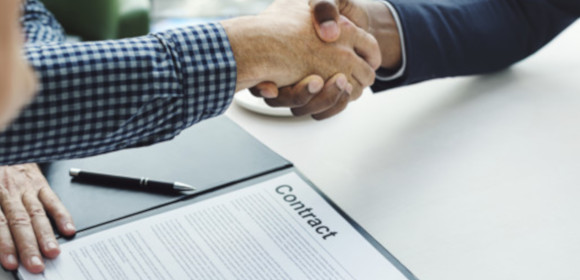 Let's say you've fallen in love with the house that your real estate agent had brought you to. You've been made an offer, and you'd like to seal the deal so you can finally own it. Buying and selling property requires a ton of paperwork that will outline and document the specifications of your offer.
A Real Estate Contract is a contract between parties for the purchase and sale, exchange, or other conveyance of real estate. The details of a Real Estate Contract generally vary according to the state that you live in and in local levels; however, Real Estate Contracts typically have to be in writing in order for them to be implemented.
Real Estate Purchase Contract Form
Free Real Estate Contract Form
Residential Real Estate Contract Form
Real Estate Sale Contract Form
Sample Real Estate Land Contract Form
The Contents of a Real Estate Contract
A Real Estate Contract Form typically includes the following pieces of information:
Identities of Parties Involved
Your Real Estate Contract should indicate the names of all the parties involved in the negotiation, regardless if it is a corporate entity or a Limited Liability Company (LLC). Typically, people involved in the sale of a real estate property include the buyer, the seller, an agent, or an attorney.
Dates and Duration
Dates involved in the agreement should also be indicated in the contract, such as its expiration date and its start date.
Legal Descriptions
Your Real Estate Contract should indicate a legal description of the property. Legal descriptions are typically provided by a licensed surveyor who is trained and authorized to locate and determine the legal description of any property.
Offering Price and Financial Terms
State the offering price and the terms for which payment must be given, including date or schedules of payment.
Seller Assist
A Seller Assist is when a seller and a buyer have agreed that the seller will cover a portion of or all closing costs. Closing costs are expenses that are over and above the price of the property, such as origination fees and private mortgage insurance.
Real Estate Assignment Contract Form
Real Estate Contingency Contract Form in PDF
Real Estate Option Contract Form
Real Estate Contract Release Form
Simple Real Estate Purchase Contract
Home Inspection Contingency
A Home Inspection Contingency allows a buyer to freely walk away from a deal if the results of a home inspection yield expensive results.
Key Clauses
Other key clauses may also be further added into the contract that relate to the purchase of a real estate property such as title requirements, warranties, and escrow.
Signatures
All parties involved in the purchase deal have to willfully affix their signature as a demonstration of acceptance to the terms and conditions stated in the contract.
The Cancellation of a Home Purchase Agreement
Cancelling a Real Estate Contract can be possible if the offer has not yet been accepted. A buyer or a seller may issue a document that states the withdrawal of the offer. However, things can get a little tricky when the offer has already been accepted and especially if the seller does not have other or better offers for the property.
Owning your own home can be a dream fulfillment for a lot of people and you may be in a hurry to finish the deal and to live in your own home. It is also important, however, to go through the necessary steps and procedures to owning a house. Houses are really big investments; you have to be extra cautious when you are making an offer to purchase them. Make sure that you are using solid and foolproof Real Estate Sales Contract Forms. You can choose from our wide array of contract forms to download to save you from a lot of hassle.