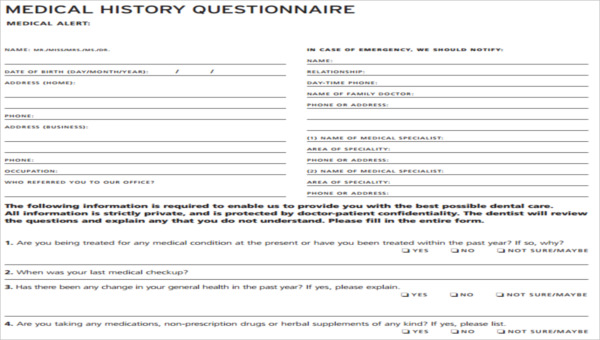 In order for legal cases to reach to its righteous verdicts, courts must undergo due process in choosing juries. The jury, before appearing to any court, must bring with him a questionnaire form. The purpose of a Jury Questionnaire Form is to make sure that potential jurors will be impaneled.
Any questionnaire shall be expected to bring out results which may determine either satisfactory results or results which may reveal the needs for improvement. Just like Customer Service Survey Questionnaires, customers will be answering many questions and giving feedback to the services that they have experienced from a certain service-provider.
Interview Questionnaire Form
Pre-Interview
Exit Interview
Accident Questionnaire Form
Motor Vehicle Accident
Auto Accident
What is a Questionnaire Design?
Questionnaires, no matter what purpose you wish to use them for, is a set of questions that will be answered by respondents. Just like Health Questionnaire Forms which are designed for any medical staff to figure out a patient's medical health status, questionnaire designs are primarily used in collecting significant data. It is a simple approach to answering certain problem statements. A questionnaire design may have use any methods of questioning namely open-ended questions which gives respondents the right to freely answer each question, fixed alternative which offers multiple choices, and projective methods which means that the attitude of the respondents may be revealed through their answers.
Why do We Use Questionnaires in Research?
Researches are done to answer a specific set of problem. To make any research successful, researchers might need to ask help from respondents through the use of questionnaires. The data which will be gathered by the researchers will then be translated to either a statistical data or descriptive data. Either way, answers of the respondents replicated in the questionnaire forms will help the researchers reach their conclusion and with the answers to their problems through analyzing the data they have gathered. As stated above, there are many designs to be used in a questionnaire. To make it convenient for a researcher, Free Questionnaire Forms are available online.
Health Questionnaire Form
Dental Health
Staff Health
Fitness Health
Medical Questionnaire Form
Employment Medical
Medical Surveillance
Medical History
Student Questionnaire Form
Student Feedback
Student Residency
What are Different Types of Questionnaires?
As you can see, there are available questionnaire forms in pdf format, this indicates that your questionnaire may use two different formats. One makes use of open format questions and the other makes use of closed format questions. Open format questions are the open-ended and projective method questions, where the researchers don't have control over what the respondents will answer in their questions. Answers from these questions are also hard to analyze as there will be diverse answers from a number of respondents. On one hand, your closed format questions can easily be analyzed and simplified as these are questions with answers which are already predicted by researchers. Therefore, respondents will have to choose only from dual or multiple choices.
Under the closed format questions, your questionnaire may be in a form of any of these types:
Leading Questions –  You already lead your respondents to a particular answer which could be referring to similar opinions and assessments.
Importance Questions – these questions uses a scaling system. Usually, you will ask your respondents to rate specific information from scales of 1-5 or more.
Likert Questions – these type of questionnaire will ask your respondents about how strongly they would agree or disagree to certain statements.
Dichotomous Questions – these questions will only give your respondents two choices – is it a YES or a NO?
Bipolar Questions – using levels of extremities, your respondents will have to rate their opinions between two ends.
Buying Propensity Questions – usually used by market researchers, this buying propensity questionnaire will figure out how much people would wish to buy a certain product.
Aside from these, there are also what you call as Mixed Questionnaires. Usually used for social research, this type mixes open and closed question formats. For example, allowing your respondents to choose their preferred vacation destinations between choices you have presumed or none of it at all.
Divorce Questionnaire Form
Intake Divorce
Confidential Divorce
Disability Questionnaire Form
Disability Discrimination
Disability Benefits
Environmental Questionnaire Form
Environmental Compliance
Real Estate Environmental
Family Questionnaire Form
Family History
Family Health
Family Tree
Guardianship Questionnaire Form
Proposed Guardianship
Minor Guardianship
Adult Guardianship
How Do Businesses Use Questionnaires and Surveys?
Given the different types of questionnaires above, you will find out that most businesses use questionnaires and surveys for marketing purposes. For example, if your business will have to produce a new product, what percentage of your target audience shows more interest in purchasing the new product? Aside from this, businesses may also use questionnaires to find out whether their customers have been satisfied by their services. Other businesses also make use of Interview Questionnaire Forms to lay-out a set of questions for their applicants and for them to easily identify which of these applicants respond best to the needs of their organization.
Why Are Questionnaires Better than Focus Groups?
Questionnaires are more of a quantitative method of reaching answers while focus groups are more qualitative. In terms of choosing which is more effective, you have to note that quantitative methods will lead you to a particular answer which is conveniently analyzed. These focus groups are usually a circle of people exploring details, answering not just the question, "what" but also, "how" and "why" but during the discussion, it is inevitable to somehow include unnecessary details of the study. This is basically the same as stating why businesses have Financial Questionnaire Forms to be filled out than just verbally asking the employee or client of their financial capability. Questionnaires makes it easier and a better option for the respondents to reach their answers as these questionnaire limits the answers to what is really necessary.
Job Questionnaire Form
Job Analysis
Job Description
Patient Questionnaire Form
Patient Satisfaction
Patient Health
New Patient
Pregnancy Questionnaire Form
Initial Pregnancy
Personal Questionnaire Form
Personal Injury
Personal Financial
Personal Training
Personal Information
Travel Questionnaire Form
Pre Travel
International Travel
Foreign Travel
Volunteer Questionnaire Form
Volunteer Eligibility
Vendor Questionnaire Form
Vendor Audit
Website Questionnaire Form
Website Design
Simple Travel Questionnaire Form
Sample Vendor Questionnaire Form
What is a Questionnaire in Research Methods?
Research methods typically explains how you deal with your study. Your study might be a case study, a descriptive study, a survey, or a naturalistic observation. Whichever method you use, questionnaires still serve as a guide for a researcher to answer his statement of problems. Therefore, questionnaires in research methods are your instruments. In addition, these questionnaires in any research methods make it more convenient for researchers to go through their study as it does not necessarily ask them to put much effort than verbally approaching respondents and asking them for answers. Sample questionnaire forms reveal that there are many ways for you to reach the answers of your research depending on your research methodology.
For instance, quantitative research methods may need you to create questionnaires where you can easily translate answers into numbers like out of 500 respondents, what percentage of the youth sees the advantages of the use of social media?
Another example is for descriptive research method. Usually, researchers will make use of either open-ended questionnaires or a projective method of questionnaire. All these questionnaires which basically leads to the need for each researcher to analyze answers based on how the respondents explain specific details.