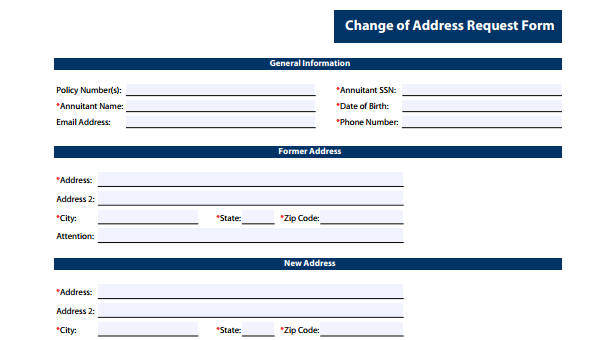 Change always happens at some point, and most of them are unexpected. There might be a time when a person wishes to change his or her name, or when somebody wants to change the venue of where he or she wants to hold a party. Even something as big as changing work orders to meet with the budget of a certain project.
In any case, there are some changes that simply cannot be done unless they're written in official documents. This is to ensure that these changes are official and that there are no more issues once the change will commence.
And one of the things that can help out in making sure that these changes have been fully authorized is through the use of the appropriate forms such as change order forms.
Address Change Forms
Social Security Address Change Form
Driving Licence Address Change Form
Change of Address Request Form
Employee Change Address Form
Name Change Forms
Name Change Application Form
Notary Name Change Application Form
Address and Name Change Form
Change of Ownership Forms
Notification of Change of Ownership Form
Change of Decoder Ownership Form
Change of Policy Ownership Form
Change of Ownership Checklist
Change Order Forms
Change Work Order Form
Contract Change Order Form
State Change Order Form
Filed Change Order Form
Different Types of Change Forms
There are many varieties of these kind of forms that just about any person or business can use whenever they need to change something specific due to either want or need.
Here are some examples of change forms:
For Address Change Forms
Employee address change forms are the kind of forms that are utilized by just about every company or organization, in the event that any of their employees have a change in address.There are some instances where an employee will have to move due to company circumstances, or it could be just because they have found  a better and more suitable living environment. Either way, these businesses will need to know where their employees reside in.In the event that there are special situations which require these addresses, such as needing to send important work documents, then these companies and organizations have to be up to date as to where these specific employees currently reside.If you plan on moving, then make sure  the company you work for knows where you'll be by using these forms.
Social Security change of address forms are used by those who will need to update their current address and to inform the social security organization. Social Security aims to provide assistance to those who have little to no income. It could be that these people have conditions that render them unable to work, or they are people who have served their time in a company and have already undergone retirement. In any case, the Social Security program cannot hand out monetary payments if they do not know the address of where these people reside in.In the event that the Social Security programs cannot transfer cash through electronic means, but via mail instead, then surely even you would want to make sure that it reaches to your address.
For Name Changes
Name change application forms are used by every person in the event that they wish to change their name.The reasons as to why someone would want to change their name may vary. It could be that the person needs to change their name due to circumstances that requires them to such as marriage, or one could simply do it just because it sounds cool.In any case, if these people are going to change their names, then they'll have to use these forms to apply in any government establishment to do just that. They will have to provide the necessary information such as their current name, address, date and place of birth, and even the new name that they would like to be called. If they provide that, along with any other requirement that they'll need to hand in, then they can expect their name changed immediately and effectively.
Change Report Forms
Food Stamp Change Report Form
Household Change Report From
Official Grade Change Report From
Payroll Change Forms
Payroll Change Request Form
Employee Payroll Change Form
Payroll/Status Change Form
Payroll Deposit Change Form
Shift Change Forms
Shift Change Request Form
Employee Shift Exchange Form
Shift Change Request Form Sample
Information Change Forms
Personal Information Change Form
Provider Information Change Form
Graduation Information Change Form
For Student Changes
Official student grade change report forms are utilized by just about every school in the event that a student needs to have the grade of a certain course changed.There are a number of reasons as to why a student's grade needs to be changed. It could be something positive such as the student doing extra credit work which entitles him or her to have his grade go up. Or it could be something negative as pulling that student's grade down simply because he or she was caught plagiarizing work from another student.In any case, these changes cannot be official unless the teachers of these students update the grade change with the use of these forms. So if you're a teacher and you need to make sure that these grade changes make it to the official grade report, then use these student report forms to help you and that student out.
Student information change forms are used by students who need to change any information they have placed in the school records. It could be that the student has changed his or her number, or that the student has moved homes, or maybe it could even be something as simple has needing to change their e-mail address.No matter what the purpose, if a student wishes to change any personal information, then that student will have to use these forms to ensure that the changes are official within their student records. This is very important to every school as there will be times where they'll need to contact students in the event that there are certain situations that they'll need to be notified of.So if you have a child who's currently enrolled in any educational institution, then make sure they  use these student information forms in the event that they have any information they need to have changed.
For Shift Report
Shift change request forms are commonly used in ever company. Whenever an employee feels that he or she cannot perform their duties with the shift that they've been provided, then they may use these forms to make  a formal request that their shift schedules be changed.The information that they'll have to place in their forms are their names, the name of their employer, and their current shift. They'll also have to state as to the purpose of the request. It could amount to just about anything from not being able to work in those hours due to person reasons, or simply because the person cannot handle working during that shift. If the reason is acceptable, then these employee's superiors may decide to grant these change of shifts.If you think you need to have your work schedule changed, then don't be afraid to use these forms to easily help you out.
Construction Change Forms
Construction Change Order Request Form
Construction Change Order Form
Subcontractor/Construction Change Form
Student Change Forms
Student Data Change Form
Student Name Change Form
Student Information Change Form
Payroll Change of Details Form
For Information Changes
Employee personal information change forms are used by a company whenever they have an employee that needs to make changes to his or her personal information.Employees have to make certain that the companies that they're working for are fully up to date with their current personal information. These companies might need to contact them via e-mail or phone number, or they might need a certain employee's full name and address to deliver important company resources.
For Construction Changes
Construction change order request forms are used by just about every business whenever they need to make a formal request on any construction order that they've made.When a business becomes successful, they hire construction companies to help them out in establishing and creating new facilities. They discuss and make plans with these construction companies on how the entire progress will go and as to what services and materials will need to be provided.However, there will be times where these plans will be subject to change. It could be that these companies have more than enough in the budget to add additional features. No matter what changes need to be made, these construction companies need to know what these changes are so that they may provide the materials and services necessary. They can also discuss the amount of extra payment required for these changes.In the event that you need to make any changes on any construction orders you've made, then do yourself a favor and use these forms.
Importance of Change Forms
As stated before, change can always happen at any given point. Whether these people want to or not, they'll have to make certain changes that could affect their way of living. These changes all have to be properly documented to ensure their validity, which is why there are forms, such as payroll change forms available.
If a company wishes to contact one of their employees, only to find out that they cannot reach him, then serious problems could arise. Whenever someone want to change a certain type of request they have made, and in order for these changes to be taken into serious consideration, these forms will be used to state the purpose of the change, along with the necessary compensation for doing so.
In the event that there are certain situations where you'll need to change information regarding you or someone else. Or if you plan on making changes about a certain job that could benefit both you and the contractor you've hired to perform the service, then make sure that you use these forms to your advantage.