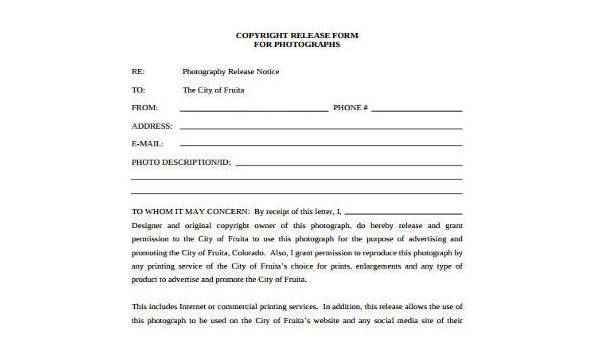 If you are someone who is in need of information that could not be easily released, more often than not, you will need Release Forms. Release Forms are the forms the source of the information – say, a photographer – will request of you, and which by law you have to provide to them or else nothing will happen. If you are wondering where to get such forms, well, do not worry. You are in the right place. Our website specializes in supplying people Release Forms that are approved by a number of professionals around the globe. Satisfaction is just one of the many things we can guarantee you.
Photographer Copyright Release Form
Photographer Photo Release Form
Photographer Print Release Form
Photographer Model Release Form
Speaking of photographers, a type of Release Form called Photography Release Form is also one of the things you should secure if you want to acquire photographs legally. You have to deal with the photographer first, of course, then after everything has been clarified – chiefly after the part of officially granting you to exhibit or reproduce the product in question – go to our website and download the said type of Release Forms. We made everything easier for you; as a matter of fact, we already did half the job. Amazing, is it not?
Another variant is called Model Release Forms, which is pretty much identical with Photography Release Forms, only the former deals with human beings as subjects, specifically models. Like photography, you cannot just ask them, and one of the ways to acquire such photos properly is to download the forms here on our site. Nothing to worry about. We have nothing but legitimate forms available here.
Photographer Image Release Form
Photographer Release Form PDF
Photographer Consent & Release Form
 Photographer Release Form Example
Model Release Forms are forms that are produced and accompanied by a Photo Release Form. Photo Release Form are just sort of customized for, well, photos obviously. Images of any celebrity should never be openly delivered to anyone but the celebrities themselves, their handlers, or the professional photographers those celebrities have permitted; however, if a signed variant of the said form is issued, then his or her photograph will be shared out. There is really nothing to worry about as long as the photos will only be kept within the legal bounds and will be used within those said bounds only.
Yes, we do have Photo Release Forms, and we do not just limit ourselves to supplying Release Forms. We have all kinds. Go ahead and download the Photo Release Forms available here so you can officially own your favorite model's pictures and what-not without the worry of cops suddenly knocking on your door.