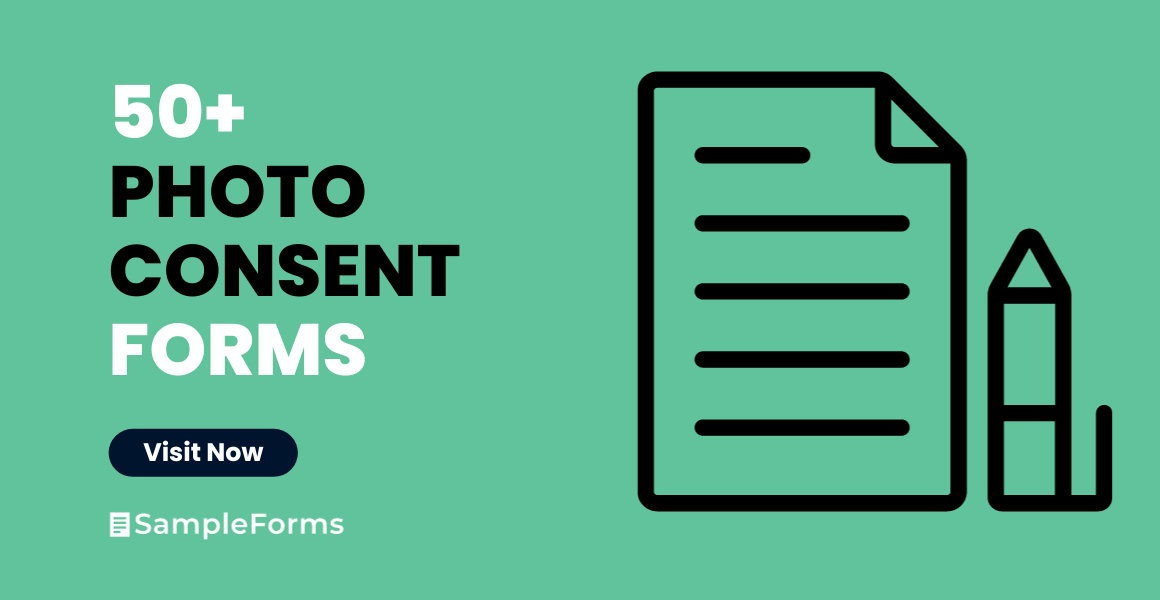 Navigating through the lens of photography, Photo Consent Forms emerge as vital players, ensuring ethical and legal harmony between photographers and subjects. Whether it's safeguarding privacy, delineating usage rights, or maintaining transparency, these forms take center stage. From different types tailored for varied scenarios to creating a watertight form, this journey explores the intricate tapestry of meaning, examples, and savvy creation tips. Embrace a world where each snapshot adheres to respectful and lawful frameworks, protecting creative expression and personal boundaries alike.
What is a Photo Consent Form? – Definition
A Photo Consent Form is a legal document wherein the depicted individual, or the guardian of the depicted individual if they are a minor, grants permission to the photographer or the entity commissioning the photos, to utilize those images for predefined purposes. This may encompass use in publications, websites, marketing materials, or other media platforms. These printable form typically details how, where, and for what duration the photos will be used, ensuring a clear understanding and agreement between all involved parties, thus safeguarding rights and stipulating usage boundaries.
What is the Meaning of the Photo Consent Form?
The Photo Consent Form encapsulates a legal and ethical agreement wherein the subject of a photograph (or their guardian, in the case of minors) grants permission to the photographer or another entity to use images in which they appear for specified purposes. This form becomes pivotal in safeguarding the rights of individuals by ensuring that their image is not exploited or used without their explicit consent. Furthermore, it protects photographers and organizations from potential legal disputes related to privacy violations, ensuring that all image usage is clear, agreed upon, and permissible. Thus, a Photo Consent Form acts as a gateway to ethical and lawful image utilization in varied platforms and mediums.
What is the Best Sample Photo Consent Form?
Crafting a meticulous sample Photo Consent Form is pivotal to ensure all involved parties are legally safeguarded and there is clear, agreed-upon protocol for image use. While the 'best' sample can be contingent upon specific needs, a robust form generally encompasses the following elements:
1. Introduction:
Photographer/Entity Details: Name, contact information, and organization if applicable.
Subject Details: Name and contact information.
Parent/Guardian Details: If the subject is a minor.
2. Image Description:
Specific details or a general description of the photographs.
Optionally, thumbnails or low-res versions of the images.
3. Purpose of Use:
Clearly define where, how, and why the image will be used (e.g., marketing, educational content, promotional materials).
4. Usage Scope:
Define the duration, geographical regions, and platforms/media where the image will be utilized.
5. Restrictions/Specific Conditions:
Detail any limitations or specific conditions regarding image use.
6. Rights and Releases:
Statement wherein the subject releases the photographer/entity from any claims.
Affirmation of the subject's consent to use the images without financial compensation.
7. Termination Clause:
Conditions under which the agreement can be terminated and the obligations thereafter (e.g., removal of images).
8. Privacy and Data Protection:
Assurance that personal data gathered through the form will be stored and managed safely and in compliance with relevant data protection laws.
9. Signatures:
Signature sections for the subject, parent/guardian (if applicable), and photographer/entity.
Date of signature.
Additional Notes/Comments:
Any other specific information or requests from the subject.
Sample Statement:
"I, [Subject's Full Name/Parent or Guardian's Name], hereby grant [Photographer/Entity Name], the right to use and publish photographs of [Subject's Name] for the purpose of [Specific Usage] in [Defined Platforms/Media] for [Duration/Time Period] in [Geographical Locations]. I release [Photographer/Entity Name] from any claims and demands arising out of the use of the photos."
This is a foundational sample and must be adapted per the specific needs and legal jurisdiction of the parties involved. Ensuring clarity, precision, and inclusivity of all requisite details, while adhering to pertinent legal norms, crafts a Photo Consent Form that stands firm in its intention and legality, providing a secure framework for ethical image use. Always consider consulting with a legal professional to fine-tune the form as per specific requirements and applicable laws. You should also take a look at our Photography Consent Form.
FREE 50+Photo Consent Forms in PDF | MS Word
51. Consent Form Concerning the Use of Photographs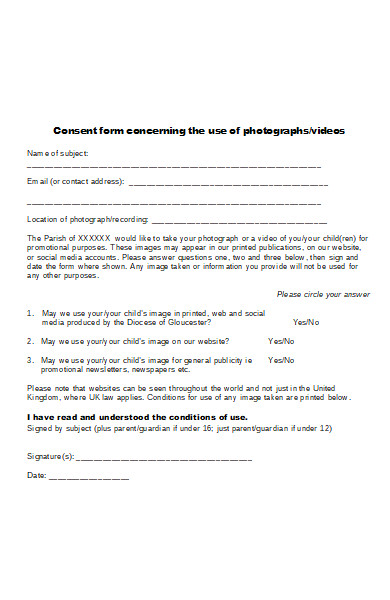 How do I write a consent form for a photo?
Writing a consent form for a photo, also known as a Photo Consent Form, involves meticulous articulation of several elements to ensure it is legally sound and ethically formed. Here's a step-by-step guide to aid in crafting an effective Photo Consent Form:
1. Header:
Clearly title the document, e.g., "Photo Consent Form".
Optionally, include your logo or organization's name at the top for a professional appearance.
2. Parties' Information:
Detail the name and contact information of the photographer or entity intending to use the photos.
Include the subject's name and contact details. If the subject is a minor, include the guardian's details.
3. Description of the Photograph(s):
Provide specific details of the image(s) or a broad description if it covers multiple photos.
Optionally, attach a sample or low-resolution image for clarity.
4. Purpose and Scope of Use:
Define the specific purposes for which the photo(s) will be used (e.g., marketing, educational content).
Detail the platforms or media where the image(s) will appear and any geographical restrictions.
5. Duration of Use:
Specify the time frame during which the image(s) can be used.
6. Privacy and Data Protection:
Describe how you will store, use, and protect the personal data collected through the form, adhering to applicable data protection laws.
7. Rights and Releases:
The subject should release the photographer/entity from any future claims.
Acknowledge that the subject is providing their consent without expecting financial compensation.
8. Termination and Withdrawal:
Define the process and conditions under which the consent can be withdrawn and how the images will be handled thereafter.
9. Signature and Date:
Include a section for the subject, and if applicable, the guardian, to sign and date the form.
A section for the photographer or representative of the entity to sign and date should also be present.
Sample Statement:
"I, [Full Name], grant [Photographer/Entity Name], and their assignees, the right to use photographs taken on [Date/Event] for [Purposes] on [Platforms/Media] for [Duration]. I release [Photographer/Entity Name] from all claims and demands regarding the use of said photographs."
Final Tips:
Ensure the language used is clear, precise, and easily comprehensible.
Use bullet points or numbered lists for easy reading.
Regularly review and update the form to ensure compliance with any legal updates.
Seek legal counsel to review the form to ensure it is robust and adheres to all applicable laws and best practices.
With this guide, you're set to create a Photo Consent Form that champions clarity, respect, and lawful use of imagery.
What is a consent form to use photos for marketing?
A consent form to use photos for marketing is a legal document that seeks explicit permission from an individual (the "subject") to use their photographs for promotional and marketing purposes. This document is essential to obtain lawful consent and to articulate the parameters within which the images can be used, thereby safeguarding both the entity using the photos and the subject's rights.
Key Components of a Consent Form for Using Photos for Marketing:
1. Title:
Clearly denote that the document is a consent form for using photos in marketing.
2. Parties' Details:
Include information about the entity using the photographs and the subject.
3. Description of Photos:
Detail or attach the photos being used to prevent any future disputes about which images were consented to.
4. Purpose of Use:
Explicitly mention that the photographs will be used for marketing purposes, and if possible, provide specifics.
5. Scope and Limitations:
Define where (e.g., website, brochures, social media) and how (e.g., printed, digital, billboard) the photos will be used.
Mention any geographical limitations or specific campaigns where the photos will appear.
6. Duration of Use:
Specify the time period during which the photos can be used in marketing materials.
7. Rights and Compensation:
Indicate if the subject will be compensated, or if they waive any rights to compensation for the use of their images.
A release statement freeing the marketing entity from future claims related to the photographs' use.
8. Data Protection:
Address how personal information will be handled, stored, and protected.
9. Signature and Date:
Ensure that spaces for signatures from all parties and the date are included, authenticating the agreement.
10. Withdrawal of Consent: