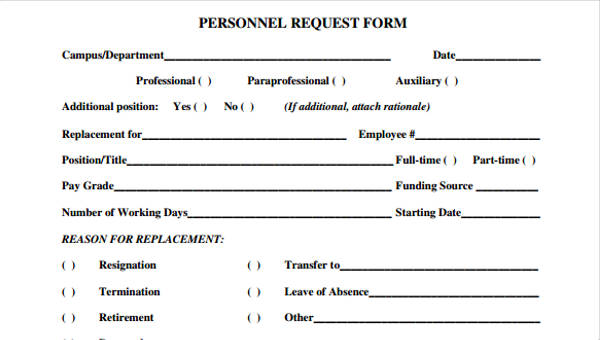 While there are lot of forms used in every business, only a requisition a form allows any employee to make a formal request as to what one needs. There are so many uses for a requisition form that you need to know which form to use on the right situation.
But what companies use for when they need to fill up positions are personnel requisition forms. Think of them like purchase requisition forms but instead of making a request on what to purchase, they're used to hire people that can take up certain spots that need to be filled in. You'll be able to learn what personnel requisition forms do and when you can use them.
Staff Personnel Requisition
New Personnel Form
Electronic Personnel in PDF
What does personnel requisition mean?
What it means is that a certain department from any company or organization needs to advertise that they have a slot to be filled in that's of great importance.  It means that if you're part of management and that you receive these forms, there's an urgency of needing more people to hire on your company. These are basically the same as when someone uses an employee requisition form to open up a spot or spots for more workers. It also helps if management can see what needs to be opened up and why.
What is the Purpose of a Personnel Requisition Form?
The purpose of having a personnel requisition form is to find the right kind of person for the job. It's like when you use a payment requisition form to check out all the details of your payment, you're using these forms to check out the information as to what positions should be filled in or opened up by management. These forms can help out companies by stating what requirements applicants will need if they try taking on the position, and it can also help as to how many of these applicants can be accepted if there's more than one position.
Revised Personnel Form
Personnel Requisition Template
Free Personnel
Sample Personnel Requisition Form
Personnel Requisition Form Instructions
Here's what you should follow whenever you create personnel requisition forms:
Make sure that you show as to who is preparing the form, that means your name, job title, employee ID number, and the department that you're from.
State the information as to the position that needs to be opened, along with other details such as the salary compensation the applicant will get if hired, they type of shift they'll be required to work on, the term of contract and much more.
Place in the requirements of what the applicant needs in order to be valid for the position. Make sure to state the educational level, work experience, and the required licenses and certificates.
Ensure that you know where to put in the method of  how you'll want to advertise the position and other details such as the duration of the advertisement and the job description.
Make sure that you have the signatures from all your superiors in charge of authorizing the requisition.
So if you're going to create something like a staff requisition form to get you more employees, then be sure to follow all of these instructions properly.