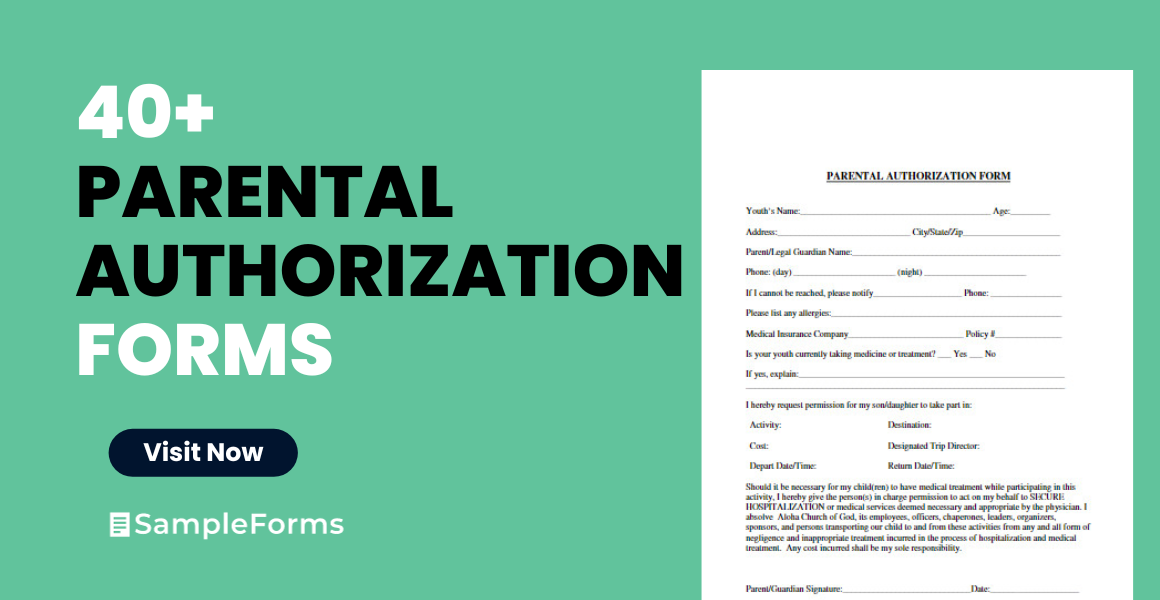 A Parental Authorization Form serves as a vital bridge between institutions and guardians, ensuring that children's activities and needs are acknowledged and approved by their parents. Whether it's for school trips, medical procedures, or other activities, these forms legally capture parental consent, safeguarding both the child and the institution involved. Delving into its significance, various types, examples, creation processes, and best practices will offer a comprehensive understanding of this indispensable document.
What is a Parental Authorization Form ? – Definition
A Parental Authorization Form is a legally binding document wherein a parent or legal guardian grants permission for their child to participate in a specific activity or to authorize another individual to make decisions on their behalf. This form is commonly used for activities like school trips, medical treatments, or when a child travels without their parents. It ensures that the child's participation or the action being taken is with the explicit consent of their parent or guardian.
What is the Meaning of a Parental Authorization Form?
The meaning of a Parental Authorization Form centers around safeguarding a child's well-being and rights by obtaining explicit consent from a parent or guardian. It signifies the acknowledgment and approval of a specific activity or decision concerning the child. This form acts as a protective measure, ensuring that institutions, organizations, or individuals interacting with the child operate within the boundaries set by the parent or guardian. Essentially,
What is the Best Sample Parental Authorization Form?
A comprehensive sample Parental Authorization Form should cover all essential details to ensure clarity and legality. While the specific format can vary depending on the purpose and local regulations, here's a general sample of what it might look like:
Child's Information:
Full Name: ____________________________
Date of Birth: _____ / _____ / ________
Parent/Guardian Information:
Full Name: ____________________________
Relationship to Child: _________________
Contact Number: ______________________
Email Address: ________________________
Activity/Event Details:
Name of Activity/Event: _________________
Date(s) of Activity/Event: ______________
Location: _____________________________
Organizer/Responsible Entity: __________
Authorization Details (Select appropriate option):
☐ I hereby grant permission for my child to participate in the above-mentioned activity/event.
☐ I authorize [Name of Individual/Organization] to make decisions on behalf of my child in my absence.
☐ Other (Specify): ___________________________
Special Instructions or Medical Information (if any):
Allergies: _____________________________
Medications: __________________________
Other relevant information: _______________
Emergency Contact (other than parent/guardian):
Name: ________________________________
Relationship to Child: _________________
Contact Number: ______________________
Declaration:
I, [Parent/Guardian's Full Name], affirm that all the information provided is accurate. I understand the nature of the activity/event and have been informed of its details. I hereby release [Organization/Individual's Name] from any liabilities unless caused by their negligence or willful misconduct.
Signature: ________________________ Date: _____ / _____ / ________
Remember, this is a basic template. Depending on the purpose, additional sections may be required, and it's always recommended to consult with legal counsel to ensure the form's compliance with local regulations.
FREE 40+ Parental Authorization Form in PDF | MS Word
41. Parental Authorization Form for Student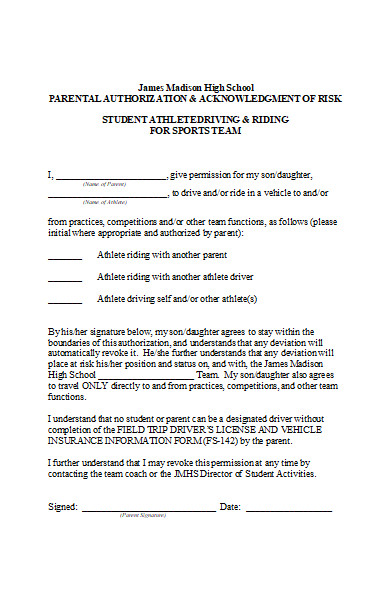 What is a Parental Authorization Form used for?
A Parental Authorization Form is used to obtain explicit consent from a parent or legal guardian, granting permission for a minor to participate in specific activities or to authorize an adult to act on their behalf in certain situations. This form can be utilized for various purposes, including:
Medical Decisions: Allowing a designated adult to make medical decisions for the minor in the absence of the parent or guardian.
School Activities: Granting permission for the minor to engage in school-related activities like field trips, extracurricular events, or sports.
Travel: Permitting a minor to travel with a group, an organization, or a specific adult, especially for international trips where such authorization may be needed at immigration checkpoints.
Media Release: Giving consent for the minor's image or voice to be used in media, including photographs, videos, and audio recordings.
Temporary Guardianship: Assigning a temporary guardian to take care of the minor when parents are unavailable due to travel or other commitments.
Participation in Events or Competitions: Allowing a minor to take part in competitions, workshops, or community events.
The form acts as a legal document and provides protection for the parties involved by ensuring that parents or guardians are informed about and agree to specific actions or decisions concerning the minor. In addition, you should review our Blank Authorization Form.
How do I obtain a Parental Authorization Form for my child's activity?
To obtain a Parental Authorization Form for your child's activity, follow these steps:
Contact the Organizing Entity: Most schools, clubs, or organizations that conduct activities requiring parental consent will have their own specific Parental Authorization Forms. Reach out to them and ask for a copy.
Online Templates: Many online platforms and websites offer customizable templates for Parental Authorization Forms. You can download and modify these as per your requirements.
Legal Websites: Some legal websites or platforms provide specialized forms tailored for specific states or countries, given that legal requirements might vary by jurisdiction.
School or District Office: If the activity is school-related, the school's main office or the district's administrative office often has standard forms available.
Local Government Offices: For activities that might require more official forms, like traveling abroad without parents, local government offices or immigration departments might provide the necessary forms.
Consult a Lawyer: If you're unsure about the form's content or if it's a unique situation not covered by standard forms, consulting with a family lawyer can be helpful. They can draft a form that specifically addresses your needs.
Ask Other Parents: If you know other parents whose children have participated in similar activities, they might have copies or know where to obtain the necessary forms.
Once you obtain the form, ensure you read it thoroughly, fill in all required details, and sign it to provide the necessary authorization.
How long is a Parental Authorization Form valid?
The validity of a Parental Authorization Form can vary based on its purpose, the specific stipulations mentioned in the form, and the legal requirements of the jurisdiction it's used in. Generally:
Specific Time Frame: Many Parental Authorization Forms will specify the duration for which the consent is granted. For instance, a form for a school trip might only be valid for the dates of that trip.
Open-Ended: Some forms, especially those granting permission for recurring activities (like after-school clubs or sports), might not have a specific end date, but instead be valid for the duration of a school year or the duration of the child's participation in the activity.
Medical Decisions: Parental Authorization Forms that allow designated adults to make medical decisions for a minor in the absence of the parent might have a longer validity, often set by the parent. Some might remain valid until revoked by the parent.
Temporary Guardianship: These types of forms might be valid for the period the parent is unavailable, such as during a vacation or business trip.
Legal Requirements: Some jurisdictions might have specific regulations about how long certain authorizations can last, especially for more serious matters like medical decisions or long-term guardianship.
Revocation: Most Parental Authorization Forms can be revoked by the parent or legal guardian at any time. In such cases, it's crucial to communicate the revocation to all relevant parties involved.
It's always a good practice to clearly mention the start and end dates on the form to avoid any ambiguities. If you're unsure about the duration or the validity of a form, consulting with a legal professional can provide clarity. You should also take a look at our Parental Consent Forms.
What details are necessary for a Parental Authorization Form?
For a Parental Authorization Form to be comprehensive and effective, it should include the following details:
Child's Details:

Full name
Date of birth
Address

Parent/Guardian's Details:

Full name(s)
Address
Contact number(s)
Email address

Specific Authorization Details:

For travel: Destination, travel dates, accompanying adults.
For medical decisions: Name of the authorized person, specific medical treatments allowed, any medical restrictions or allergies of the child.
For activities: Description of the activity, dates, and location.

Duration of Authorization:

Specify the start and end date of the authorization period.

Emergency Contact Information:

In case of emergencies, a secondary or tertiary contact might be needed.

Medical Information:

Health insurance details
Primary physician's contact
Any known allergies, medications, or specific medical conditions

Authorized Individual's Details (if applicable):

Full name
Relationship to the child
Contact number
Address

Limitations or Specific Instructions:

Any special instructions or restrictions that the authorizing party wants to specify.

Statement of Consent:

A clear statement where the parent/guardian grants permission for the specified activity or delegation of authority.

Signature and Date:

The parent or legal guardian's signature and the date of signing to authenticate the form.

Notary Public Acknowledgment

(if required):

Some forms, especially those with legal ramifications like granting temporary guardianship, might need to be notarized to ensure their authenticity.

Revocation Clause:

A section detailing how the authorization can be revoked, if necessary.
The exact details and format can vary based on the purpose of the form and jurisdictional requirements. Always make sure the form aligns with local laws and regulations.
Do both parents need to sign the Parental Authorization Form?
Whether both parents need to sign a Parental Authorization Form depends on the form's purpose, the legal requirements of the jurisdiction, and the specific family situation. Here are some general guidelines:
Traveling Abroad: Many countries require consent from both parents or legal guardians when a minor is traveling internationally without either parent. This helps prevent international child abduction.
Medical Decisions: Depending on the jurisdiction and the nature of the medical procedure, consent from both parents may be required. In emergencies, however, hospitals typically provide necessary care regardless of dual consent.
Legal Requirements: Some jurisdictions may require both parents' signatures for certain activities or decisions involving the child, especially if there's joint custody in place.
Single Parent or Sole Custody: If one parent has sole legal custody of the child, that parent's signature is generally sufficient. In such cases, the signing parent might need to provide proof of sole custody, especially for significant matters like international travel.
Nature of Activity: For everyday activities, like school trips or local sports events, the signature of one parent or guardian is usually enough.
Best Practice: Even if not legally required, obtaining both parents' signatures can be a best practice. It ensures that both parents are informed and in agreement, which can prevent potential misunderstandings or disputes later on.
Form Specifications: Always read the Parental Authorization Form carefully. Some forms might explicitly state how many signatures are required.
If you're unsure about the requirement for both parents to sign, consult with a legal professional or the organization requesting the form. They can provide clarity on what's needed based on the specific situation and local regulations.
How do I revoke a previously given Parental Authorization Form?
Revoking a previously given Parental Authorization Form involves communicating your decision to rescind your permission to all relevant parties and, if necessary, providing a written notice of revocation. Here's a step-by-step guide to help you revoke a Parental Authorization Form:
Review the Original Form: Before revoking, check the form to see if there are any specific instructions or procedures for revocation.
Written Notice: Create a written notice stating your intention to revoke the Parental Authorization Form.

Clearly mention the original form's date and details.
State explicitly that you're revoking all permissions granted through the form.
Sign and date the revocation notice.

Provide Copies: Deliver the revocation notice to all parties involved, including:

The person or organization granted authority in the original form.
Any secondary parties that might act on the original authorization, such as schools, hospitals, or travel agencies.

Get Acknowledgment: If possible, obtain a written acknowledgment from the relevant parties that they've received and understood the revocation. This step provides evidence that the revocation has been communicated and understood.
Notarization: Depending on the significance of the authorization and the jurisdiction, you might need to get your revocation notice notarized to ensure its authenticity.
Keep Records: Store a copy of the revocation notice and any acknowledgment receipts in a safe place. Having these documents handy can be useful if any disputes arise.
Verbal Communication: In addition to the written notice, it's a good idea to communicate your decision verbally, especially if there's an immediate need to revoke the authorization.
Legal Counsel: If the situation is complex, or if there are concerns about the well-being of the child, consult with a family lawyer to ensure all legal requirements are met and the child's best interests are protected.
Remember that once you revoke an authorization, any actions taken under the authority of the original form after the revocation date may be considered unauthorized and could have legal consequences. Our Sample Parent Consent Forms is also worth a look at
Can a Parental Authorization Form be completed online?