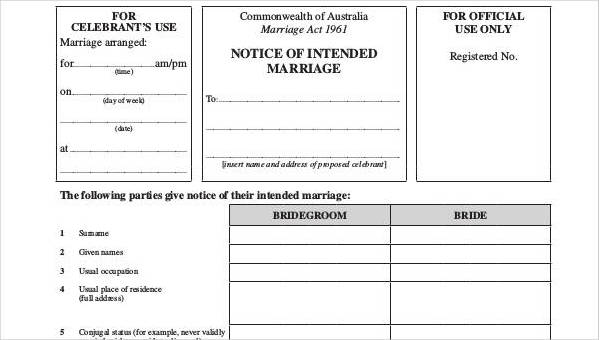 Whenever one is handed down a notice, it means that he or she must be aware of something. Sometimes, the contents of these notices requires the receiver to take immediate action. An example would be if a person is given a notice that he or she must immediately vacate the premises.
However, these notices must be placed into the right kind of documentation in order for them to be seriously considered by the receiver. This is also to ensure that the notice has been officially authorized.
So what can do that? What people can use to ensure the legality and officialism of these notices is through the right utilization of notice forms.
Change Notice Forms
Process Change Notice
Personnel Information Change Notice
Property Change Notice
Engineering Change Notice
Eviction Notice Form Templates
Landlord Eviction Notice
Rent Eviction Notice
30 Day Notice Forms
30 Day Notice to Vacate
Standard 30 Day Notice
30 Day Notice to Quit
Different Types of Notice Forms
There are many different varieties when it comes to these types of forms. These can be used by a lot of people in the event that they need either one or more persons to made aware of certain things.
Here are some examples of notice forms:
For Eviction Notice Forms
Landlord eviction notice forms are the kind of forms that are utilized by those unruly tenants who have yet to pay their landlord any rent. Even landlords need to pay the bills and they cannot do so unless they receive payment from their tenants. There are those who make use of the rooms or apartments in a building, but delay their rent. So when that happens, the landlord may then issue these forms and hand them out to these tenants.These forms state the reason as to why the tenant is being evicted, along with the date of eviction and the amount of unpaid rent. If the tenant manages to pay all of the unpaid rent before the deadline of his or her eviction, then he or she may continue to reside within the landlords establishment.If you're a landlord and you haven't been paid your rent in months, then use these forms to ensure that you do.
30 days notice to vacate forms or 30-day notice to move out forms are used whenever a landlord decides to evict one of his or her tenants within the establishment. There are a multitude of reasons as to why a landlord would want to evict his or her tenants, but there is a law that if the tenant has lived in the establishment for more than a year, then the landlord cannot evict him or her unless the tenant breaks the contract agreements.These forms give the tenant a thirty day notice before he or she must vacate the premises. Other parts of this contract include the amount of rent due before the eviction date, the return of the property rights to the landlord, and the purpose as to why the tenant is being evicted. So if you plan on evicting any tenant, then use these forms to give him or her at least a thirty day notice.
Employee Notice Forms
Employee Warning Notice
Employee Pay Notice
School Employee Change to Notice
Warning Notice Form Templates
Employee Written Warning Notice
Safety Violation Warning Notice
Employee Discipline Warning Notice
Event Notice Forms
Temporary Event Notice
Event Notice Application
Post Event Notice
Insolvency Event Notice
Marriage Notice Forms
Marriage Notice Application
Notice of Intended Marriage
Free Marriage Notice
For Employee Notices
Employee warning notice forms are forms that are used by those in management in the event that they need to let one or more of their employees aware of their situation. It is the job of every company and organization to ensure that their employees perform well and behave by company standards. If these employees fail to do so, or even do something that may harm business productivity, then they will be given these forms as a warning.These forms state the warning level the employee receives, along with the reason as to why he or she received it. Some of these problems might be minor, but there are those that threaten beyond the border of termination.A good example of a major work offense would be stealing company property. If those in management are lenient enough, might give the offender a warning of the highest degree that one more false move could cost them their job.So if you're working for any company, make sure that you do not receive these forms.
Employee pay notice forms are used whenever an employee has observed a problem in his or her pay. The point of every person obtaining a job is to get pay equivalent to the service that they provide. When these people see that they're not getting the pay that they deserve, they then raise concerns to their superiors through the use of these forms.There could be a number of reasons as to why these forms are made. The most common of them being that the employee has noticed a shortage in his or her pay and would like to fix the error immediately. These forms intend to explain as to the reason of the problem and dates as to when the notice was received.  If you have any problems with your pay, then use these forms to figure out why and to receive the compensation that you deserve.
Privacy Notice Form Templates
Model Privacy Notice
Child Care Privacy Notice
Illinois Privacy Notice
Rent Notice Forms
Past Due Rent Notice
Notice of Non Payment Rent
Rent Demand Notice
Engineering Change Notice Form
For Rent Notice
Rent demand notice forms are forms that are made use by those landlords in the event that they demand rent from their tenants. This is a reoccurring problem for every landlord as there are many tenants who either cannot or will not pay their rent on the date they agreed to. When this happens, the landlord then issues these forms to make the tenant aware the he or she demands for the rent to be paid.These forms state the amount of rent that is due, along with the date of payment. If the tenant is still not able to comply with the payment, then eventually he or she will be given another notice that serves for his or her eviction.If ever you receive one of these forms, then it's for your best interest that you pay what you owe immediately. Otherwise, you may just find yourself without shelter.
Notice of non-payment of rent forms are utilized by landlords who have taken note of unruly tenants who have yet to make any sort of payment on their rent. There are a multitude of reasons as to why a tenant cannot or will not make rent. Regardless of these reasons, considering that they're using someone else's property for their own purpose, then the owners of these properties should expect ample compensation. If these tenants do not pay their rent on time, then sure enough they'll be handed these notice forms.These forms point out to the tenant as to the amount of rent that they have yet to pay, along with the deadline as to when they should pay it along with next period's rent. Those who still fail to pay rent have the possibility of being evicted from the premises should the landlord decide to do so.If you plan on renting any kind apartment or room, make sure that you don't receive these forms and pay your rent when you'r supposed to.
Importance of Notice Forms
Let's say that you're the head of a company and you've found out that one of your employees has been continuously slacking off at his job. Now, wouldn't you want to make sure that the employee understands that he shouldn't be doing so? Forms such as employee warning notice forms ensure that these people understand what it is they should be made aware of.
Whenever there are certain problems that happens that involve the actions of someone else, then that person is immediately notified.
A good example would be when a tenant's unruly behavior has disturbed all other tenants within the establishment. The landlord may then give notice to that tenant and if that person continues the unruly behavior, then the landlord has all rights to evict that person from the premises.
If it's not for pointing out problems, then these forms are used to point out certain events or situations wherein they should be fully informed about. A good example would be when people are given notice of an important business function that they should attend. These forms should be given to those people at least thirty days before said event, and these forms should state the purpose as to why the event is happening.
So no matter notice you're trying to serve. Whether it's for letting someone know of the consequences he or she is going to receive, or if it's to see let someone know of something that's about to happen, then make full use of these forms. This will give them a heads up and help these people get ready for what is about to happen or let them be informed of something that they should try to learn more about.
However, if you still fond yourself at a stand still when it comes to forms, do not worry. You can check out the rest of our website for other types of forms and form templates that fit any purpose you need them for.
Remember, all forms and form templates we have available are very easy to use. All you have to do is select the form you wish, click the download button, and voila! You can even tweak these form templates to fit your personal and business needs. All forms are come in Word and PDF formats for your convenience.