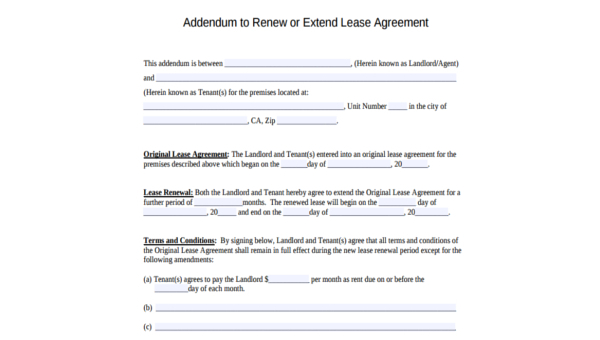 Out of the many Sample Lease Forms we offer here for free to download and use in your own rental businesses and side-affairs, it helps to note there is a difference between your standard lease contracts and a month-to-month lease contract.
A month-to-month lease is more flexible than the standard, fixed-term lease in that it renews itself every month. Sometimes (especially for apartment rentals), a fixed-term lease automatically becomes a month-to-month lease after the contract duration ends – sometimes it doesn't.
If you'd like to offer your tenants an open-ended, long-term agreement, you might be interested in proposing a month-to-month lease contract. Here are some free blank templates for this to help you get started.
Month to Month Commercial Lease Agreement Form
Month to Month Room Lease Form
Month to Month Lease Agreement Form
Month to Month Rental Lease Form Free
What Is a Month-to-Month Lease?
The first and most obvious distinction of a month-to-month lease is that it provides more flexibility to the tenant.
The opposite of a month-to-month lease is a fixed-term lease, which legally binds the tenant to use the property for the agreed duration of the contract. If this lease contract is terminated early, the tenant might still be liable to pay for the full duration anyway.
A month-to-month lease renews itself every month, which allows the tenant to move on if better opportunities arise. This may involve an advance notice to the landlord, usually between 30 to 60 days in advance of contract termination.
Pros and Cons of Month-to-Month Leases
Pro: Flexibility for the tenant to extend or shorten the duration of stay.
Con: Ever-present possibility of short-term eviction or abrupt contract termination by the landlord.
Note
Have you signed or had your tenant sign a fixed-term lease agreement contract? If you'd like an official form to turn a fixed-term lease into a month-to-month one, check out the Month to Month Lease Renewal Form below.
Also check out our other free Sample Rental Lease Forms for basic lease contracts open to modification.
Printable Month to Month Lease Form
Simple Month to Month Lease Form
Month to Month Apartment Lease Form
Month to Month Lease Renewal Form
Additional Resources for Landlords
Our Sample Month-to-Month Lease Form templates are only a small part of the other free samples and templates we offer here on SampleForms.com.
If you are looking for official document templates, we have them for nearly every rental situation you want to be prepared for.
To get you started, you can search our archives for the most commonly needed forms we've encountered in the job description of landlords:
Applications for Rental Processing. Landlords have a big responsibility to ensure that they give access for tenancy to individuals who will not bring damage both to the name and structure of the property open for rental. Prospective tenants need to fill rental applications so they can start with the process of renting accordingly.
Agreements for Room / Bed Space Rental. Some tenants may need to share a room with other tenants. Also, there are tenants who will occupy a single room within an apartment where there are also other people living on another rooms present in the property. Creating a rental agreement for these specific instances is necessary to make sure that these kinds of tenants are aware of the regulations of the property as well as their responsibilities.
Contracts for Stand-Alone House Leasing. There are stand-alone residential units that are also open for rent. This can be the result of owners buying another house to stay at or if this is the kind of business that an entity is into. Lease contracts should be made to make sure that tenants agree on all the rules that they should adhere to when renting a house.
Rental Agreements for Short-Term Tenancy. A rental agreement for short-term tenancy is mostly used by businesses who offer bed and breakfast transactions for backpackers and travelers. Short-term rental agreements can last for a few days to a week, or even for months.
Lease Renewal Forms (Extension Forms). This kind of form is used for the extension of the term of a lease agreement or rental contract. A landlord or owner of the property should know that most lease agreements, especially fixed-term contracts, have fixed terms. This can be a disadvantage because you would have to come up with Extension Forms or Lease Renewal Forms from time to time, after the lease extension expires. One way to remedy this is to use lease agreements that have a more flexible duration. This will save time for both you and your tenant.
Eviction Letters and Notices. At some point or another you will always need these for all sorts of legal and practical documentary purposes.
Agreement to Terminate Lease. The entire process of tenancy is important to be recorded.  The agreement to terminate the lease is the last step that should be made legally before the tenant fully vacates the unit that he/she rents.