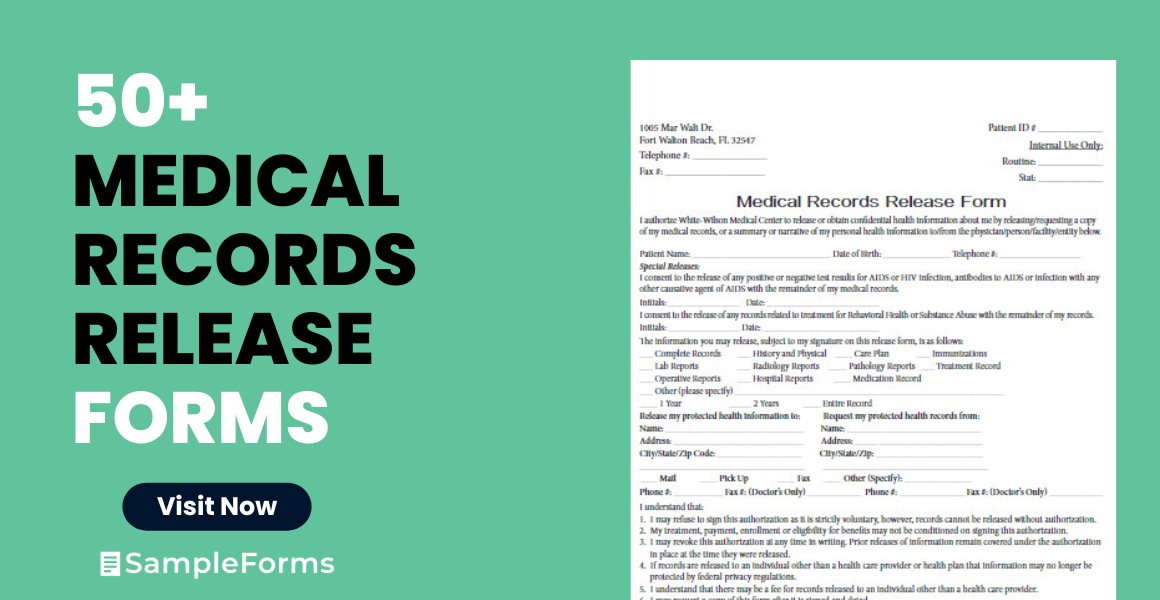 The Medical Records Release Form is a pivotal document in healthcare, safeguarding both patient privacy and the seamless transfer of medical information. Acting as a gatekeeper, this form ensures that medical data is only shared when authorized, bridging communication between healthcare professionals, insurers, or patients themselves. Its various types cater to diverse purposes, from specialist referrals to insurance claims. Understanding its nuances, crafting it meticulously, and ensuring its proper utilization is crucial in the dynamic realm of healthcare. Dive in to grasp its essence, intricacies, and best practices.
What is a Medical Records Release Form ? – Definition
A Medical Records Release Form is a formal document that grants permission for the disclosure of a patient's medical records and health information to a designated individual, organization, or entity. It specifies which records can be released, the purpose of the release, and to whom the information can be given. These printable form ensures that medical records are shared in compliance with privacy laws, such as the Health Insurance Portability and Accountability Act (HIPAA) in the U.S., safeguarding a patient's confidentiality and rights.
What is the Meaning of a Medical Records Release Form?
The meaning of a Medical Records Release Form revolves around its role as a protective measure for a patient's privacy and rights. In essence, it signifies a patient's informed consent to disclose specific medical information to designated parties. The form acts as a conduit for communication between healthcare providers, insurance companies, legal entities, or other relevant parties, ensuring that only authorized individuals have access to sensitive health data. This intentional transfer of medical details, governed by this form, adheres to established privacy standards and regulations, affirming the patient's autonomy and the sanctity of their medical history.
What is the Best Sample Medical Records Release Form?
While the specifics of a Medical Records Release Form may vary depending on the country, state, or healthcare institution's requirements, below is a generic sample of what such a form might look like:
Patient Information:
Full Name: ____________________________
Date of Birth: _____ / _____ / ________
Address: _______________________________
Phone Number: ____________________________
Information to be Released:
Medical history
Laboratory results
Imaging reports (e.g., X-rays, MRIs)
Surgery reports
Other: ____________________________
Purpose of Release:
Specialist consultation
Insurance claim
Legal purpose
Personal use
Other: ____________________________
Release to (Recipient Information):
Name/Organization: ____________________________
Address: ____________________________________
Contact Number: ____________________________
Duration: This consent is valid from [Start Date] to [End Date].
Consent: I, [Patient's Full Name], hereby authorize the release of the specified medical records and understand the nature and purpose of the release.
Patient's Signature: ____________________________ Date: _________
Witness (if required): ____________________________ Date: _________
Note: This release is in compliance with privacy laws, including the Health Insurance Portability and Accountability Act (HIPAA). Revoking this consent can be done in writing.
This template serves as a basic framework. It's essential to tailor the form based on specific needs, legal requirements, and the intricacies of the healthcare system in the respective region. Always consult with legal professionals or experts in healthcare compliance when creating or updating such a medical form.
FREE 50+ Medical Records Release Forms in PDF | MS Word
51. Medical Records Release Disclosure of Information Form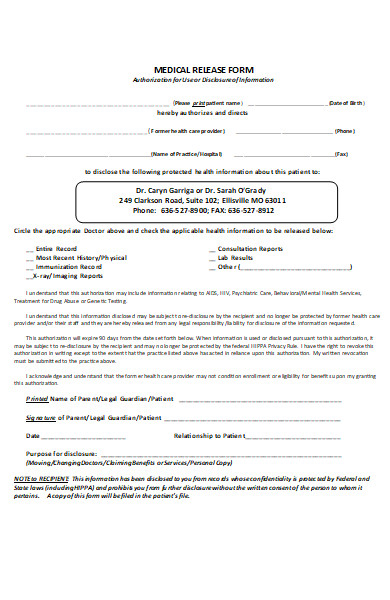 How do I request a Medical Records Release Form from a hospital?
Requesting a Medical Records Release Form from a hospital typically involves the following steps:
Contact the Hospital's Medical Records Department: Begin by reaching out to the medical records or health information department of the hospital. Most large hospitals will have a dedicated department for this.
Inquire About the Process: Different hospitals might have slightly different processes for obtaining a release form. It's a good idea to ask about the steps involved, any fees, and the estimated time it takes to receive the records.
Visit in Person: Some hospitals may require you to come in person to request the form, especially if they need to verify your identity. If visiting in person, bring valid identification with you.
Request via Mail or Fax: Some hospitals might allow you to request the form via mail or fax. If this is an option, ensure that all the necessary details are provided in your written request.
Online Portal: Many modern hospitals have online patient portals where you can request medical records and the associated release form. If you're registered on the hospital's portal, log in and look for the appropriate request section.
Fill Out the Form: Once you obtain the form, fill out all the required details. You'll typically need to specify which records you want, the purpose of the request, and where they should be sent.
Return the Form: After filling out the form, return it to the medical records department. This can often be done in person, via mail, fax, or through the online portal.
Follow Up: If you don't receive your records within the estimated timeframe, follow up with the hospital. Sometimes, delays can occur, especially in larger facilities or during peak times.
Remember that while your medical records are your information, hospitals are bound by strict privacy laws, such as the Health Insurance Portability and Accountability Act (HIPAA) in the U.S. These laws ensure your privacy is maintained, but they also require processes like the Medical Records Release Form to ensure information is only released to authorized individuals. You should also take a look at our Sample Medical Records Release Forms.
Can I email my Medical Records Release Form, or does it need a physical signature?
Whether you can email your Medical Records Release Form often depends on the specific policies of the institution or entity you're dealing with, as well as regional or national regulations regarding electronic signatures and data privacy.
Here are some general considerations:
Electronic Signatures: With advancements in technology, many places now accept electronic signatures as legally binding. Tools like Adobe Sign, DocuSign, and others allow for secure electronic signatures that can be verified. If the institution you're dealing with accepts electronic signatures, you might be able to email your Medical Records Release Form.
Data Privacy Concerns: Email, unless encrypted, is not the most secure form of communication. When sending sensitive information like a Medical Records Release Form, you should be wary of potential data breaches. Some hospitals or clinics may refuse emailed forms due to concerns about HIPAA (Health Insurance Portability and Accountability Act) compliance in the U.S. or other data protection regulations in other countries.
Institution Policies: Each hospital, clinic, or medical provider may have its own policies about accepting emailed forms. It's essential to check with the specific institution to understand their requirements and preferred procedures.
Legal Requirements: Some jurisdictions might have strict regulations about medical data, necessitating a physical signature on documents related to medical information release.
Verification Needs: Physical signatures can sometimes be easier to verify against known records, especially in institutions that haven't fully transitioned to digital verification methods.
In summary, while it might be possible to email a Medical Records Release Form with an electronic signature, you should always confirm with the receiving institution and be aware of the security implications. If you do email the form, consider using secure, encrypted email services to enhance privacy and security. Our medical records transfer forms is also worth a look at
How long does it take to process a Medical Records Release Form?
The processing time for a Medical Records Release Form can vary depending on several factors:
Institutional Policies and Size: Larger hospitals or healthcare institutions may take longer to process requests due to the volume of requests they receive. Conversely, smaller clinics might have a quicker turnaround.
Complexity of the Request: If you're requesting an extensive medical history or records from multiple departments or specialists, it may take longer to gather and process all the necessary information.
Format of Records: If the records are electronic, they might be retrieved and shared faster than paper records, which might require copying or scanning.
Legal or Regulatory Timelines: Some regions or countries have regulations that mandate a maximum timeframe for institutions to respond to medical records requests. For example, under the Health Insurance Portability and Accountability Act (HIPAA) in the U.S., covered entities are typically required to provide access within 30 days, though there are exceptions.
Destination of Records: If the records are being sent directly to you, it might be quicker than if they're being forwarded to another medical provider, especially if that provider is in a different healthcare system or network.
Method of Delivery: Physical mailing of records will add transit time, while electronic transfers, like emails or uploads to patient portals, can be quicker.
Staff Availability: Shortages in staff or particular busy periods (like during a public health crisis) can impact the processing time.
Generally, it's a good idea to check with the specific healthcare institution to get an estimated timeframe for your request. If your need is urgent, such as for an upcoming medical appointment or a legal matter, make sure to communicate this urgency when you submit your request.
What information do I need to provide on the Medical Records Release Form?
When filling out a Medical Records Release Form, you'll typically be asked to provide the following information:
Patient's Personal Information:

Full Name
Date of Birth
Address
Phone Number
Social Security Number (in some cases, depending on the country or institution)

Description of the Information to be Released:

Types of medical records (e.g., medical history, lab results, X-rays, surgery reports)
Specific date range of treatments or services, if applicable
Any specific details or notes that should be included or excluded

Purpose of the Release:

Transfer to a new physician or specialist
Legal purposes
Insurance claims
Personal use
Other specific reasons

Recipient's Information:

Full name or name of the organization to receive the records
Address
Phone number
Fax number (if applicable)

Duration of the Consent:

Specific start and end dates for the consent
Indication if it's a one-time release or if the consent allows for ongoing access during a specific period

Method of Delivery:

Electronically (e.g., via email or online portal)
Physical copy (mail or pickup)
Fax

Consent and Authorization:

A statement where the patient acknowledges they understand the nature and purpose of the release
The patient's signature and date
Witness signature, if required

Revocation Clause:

A statement indicating the patient's right to revoke the authorization, explaining the process to do so

Other Possible Sections:

A statement addressing the potential for the information to be redisclosed by the recipient and no longer protected by privacy laws
Fees associated with copying and sending the records
Any state or country-specific legal clauses or mentions, such as references to HIPAA in the U.S.
Always ensure you read through the form thoroughly, understand what you're authorizing, and provide accurate details to prevent any delays or issues in the release process.
Who should receive the Medical Records Release Form after it's filled out?
After the Medical Records Release Form is filled out, it should be submitted to the healthcare institution or medical provider that currently holds the records you want to access or transfer. This could be a hospital, clinic, doctor's office, or other healthcare facility where you received treatment or care.
Here's a step-by-step on where and how to submit the form:
Contact the Medical Records Department: Before submitting the form, contact the medical records or health information management department of the facility to inquire about the correct procedure for submission.
Ensure Form Completeness: Make sure that all required fields on the form are filled out correctly and that the form is signed and dated. This will help prevent potential delays in processing.
Submission Methods:

In-Person: Some facilities may prefer or require you to submit the form in person, allowing them to verify your identity immediately.
Mail: You can mail the completed form to the healthcare facility's medical records department. If you choose this method, consider using certified mail with a return receipt to ensure the form's delivery.
Fax: Some facilities accept forms via fax, but it's a good idea to call ahead and confirm the correct fax number and ensure someone is available to receive it.
Email: If the institution accepts electronic submissions, you can email the form, but always be cautious about sending sensitive information through email. If possible, use secure, encrypted email services or secure portals provided by the facility.

Keep a Copy: Always keep a copy of the completed form for your records. This will be helpful if any questions arise or if you need to refer to it later.
Confirmation: Once you've submitted the form, it's a good idea to follow up with the facility after a few days to confirm they've received it and to inquire about the estimated timeframe for processing.
Always be aware of the facility's specific protocols and the local regulations regarding medical record release to ensure a smooth process.
Can I revoke my Medical Records Release Form after submission?