A Medical Permission Form stands as a pivotal document in the realm of healthcare, often bridging the communication gap between medical professionals and patients or guardians. Serving as an official consent tool, this form provides clarity and legal protection during medical procedures or treatments. From its inherent meaning, diverse types, real-world examples, to crafting techniques and best practices, diving deep into the intricacies of the Medical Permission Form can empower individuals to make informed healthcare decisions with confidence.
What is a Medical Permission Form ? – Definition
A Medical Permission Form, often referred to as a medical consent form, is a legal document that gives healthcare professionals the authorization to proceed with a specific medical intervention, procedure, or treatment on a patient. This form ensures that the patient, or their legal guardian, is fully informed about the risks, benefits, alternatives, and nature of the proposed intervention and voluntarily agrees to proceed. The form provides protection for healthcare providers against potential legal claims of performing procedures without informed consent and ensures the patient's rights and autonomy in healthcare decisions are respected.
What is the Meaning of a Medical Permission Form?
The meaning of a Medical Permission Form is rooted in the concept of informed consent. It signifies a mutual understanding and agreement form between the healthcare provider and the patient (or their legal representative) regarding a specific medical intervention. The form serves as evidence that:
The patient has been thoroughly informed about the procedure or treatment, its purposes, potential risks, benefits, and any available alternatives.
The patient understands the provided information and has had an opportunity to ask questions and get satisfactory answers.
Based on this understanding, the patient voluntarily gives permission, without any coercion, for the medical intervention to take place.
The patient's right to accept or refuse the treatment has been acknowledged and upheld.
In essence, a Medical Permission Form embodies the principle that patients have the right to make decisions about their own bodies and health, after being fully informed of all relevant factors.
What is the Best Sample Medical Permission Form?
The best sample of a Medical Permission Form will vary depending on the specific medical intervention, country's legal requirements, and the healthcare provider's practices. However, a general sample medical form can be provided for reference. It's crucial to consult with legal professionals when creating or using such forms to ensure they meet necessary standards and regulations.
Patient Information:
Full Name: ________________________
Date of Birth: //_____
Medical Record Number: ____________
Procedure/Treatment Information:
Description of Procedure/Treatment: ______________________________________________
Purpose of the Procedure/Treatment: _____________________________________________
Provider Information:
Name of Healthcare Provider: ________________________
License/Registration Number: ________________________
Consent:
I, [Patient's Name], hereby give my informed consent to [Healthcare Provider's Name] to perform the above-mentioned procedure/treatment.
I acknowledge and confirm that:
The procedure, its potential risks, benefits, and alternatives have been explained to me.
I have been given the opportunity to ask questions, and all my questions have been answered satisfactorily.
I understand that there is no guarantee concerning the outcomes of this procedure/treatment.
I am aware that I have the right to refuse or withdraw my consent at any point without facing any repercussions.
Alternative Options Discussed: (if applicable)
Risks Discussed: (List major risks)
Signature of Patient/Guardian: ____________________ Date: //_____
Signature of Healthcare Provider: _________________ Date: //_____
This is a generic sample, and for specific medical interventions, there might be a need for more detailed information or additional sections. Always ensure the form is compliant with local regulations and crafted with legal guidance.
FREE 40+ Medical Permission Forms
1. Medical Permission Form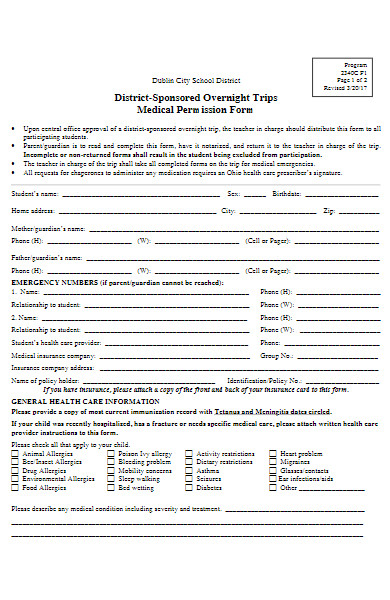 2. Youth Group Medical Permission Form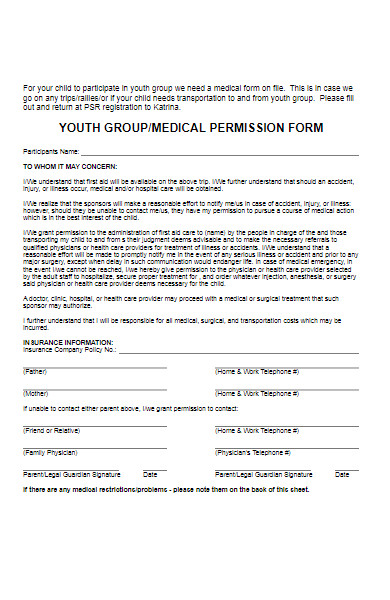 3. Sample Medical Permission Form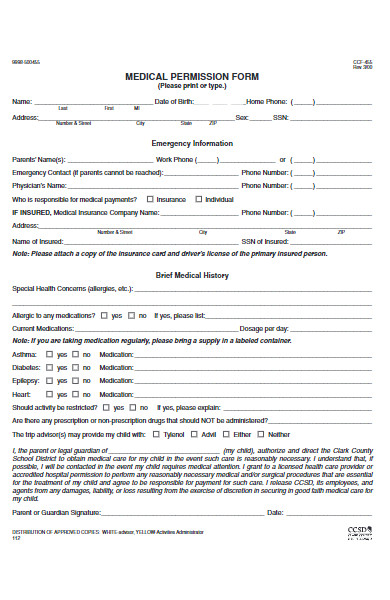 4. Medical Permission and Release Form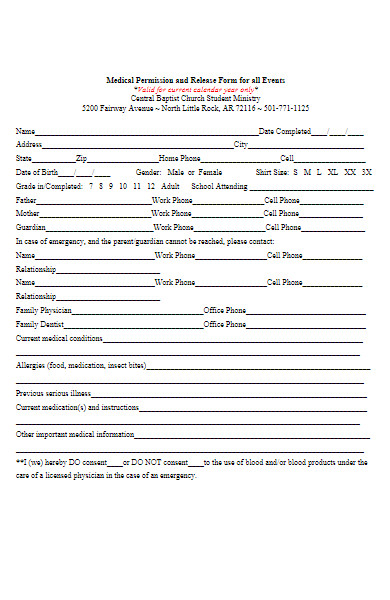 5. Emergency Medical Permission Form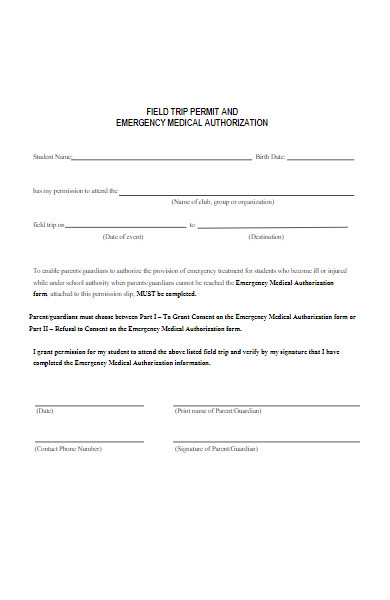 6. Student Medical Permission Forms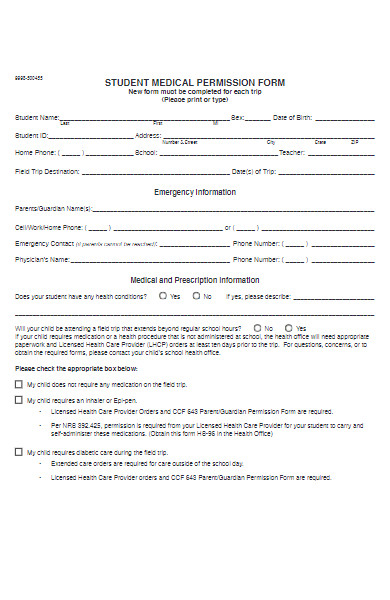 7. Medical Permission Slip Form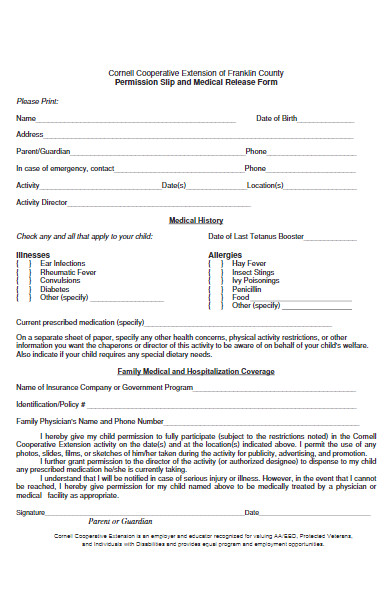 8. Sports Medical Permission Form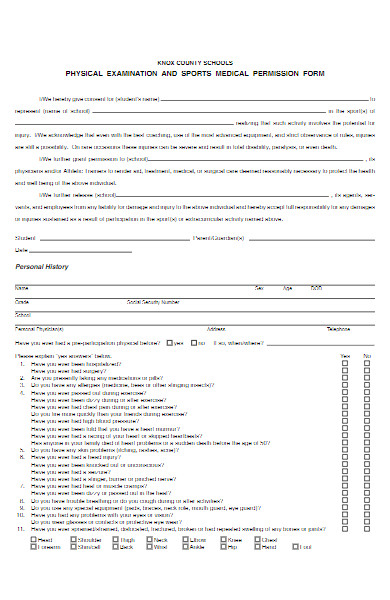 9. Basic Medical Permission Form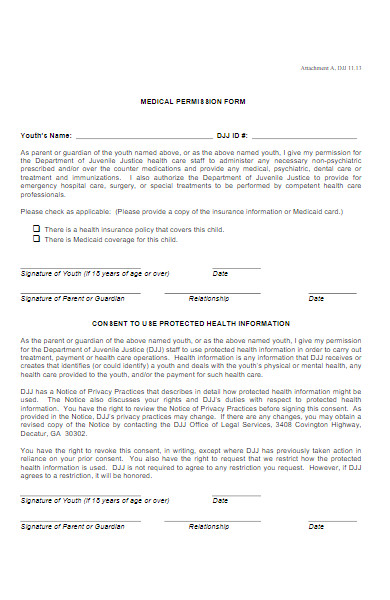 10. Permission and Medical Release Form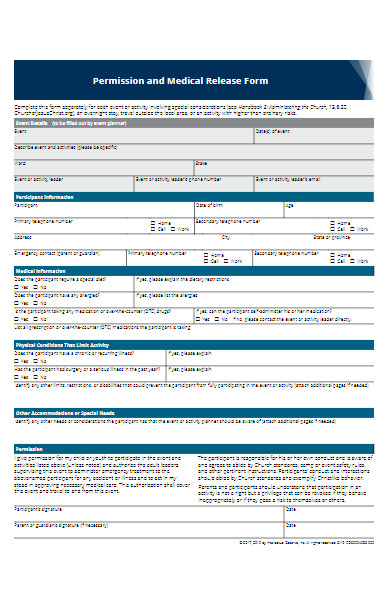 11. Medical Permission Form Example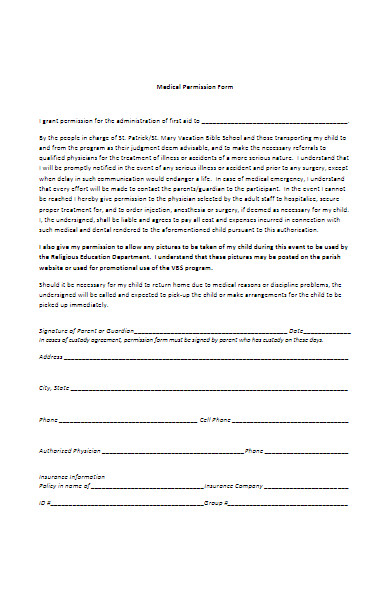 12. Medication Permission Form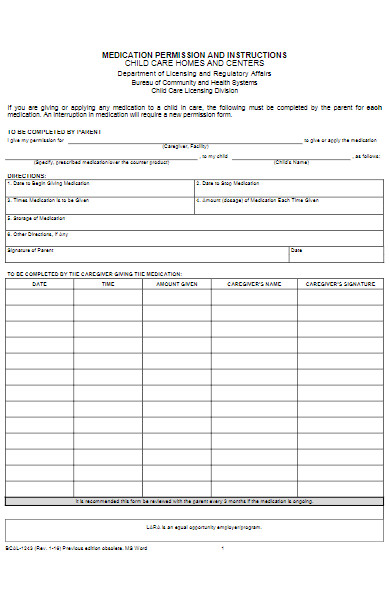 13. School Medication Permission Form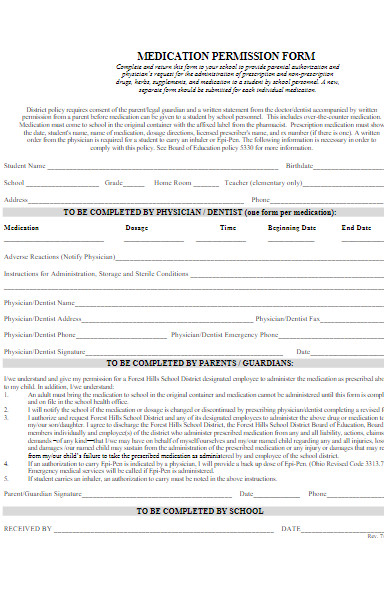 14. Medication Authorization and Permission Form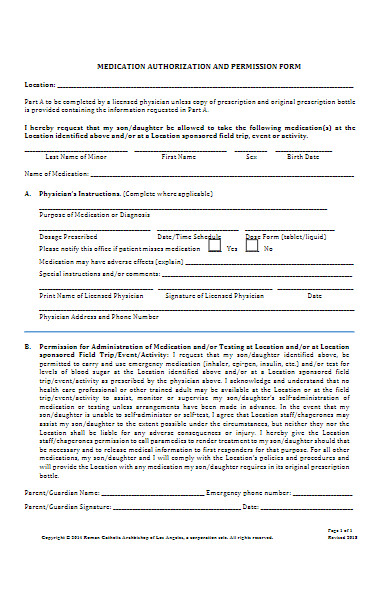 15. Medical Student Permission Slip Form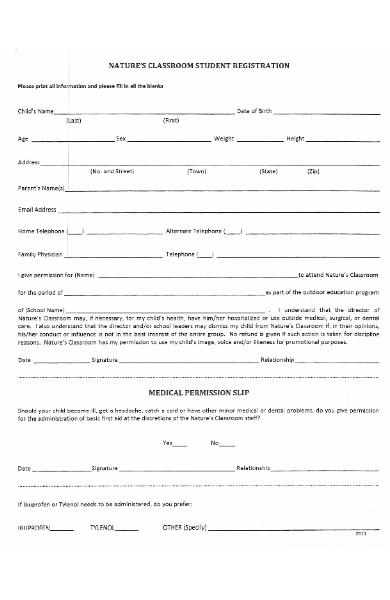 16. Medical Permission Card Form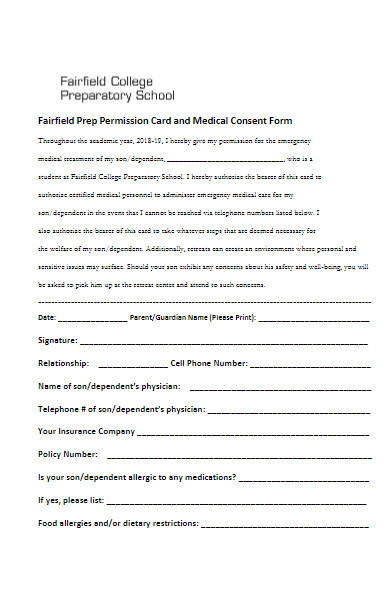 17. Emergency Medical Treatment Permission Form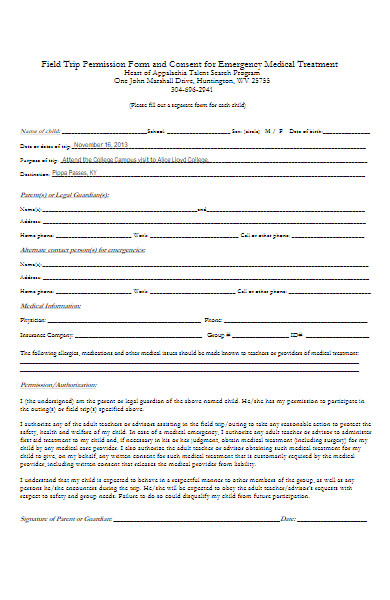 18. Medical Meeting Permission Form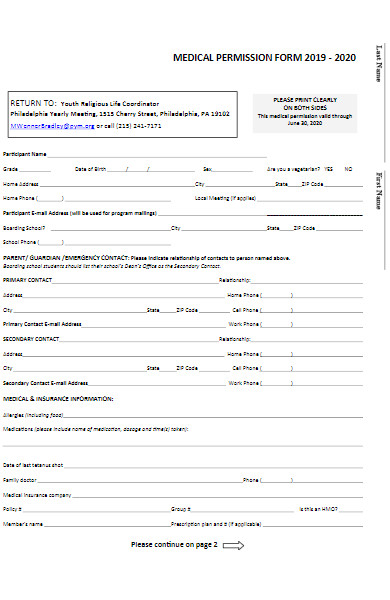 19. Medication Administration Permission Form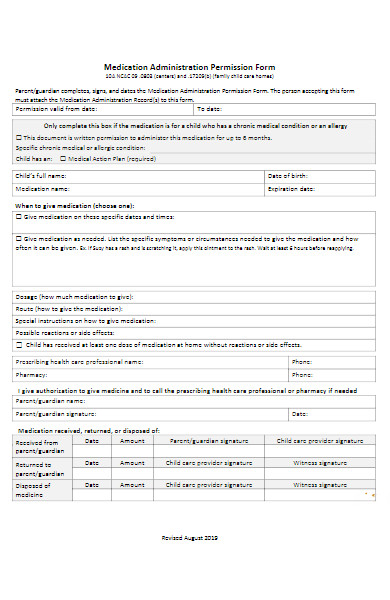 20. Medical Permission and Liability Wavier Form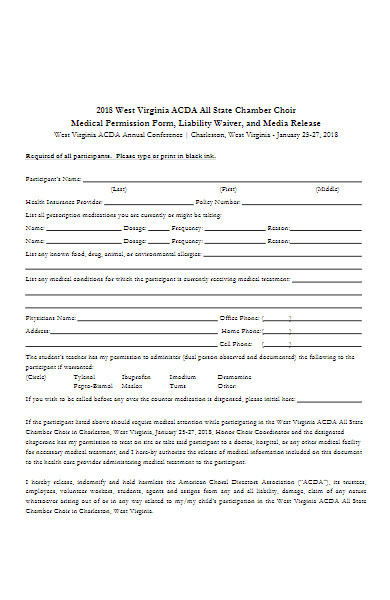 21. Emergency Medical Permission Form Format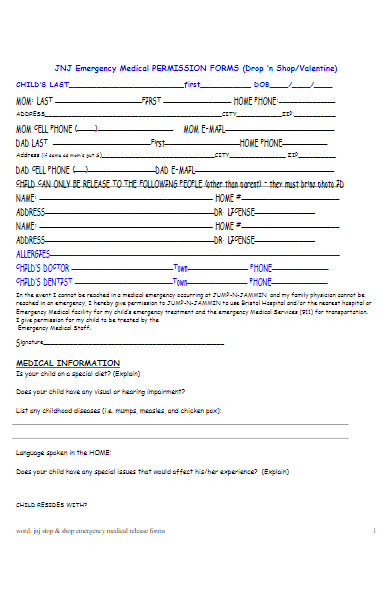 22. Medical Information Parental Permission Form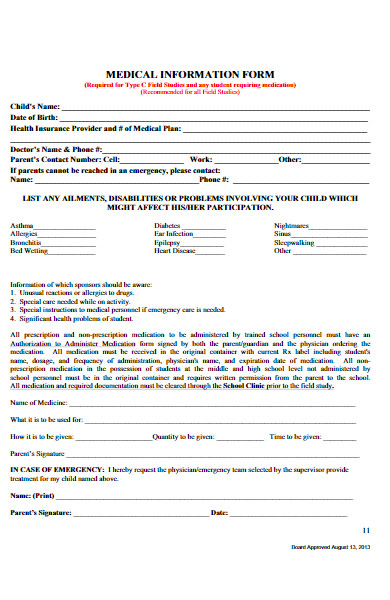 23. Medical Permission Release Form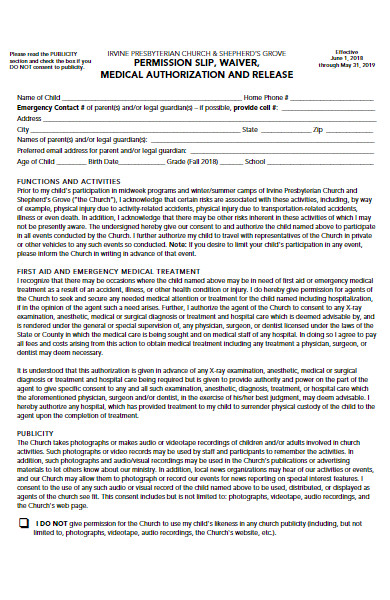 24. Medical Permission Form in PDF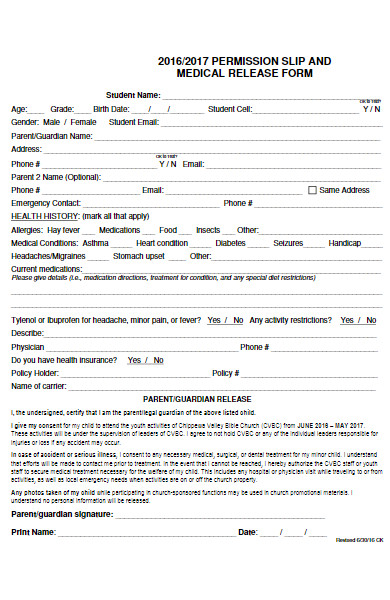 25. Permission Medical Consent Form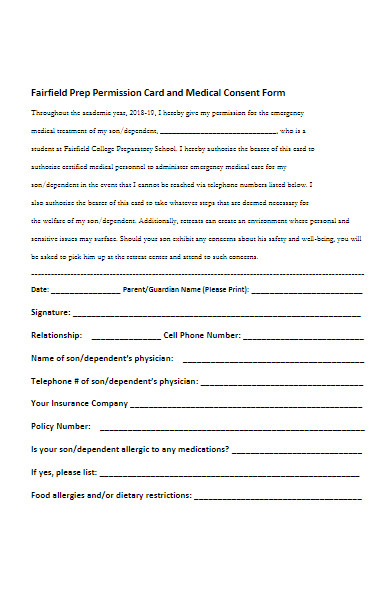 26. Medication Permission Request Form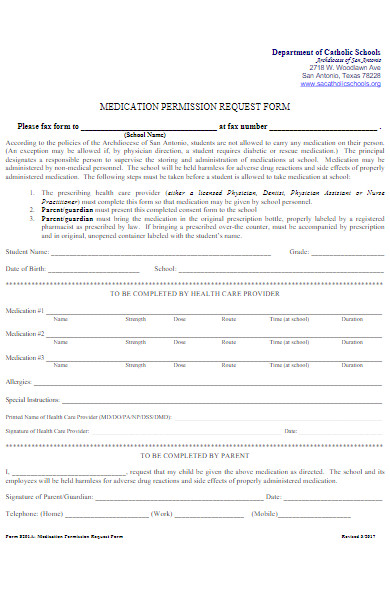 27. Permission for Medical Care Form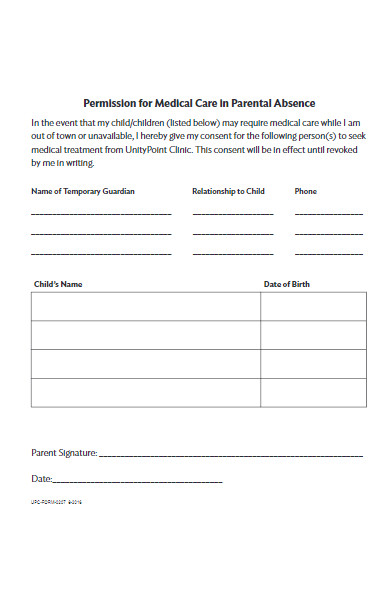 28. Parental Medical Permission Form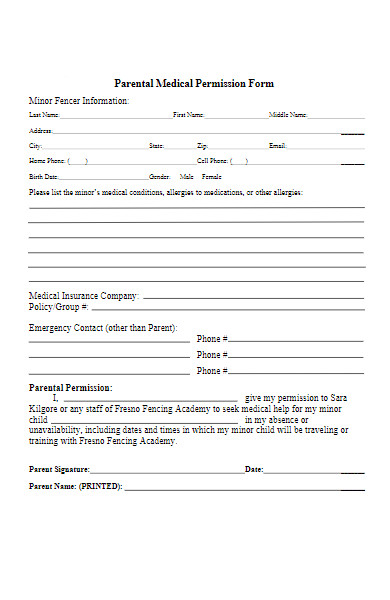 29. Information Permission Form for Medical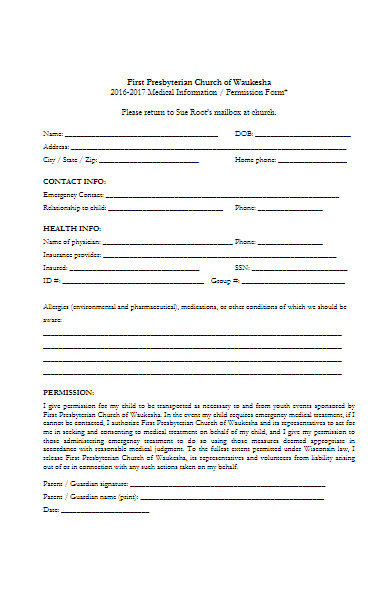 30. Permission Slip Form for Medical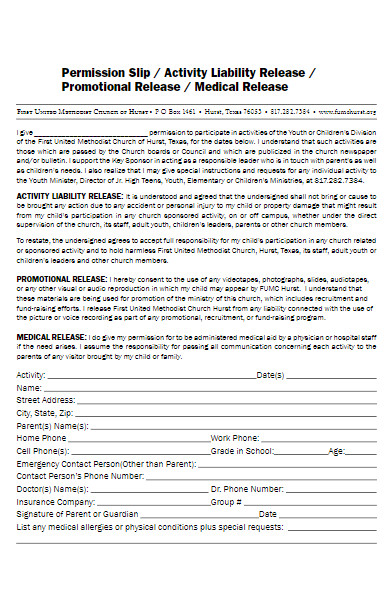 31. Standard Medical Permission Form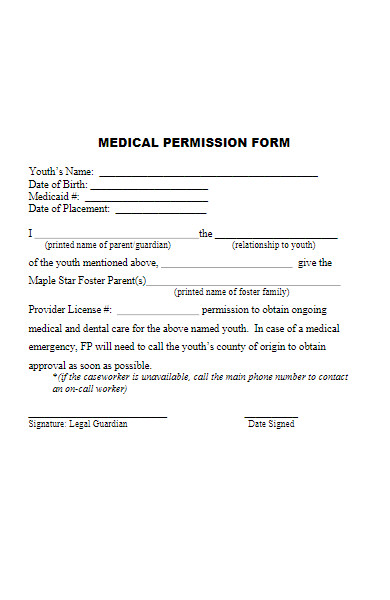 32. Activity Permission Medical Consent Form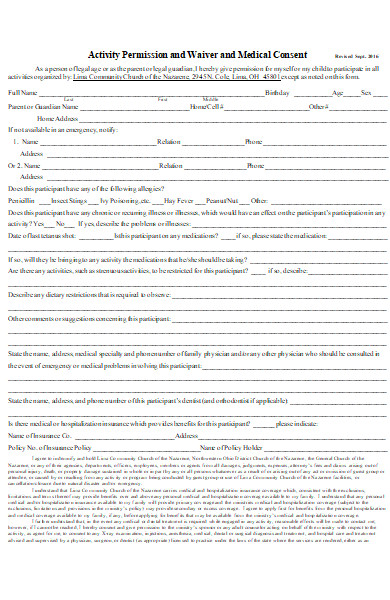 33. Student Medical Permission Form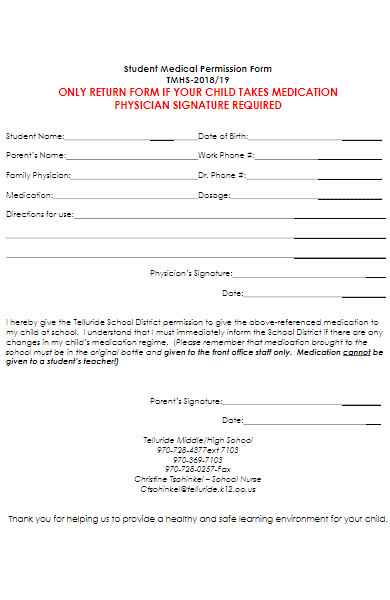 34. Sports Camp Medical Permission Form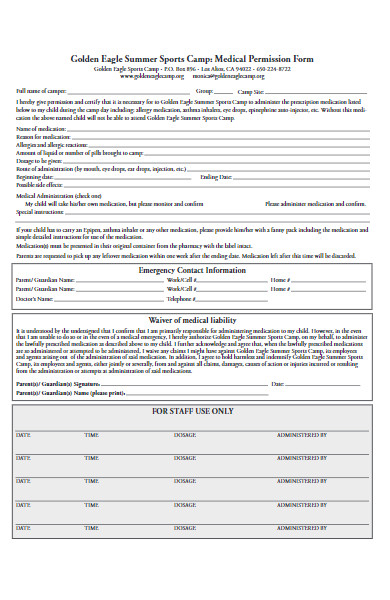 35. Medication Permission Form in PDF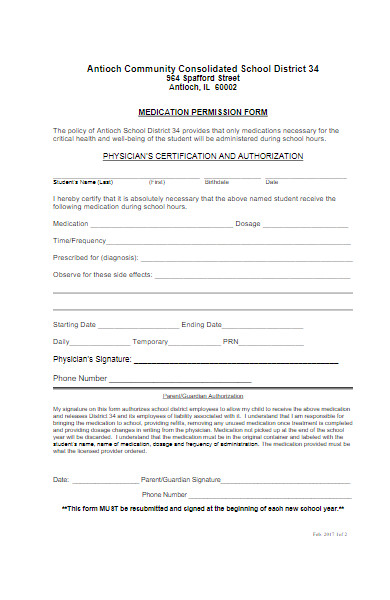 36. Medical Permission Form Template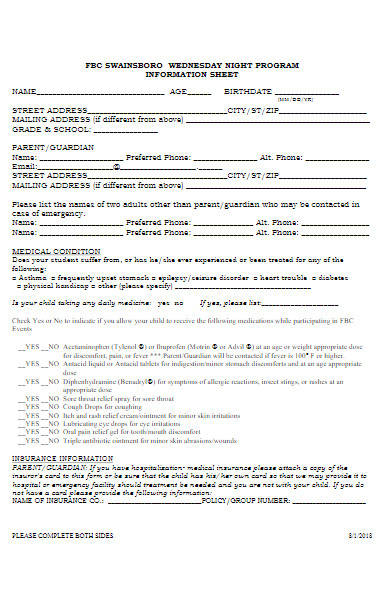 37. Medical Permission Slip Kid Form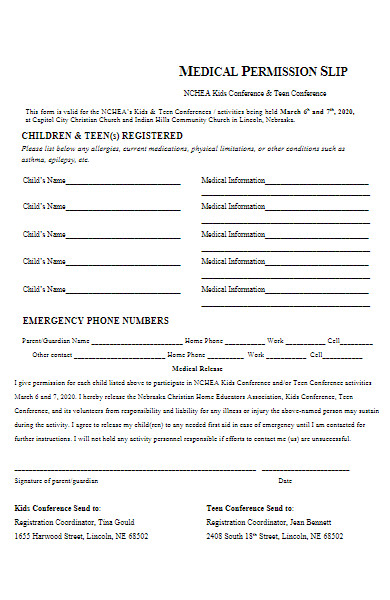 38. Medication Policy and Permission Form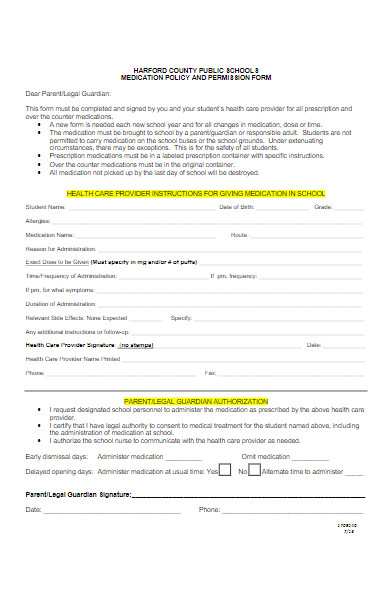 39. Health Permission Form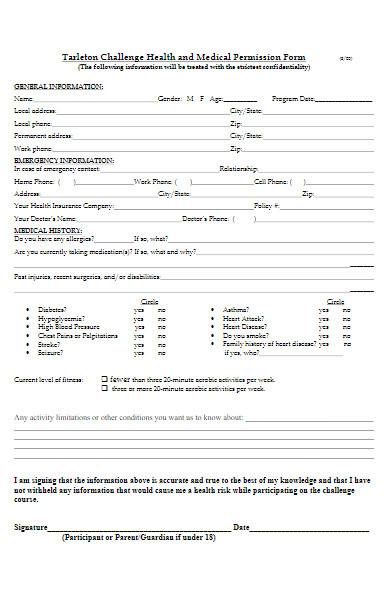 40. Medical Permission Confirmation Form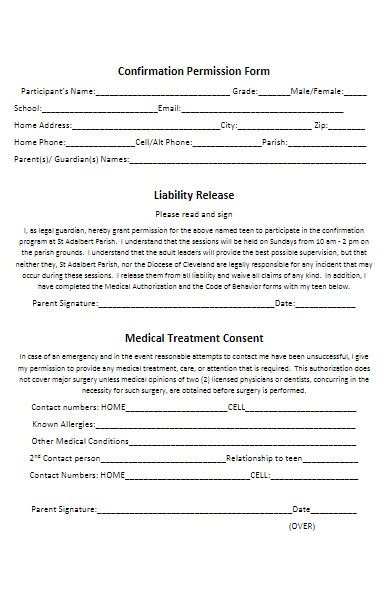 41. Dispense Emergency Medical Permission Form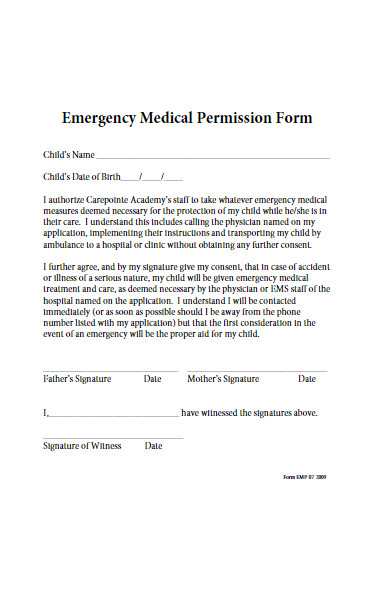 What is the primary purpose of a Medical Permission Form?
The primary purpose of a Medical Permission Form is to obtain informed consent form from a patient or their legal guardian before undergoing a specific medical procedure, treatment, or intervention. The form serves as documentation that the patient has been adequately informed about the benefits, risks, potential complications, alternatives, and other relevant details of the proposed medical action. By signing the Medical Permission Form, the patient acknowledges understanding this information and agrees to proceed. This process protects both the patient's rights to make informed decisions about their health and the healthcare provider from legal ramifications by ensuring that consent was obtained.
 Do I always need a Medical Permission Form for every medical procedure?
No, you do not always need a Medical Permission Form for every medical procedure. Typically, Medical Permission Forms are required for:
Invasive Procedures: Surgeries, biopsies, and other interventions that penetrate the skin or body cavities.
Procedures with Anesthesia: Whether it's general, regional, or local anesthesia.
Diagnostic Procedures with Risks: Such as certain types of radiological imaging that involve radiation or contrast dyes.
Experimental Treatments: Treatments or medications that are still under clinical trial or aren't yet widely accepted.
Procedures with Significant Risks: Any treatment that carries a significant risk of complications or side effects.
Treatments with Alternatives: Especially when there are multiple treatment options available, and the patient has to make an informed choice among them.
For routine medical procedures, like blood tests, basic physical examinations, and standard vaccinations, a Medical Permission Form is usually not required. However, good medical practice involves informing the patient about the procedure and obtaining verbal consent. Always ensure that you're comfortable and informed, regardless of the procedure's scale or risk, and never hesitate to ask questions if you're uncertain. You should also take a look at our field trip permission forms.
What happens if I don't sign the Medical Permission Form?
If you don't sign the Medical Permission Form:
Procedure/Treatment Won't Proceed: Medical professionals will not initiate the proposed procedure or treatment without your informed consent. This is a foundational ethical and legal principle in medical practice.
Discussion and Clarification: Your healthcare provider will likely discuss the reasons for your reluctance. They will provide additional information or clarify any doubts you may have about the procedure, its benefits, risks, and alternatives.
Potential Risks and Outcomes: If the procedure or treatment is essential for your health, your healthcare provider will explain the potential risks or outcomes of not proceeding. This is to ensure you are fully aware of the implications of your decision.
Alternative Options: Depending on the situation, the medical team might suggest alternative treatments or procedures that may not require the same level of informed consent or might be more acceptable to you.
Documentation: The medical team will likely document your refusal to sign the Medical Permission Form and the reasons you provided, if any. This documentation is essential to protect both the patient's rights and the medical provider from potential legal issues in the future.
Right to Autonomy: Remember that it's your right to refuse a medical procedure or treatment, even if it's recommended by your healthcare provider. However, it's also essential to understand the potential consequences of not undergoing a suggested procedure or treatment.
In any situation, always ensure that your decisions are based on a clear understanding of the available information. If unsure, consider seeking a second opinion or consulting with trusted individuals before making a decision.
How long is the Medical Permission Form valid?
The validity of a Medical Permission Form typically depends on several factors:
Specificity of the Procedure/Treatment: If the Medical Permission Form is for a specific procedure or treatment, its validity is generally limited to that particular instance. If the procedure needs to be repeated at a later time, a new form may need to be signed.
Changing Medical Conditions: Even if a short duration has passed since signing the form, if there's a significant change in the patient's medical condition, a new form might be required.
Time Limitations: Some institutions or jurisdictions may have specific time limits on how long a signed Medical Permission Form remains valid. For example, some might consider a form valid for 30 days after signing, while others might not have such restrictions.
General vs. Specific Consent: A general Medical Permission Form, which might cover routine procedures during a hospital stay, may be valid for the duration of that admission. In contrast, specific consent for major procedures is typically limited to that procedure only.
Legal and Institutional Policies: The policies of the healthcare facility and relevant local, state, or national laws can dictate the validity duration of a Medical Permission Form.
Minors and Dependents: For individuals who cannot legally provide consent (like minors or those with certain cognitive impairments), the validity might also depend on the legal guardian's continuing authority to make medical decisions on their behalf.
It's essential to note that even if a Medical Permission Form was signed previously, a patient retains the right to withdraw consent at any time before the procedure or treatment begins. If you ever have doubts about the validity of a previously signed fillable form, it's best to discuss it with the healthcare provider to ensure that your current wishes and understanding are respected.
Is the Medical Permission Form legally binding?
The Medical Permission Form is legally binding in the sense that it provides documented evidence that a patient or their legal representative has been informed about a specific medical procedure or treatment and has given consent to proceed. However, there are nuances to consider:
Informed Consent: The crux of the Medical Permission Form is informed consent. This means the patient has been fully informed about the benefits, risks, potential complications, and alternatives of the proposed medical intervention. If a medical professional fails to adequately inform the patient, the form can potentially be challenged in court.
Patient Rights: Even if a patient has signed the Medical Permission Form, they retain the right to withdraw consent and refuse treatment at any point before the procedure begins. Once treatment has commenced, depending on the situation, withdrawing might be more complicated, especially if halting could pose immediate risks.
Accuracy and Authenticity: The form's legal validity also hinges on its accuracy and authenticity. Any sign of coercion, forgery, or misinformation can invalidate the form and possibly lead to legal consequences for the medical institution or professional.
Local and State Laws: The legal weight of a Medical Permission Form can vary depending on local, state, or national laws and regulations. Some jurisdictions might have stringent requirements for informed consent, while others might be more lenient.
Emergencies: In emergency situations, when obtaining consent is impractical or impossible, and delay might cause harm or death, medical professionals might proceed without a signed form, relying on the principle of implied consent.
Minors and Incapacitated Adults: In the case of minors or adults who can't provide informed consent due to cognitive impairments or other reasons, the legal guardian or designated health care proxy typically provides consent. The rules and rights governing these situations vary by jurisdiction.
In summary, while the Medical Permission Form is a legally binding document evidencing consent, its validity can be influenced by various factors, including the adequacy of information provided, the voluntariness of the patient's decision, and local legal requirements.
Who can explain the details of the Medical Permission Form to me?
The details of the Medical Permission Form should ideally be explained by a medical professional who is knowledgeable about the specific procedure or treatment in question and can answer any questions or concerns you might have. Typically, the following individuals can explain the form to you:
Attending Physician: This is the primary doctor responsible for your care and the one recommending the procedure or treatment. They have the most knowledge about your medical condition and the expected outcomes, risks, and benefits of the proposed intervention.
Surgeon or Specialist: If the procedure is a surgery or specialized treatment, the surgeon or specialist performing it should explain the specifics, including what to expect during and after the procedure.
Medical Staff or Nurse: In some cases, a nurse or another member of the medical staff trained in the procedure might walk you through the form and provide clarification, though they typically do so under the direction or oversight of the attending physician.
Patient Advocate: Some hospitals and medical facilities have patient advocates or ombudsmen who can help you understand the Medical Permission Form and your rights as a patient.
Legal Counsel: If you have concerns about the legal aspects of the form or if you believe your rights as a patient might be compromised, you might consider consulting with legal counsel familiar with medical law.
Hospital or Clinic Administrator: In situations where you might need clarity on institutional policies related to the form or procedure, an administrator or their representative might be of assistance.
Regardless of who explains the form to you, ensure that:
You fully understand the procedure, its benefits, risks, potential complications, and any alternatives.
All your questions are answered to your satisfaction.
You don't feel pressured or rushed into signing the form.
You are informed of your right to seek a second opinion if you are unsure about the proposed treatment.
Your informed consent is crucial, so take the time you need to understand the form and make an informed decision about your care.
Will I receive a copy of my signed Medical Permission Form for my records?
Yes, you have the right to receive a copy of your signed Medical Permission Form for your records. Most medical institutions and practices recognize the importance of transparency and ensuring patients have access to their medical documents. Here's what typically happens:
Requesting a Copy: After signing the Medical Permission Form, you can request a copy from the medical staff or administrative personnel. They should provide it to you promptly or within a reasonable timeframe.
Record-Keeping: Medical facilities usually retain the original form in your medical records for legal and reference purposes. This ensures there's documentation of the informed consent process should any questions arise in the future.
Electronic Health Records: With the increasing digitization of medical records, many institutions might store these forms electronically. In such cases, you might receive a printed copy or, if you prefer, a digital copy through a secure patient portal or email.
Benefits of Having a Copy: Retaining a copy of your Medical Permission Form allows you to review the details of the procedure or treatment, understand any associated risks, and have a reference in case you need to discuss the procedure with another medical professional or need it for legal reasons.
Patient Rights: It's essential to understand that you have a right to access your medical records, including signed permission forms. If you face any reluctance or challenges in obtaining a copy, you can refer to patient rights guidelines or speak to a patient advocate.
In summary, always ensure you receive a copy of any significant medical documentation, including Medical Permission Forms. It's a crucial part of managing your health and being informed about the medical decisions you make.
If I decline to sign the Medical Permission Form, what are the implications?
Declining to sign a Medical Permission Form has several implications, primarily revolving around your rights as a patient and the responsibilities of healthcare providers. Here's what can happen if you choose not to sign:
No Procedure or Treatment: The primary implication is that the proposed medical procedure or treatment will not be carried out unless it's an emergency situation where implied consent is assumed. Doctors and medical facilities require this form to ensure they have your informed consent before proceeding with any non-emergency intervention.
Medical Advice: If you are hesitant about the procedure or treatment, the medical professional should discuss your concerns, provide additional information, or suggest alternative treatments if available.
Right to Refuse: Every patient has the right to refuse a procedure or treatment. However, it's essential to understand the consequences of refusal, which might include progression of an illness, complications, or other adverse outcomes.
Documentation: Even if you decline to sign the Medical Permission Form, this decision will likely be documented in your medical records to ensure there's a record of the discussion and your decision.
Seeking a Second Opinion: If you're unsure about the recommended procedure or treatment, you have the right to seek a second opinion from another medical professional. This can provide more information or alternative viewpoints that might help you make an informed decision.
Potential Legal Implications: If complications arise from not undergoing a procedure or treatment, the documented refusal can protect medical professionals from potential legal claims, as it demonstrates that they provided the necessary information and that the patient made an informed decision not to proceed.
Emergency Situations: In emergencies where a delay in treatment can be life-threatening and the patient is unable to provide consent (e.g., unconsciousness), medical professionals might act based on implied consent or the best interest of the patient. However, this does not apply to non-emergency situations where explicit consent is required.
In conclusion, while declining to sign a Medical Permission Form is within your rights as a patient, it's vital to ensure you fully understand the implications of your decision. Always communicate openly with your healthcare provider about any reservations or concerns you might have. Our Parental consent forms is also worth a look at
How to Create a Medical Permission Form?
Creating a Medical Permission Form is essential for healthcare providers to ensure they obtain informed consent from patients before conducting procedures or treatments. Here's a step-by-step guide to creating one:
Header and Title:

Start with the healthcare institution's name, logo, address, and contact details.
Clearly title the document "Medical Permission Form" or "Informed Consent Form."

Patient Information:

Full name
Date of birth
Patient ID or medical record number
Address and contact details

Procedure or Treatment Description:

Clearly state the name of the procedure or treatment.
Provide a brief description, ensuring it's comprehensive enough for the patient to understand what will be done.

Purpose of the Procedure:

Explain why the procedure is being recommended, its benefits, and the desired outcomes.

Risks and Complications:

List potential risks, side effects, and complications associated with the procedure. Be thorough to ensure the patient is fully informed.

Alternatives:

Detail alternative treatments or procedures, if any, including their benefits and risks.

Anesthesia (if applicable):

Describe the type of anesthesia to be used and its potential risks and benefits.

Statement of Consent:

Include a statement where the patient acknowledges that they've been informed about the procedure, understand the risks, and consent to undergo the treatment.
Example: "I, [Patient Name], have been informed about the risks and benefits of [Procedure Name] and hereby give my consent to proceed."

Rights to Refuse or Withdraw:

State that the patient has the right to refuse the procedure or withdraw consent at any point before the treatment begins.

Privacy Statement:
Mention how the patient's medical information will be used and protected, ensuring adherence to privacy laws and regulations.
Signature Section:
Lines for the patient's signature and date.
If the patient is a minor or unable to give consent, provide lines for a guardian or legal representative's signature.
Include lines for the attending physician's signature and date, verifying that the information has been explained to the patient.
Witness Section (optional but recommended):
A line for a witness to sign, confirming that they observed the informed consent process.
Footer:
Space for any institutional details, reference numbers, or barcodes.
Review and Legal Scrutiny:
Have the form reviewed by legal counsel familiar with medical laws in your jurisdiction to ensure compliance.
Patient Feedback:
Before finalizing the form, consider obtaining feedback from patients or a focus group to ensure clarity and comprehensibility.
Update Regularly:
Medical practices and regulations evolve. Ensure the form is periodically reviewed and updated as needed.
Remember, the primary purpose of a Sample Medical Permission Form is to protect both the patient's rights and the healthcare provider. It should be clear, concise, and comprehensive, ensuring the patient has all the information needed to make an informed decision.
Tips for creating an Effective Medical Permission Form
Creating an effective Medical Permission Form ensures clarity, reduces misunderstandings, and protects both the patient and the healthcare provider. Here are some tips to enhance the effectiveness of such a form:
Clear Language: Avoid using medical jargon. If technical terms are necessary, provide simple explanations or definitions. The goal is to ensure that the patient fully understands the information.
Organized Layout: Group related information together, use headings, and consider bullet points for easy readability.
Consistent Formatting: Consistency in fonts, spacing, and styles makes the document look professional and easier to read.
Engaging Design: Consider using a clean, minimalistic design, ensuring that the form is not cluttered. Use adequate spacing and perhaps some subtle colors or shading for section headers.
Interactive Elements: If using a digital form, consider incorporating checkboxes or dropdown menus for sections requiring patient preferences or answers.
Privacy Assurance: Clearly state how patient data will be protected, aligning with relevant privacy laws.
Cultural Sensitivity: Ensure the language and content consider cultural nuances and beliefs, which may affect a patient's perception of medical procedures.
Space for Questions: Provide space for patients to write down any questions or concerns they might have, ensuring they feel involved in the process.
Contact Information: Include contact details of a department or individual who can answer questions or provide further information about the procedure.
Emergency Contact: Request the patient's emergency contact details, which might be useful in certain medical situations.
Version Control: Especially if you update the form regularly, include a version number or date to track which form was used.
Feedback Loop: Consider adding a short feedback section at the end for patients to comment on the clarity and comprehensibility of the form.
Short Definitions: For critical or complex procedures, adding a small glossary or definitions section can help clarify terms.
Visual Aids: When applicable, use diagrams, images, or flowcharts to explain complex procedures, ensuring they enhance understanding rather than confuse.
Legal Review: Always have the form reviewed by legal professionals familiar with healthcare regulations in your jurisdiction.
Pilot Test: Before finalizing, test the form with a small group of patients or staff to get feedback and make necessary adjustments.
Digital Access: If possible, provide an online version of the form so patients can read and fill it out at their convenience.
By emphasizing clarity, organization, and patient engagement, you can create an effective Medical Permission Form that upholds professional standards while prioritizing patient understanding and comfort.
A Medical Permission Form is a vital document in the healthcare sector, ensuring patients are well-informed before undergoing treatments or procedures. This form, rooted in the principle of informed consent, needs clarity, comprehensibility, and legal validity. By understanding its significance, incorporating key elements, and adhering to best practices, medical professionals can ensure both ethical practice and patient well-being. You may also be interested in our School Forms.