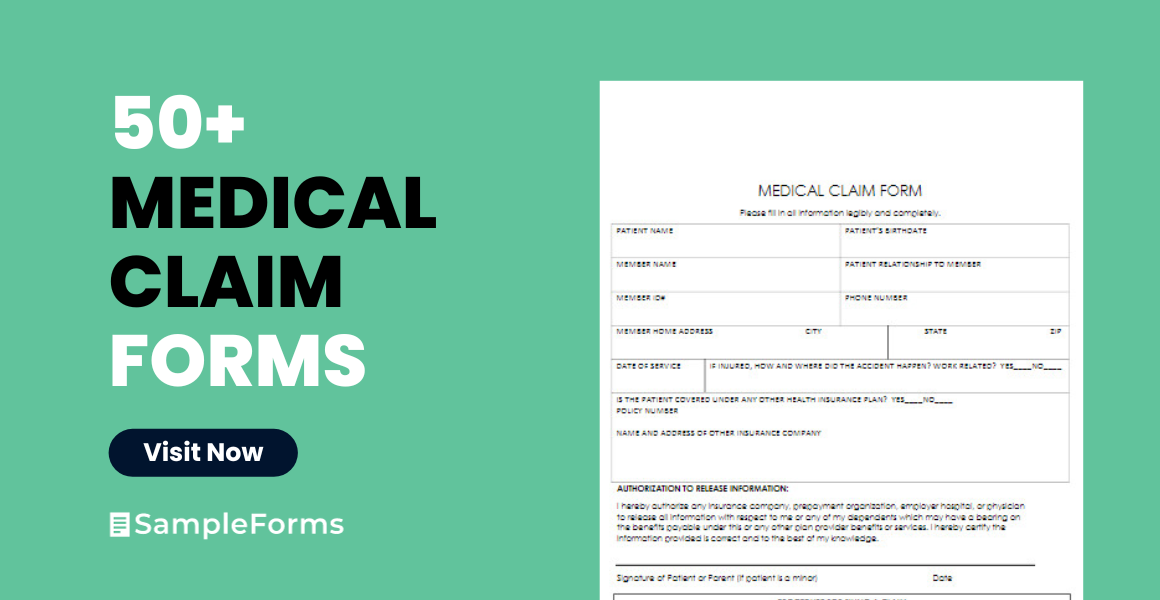 A Medical Claim Form serves as a bridge between patients and their insurance providers, detailing services received and requesting reimbursement. This pivotal document is the cornerstone of medical billing, ensuring providers receive payment and policyholders benefit from their coverage. With diverse types tailored for various treatments and health scenarios, understanding its nuances is vital. From the meticulous creation process to best practices for submission, delving into the anatomy of the Medical Claim Form can demystify the intricacies of medical billing for both providers and patients.
What is a Medical Claim Form ? – Definition
A Medical Claim Form is a standardized document submitted by either a healthcare provider or a patient to an insurance company to request reimbursement for medical services rendered. It details the treatments received, their respective codes, charges, and other pertinent information, serving as a formal request for payment under the terms of a health insurance policy. These fillable form plays a critical role in the healthcare reimbursement system, ensuring that providers are compensated for their services and that insured individuals receive the benefits outlined in their insurance plans.
What is the Meaning of a Medical Claim Form?
The meaning of a Medical Claim Form centers around its function in the healthcare reimbursement system. It acts as a formal request to an insurance company, indicating that a patient has received certain medical services and is either seeking direct reimbursement or confirming that the provider should be paid directly by the insurer. In essence, these printable form communicates the specifics of the medical intervention, including diagnoses, treatments, and associated costs, thereby facilitating the evaluation and processing of claims by insurance entities. Its accurate completion ensures that healthcare providers receive timely payment and that patients are covered as per their insurance agreements.
What is the Best Sample Medical Claim Form?
The best and most widely recognized sample of a Medical Claim Form in the United States is the CMS-1500 form, which is used by healthcare providers to bill Medicare and Medicaid. This form is also accepted by many private insurance companies.
CMS-1500 Medical Claim Form:
Carrier Block: Contains the name and address of the insurance carrier.
Patient/Insured Information:

Name, address, birth date, and gender
Insurance policy number, group number
Relationship to the insured

Patient's Medical History:

Patient's condition related to employment, auto accident, or other accident
Dates of the accident or injury
Whether other health benefit plans are involved

Insured's Name: Name of the person holding the insurance, if different from the patient.
Patient's Name: Full name of the patient.
Patient's Birth Date and Gender: Self-explanatory.
Insured's Address: Address, city, state, zip code, and telephone number.
Reserved for NUCC Use: No details to be filled.
Other Insured's Name: If there's another policy covering the patient.
Insured's Policy, Group, or FECA Number: Insurance details.
Insured's Employment Status: Employment, student, or other status.
Patient's or Authorized Person's Signature: Authorizes release of medical information necessary to process the claim.
Insured's or Authorized Person's Signature: Authorizes payment of medical benefits.
Date of Current Illness/Injury/Pregnancy: The date symptoms first appeared or accident happened.
If Patient has had Same or Similar Illness: Date of a previous, similar illness.
Name of Referring Physician: If applicable.
Name of Primary Care Physician: If different from the referring physician.
Hospitalization Dates: If the patient was admitted to a hospital.
Additional Claim Information: For any additional details or information related to the claim.
Outside Lab? Specifies if the tests were done outside the healthcare provider's facility.
Diagnosis or Nature of Illness or Injury: Diagnosis codes related to the treatment.
Resubmission Code: Used if it's a revised claim.
Prior Authorization Number: If prior authorization was obtained.
Details of the Medical Service: Contains:
Date of service
Place of service (e.g., office, hospital)
Procedures performed with their codes
Charges for each service
Federal Tax ID Number: The provider's Tax ID.
Patient's Account Number: For reference.
Accept Assignment: Indicates if the provider accepts the amount paid by the insurance as full payment.
Total Charge: Total amount charged for services.
Amount Paid: Amount already paid, if any.
Balance Due: Amount due after payments.
Signature of Physician: The treating physician's signature.
Service Facility Location: Address where services were rendered.
Billing Provider Info & Ph #: Address and phone number of the billing provider or facility.
Remember, this is just an overview. Actual CMS-1500 forms come with specific instructions on how to complete each field, and there may be variations based on insurance requirements. Proper training or reference to official guidelines is recommended when completing these claim form in PDF.
FREE 50+ Medical Claim Forms in PDF | MS Word
41. Health Care Reimbursement Form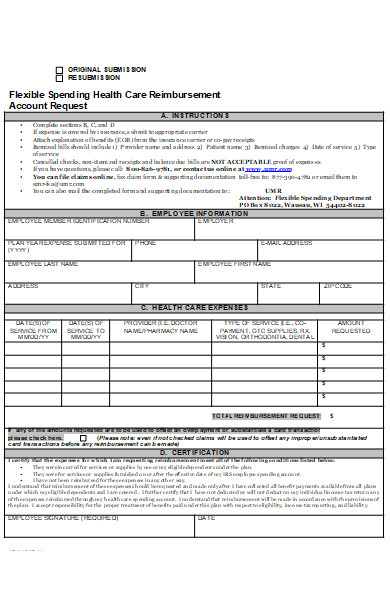 How do I fill out a Medical Claim Form correctly?