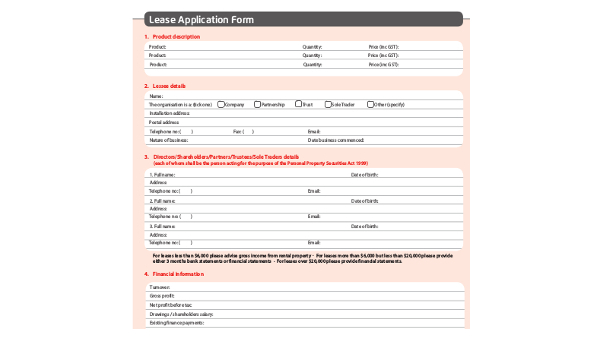 So you just bought your latest rental space. Congratulations! However, finding a tenant to rent out your rental space can be a difficult thing to do. Aside from the marketing aspect of things, finding the ideal tenant is a tedious and tricky process. Filling out a lease application enables you to properly evaluate your prospective renters and helps you pick out the best.
By using an application form, you will be able to set a specific set of categories that will serve as your guide to help you make an objective decision and to ensure that your future tenants will abide by the house rules. Our free and downloadable Application Forms are easy to use and come in varying types for your quick and easy access.
Residential Lease Application Form
Sample Commercial Lease Application Form
Rental Lease Application Form
Free Lease Application Form
House Lease Application Form Example
Credit Check
An ideal Lease Application Form contains your prospective renter's complete name, contact information, ID details, and references. Your Rental Application Form also gives you the right, as landlord, to do a credit check. Once the form has been completed, it is vital that you do a credit check on your applicants and to contact their references. Contacting the references that they have provided enables you to check on their credibility and serves as a point of character reference.
If the information you have gathered does not yield a positive result, look for a different tenant. Be cautious with any agreement that is being discussed with a renter as verbal agreements can be binding.
Confidentiality
According to the Privacy Act of 1993, landlords have the right to access tenant information that is relevant to the tenancy. However, acquiring this information also requires a confidentiality agreement. The information provided by an applicant has to be used only within the purpose of gathering necessary details to check on a renter's financial capacity to pay the lease or any security deposit needed, and to verify the details provided by them. It is your responsibility to secure any information provided and to make sure that this is not used outside the purpose of tenancy.
Apartment Lease Application Form in DOC
Lease Credit Application Form
Lease Purchase Application Form
Lease Agreement Application Form
Standard Lease Application
Lease Extension Application Form Format
Tangible and Organized
While we live in a global era where everything has become digital, a written form of application for a lease is still the best route to go. Although it may seem old-fashioned, having a hard copy of the form provides quick and easy access to your applicants and lessens the hassle.
Printable Apartment Rental Application Forms are also the quickest way to categorize your applicants and narrow them down in an objective way based on your personal criteria.
A rental property is a big investment you will want to protect. As a landlord, it is important that you are able to specify your requirements and expectations to ensure your safety and that of your property. Shield yourself from unwanted trouble with tenants, unpaid debts, and misuse of property by ensuring that your renters have a detailed lease application form along with the necessary credit and reference checks.