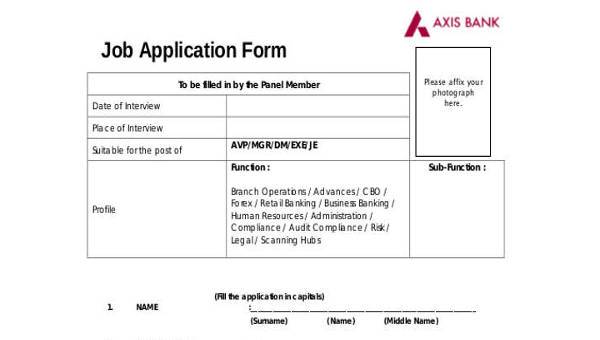 Hiring and recruiting potential employees can be quite an overwhelming and challenging process. With the increases of unemployment everywhere, a lot of people are competing for jobs and will do anything to land one. Having a Job Application Form helps recruiters or employers weed out unqualified applicants from the pool.
A Job Application Form is a form that requires applicants to supply details about themselves that are relevant to their job application such as their names, date of birth, contact information, employment history, and educational background. A Job Application Form may be filled out online or offline depending on the company, and helps recruiters determine if an applicant has the potential to become a part of the company.
Email Job Application Form Sample
Job Application Form in PDF
Printable Job Application Form
Basic Job Application Form Sample
Employment Job Application Form
When a company uses one general Job Application Form, a lot of time is saved because it helps them skim through the pages with direct knowledge of which portions of the form provide the information that the recruiter is looking for. Job Application Forms are also the perfect way to properly screen applicants and veer away from hiring applicants who falsify the information written on their resumes or curriculum vitae. When applicants are asked to fill out a Job Application Form on the spot, it becomes more difficult for them to make up information. You can also view our sample application forms, Printable Job Application Forms and Generic Job Application Forms, to help you save time and money. Simply click on the link and download the form or customize it with your header before printing it out.
The Advantages of Using a Job Application Form for Recruitmen
Offers Convenience and Practicality
A Job Application Form offers uniformity and allows employers and recruiters to quickly scan through them. This enables them to easily spot the areas which they think are important for the job position. This method of assessment helps them save a lot of time and helps to quicken the recruitment process.
Allows Quicker Profile Comparisons
The standardized Job Application Form allows employers and recruiters to use a simple template, making it easier for them to compare potential candidates based on their set of skills, work performance, abilities, employment history, and educational background.
Promotes Full Disclosure
When an employee submits a resume or a curriculum vitae, chances are that he may have tailored it to highlight his potentials and hide his weaknesses or dark secrets. A Job Application Form lessens the possibility of applicants withholding information about themselves.
A Job Application Form also enables recruiters to spot resumes that are inconsistent with the details provided in their application forms. With the increasing pressure on and competition among job applications nowadays, a lot of applicants find themselves falsifying or exaggerating details on their resume just to make them appear qualified for the position. By letting applicants fill out a form, recruiters can spot-check them for any data that is inconsistent and make a follow-up about it during the interview.
Customizable Employee Job Application Form
Free Job Application Form Example
Faculty Job Application Form
Generic Job Application Form
Standard Job Application Form
Job Application Form Sample
A Job Application Form is not exactly a complicated form. It might be a bit long, but its contents are pretty simple. Below are the basic details that are usually required by an employer of an applicant:
Personal Information
The initial part of a Job Application Form typically requires an applicant to provide his personal information such as his name, age, date of birth, address, e-mail, and contact information.
Position Applied For
After the employee has provided the necessary personal information, he is then required to indicate the position he is applying for and if he is willing to work full time or part time.
Educational Background
A job applicant also has to provide information about his education. In some organizations, information pertaining to an applicant's education starts from high school up to graduate school.
Skills and Languages Spoken
Applicants are also required to indicate their special skills and abilities, preferably the ones that are useful for the position they are applying for.
Employment History
An applicant's work history is considered to be the most crucial section of an employee's application form because it requires the candidate to list down the names of his previous company, the period of time he has worked for them, his direct supervisor, and the company address.
Through an applicant's employment history, recruiters will be able to gauge their career goals, work ethics, and character.
Character References
The last part of a Job Application Form is usually a list of references that the applicant must provide. References may be former or present supervisors or employers, colleagues, or academic professors who can vouch for an applicant's skills, character, and ability.