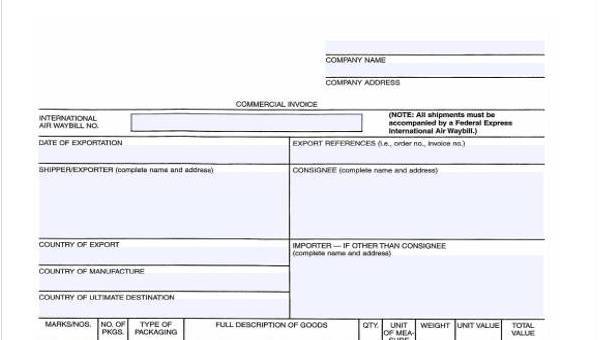 Invoice Forms are handy pieces of paper, especially in cases wherein a client or an organization has a dispute pertaining to payment dues for products or services that have been offered to them. Having an Invoice Form is also necessary for accounting and bookkeeping and makes it easier for accountants to decipher transactions and cash flow.
If you have never used an Invoice Form before or if you are in need of a template for your invoicing needs, you can download from a wide array of our Sample Invoice Forms here. The forms on this page come in PDF format and are easily accessible for printing and download.
Blank Invoice Form
Free Sample Invoice Form in PDF
Blank Commercial Invoice Form
Commercial Invoice Form
Generic Commercial Invoice Form
Free Commercial Invoice Form
Commercial Invoice Form in PDF
Retail Invoice Form
Free Retail Invoice Form
Sample Retail Invoice Form
Business Invoice Form
Custom Invoice Form
Blank Multiple Invoice Form
Free Commercial Invoice Form
Free Invoice Form
Free Fillable Invoice Form
Free Deleading Invoice Form in PDF
Basic Commercial Invoice Form
What Is an Invoice?
An Invoice is also known as a Bill or a Sales Invoice. It is provided by a seller or a service provider to the buyer. Sending out an invoice establishes a sense of obligation on the buyer's part, to pay for the total amount due.
Businesses use an invoice to ensure that the information about the flow of business-to-client transactions are properly recorded for easy processing. An invoice is an important tool that includes an organized and itemized listing of the items that a customer ordered, the price per item, and the total amount of the purchase.
In some cases, an invoice can serve as a written verification of the agreement between a buyer and a seller in terms of buying and purchasing a merchandise or a service.
The Difference between an Invoice and a Purchase Order
The contents of an invoice and a purchase order are somewhat similar, which is why a lot of people do not exactly understand the difference between both forms. A Purchase Order is a form that is provided by a buyer to a seller and is ultimately used to provide a record or a detailed instruction of what a customer would like to purchase from a vendor or a supplier. You can view some of our Sample Invoice Forms and our Purchase Order Forms to clearly identify the difference of both.
Invoices and Receipts
Individuals likewise confuse the terms Invoice and Receipt. Although both sorts of structures are given by the merchant or the seller, an invoice is issued to the purchaser when a payment has been made. A receipt, on the other hand, is given preceding the payment. While a receipt is utilized to track the offers of merchandise or administrations, an invoice, goes about as the purchaser's confirmation of procurement and installment.
Why Should Companies Use an Invoice?
Invoice Forms are useful for businessmen, freelancers, suppliers, and contractors because it enables them to properly and accurately document the amount of money they have received from a client. Below is a list of more specific advantages of using an Invoice for business:
1. Allows Easy Payment Tracking and Liquidation
Using an Invoice is the perfect method for monitoring payments and obligations. Monitoring your income permits you to appropriately deal with your accounts. It is therefore significant to legitimately report your cash exchanges to monitor your profit and your revenue.
2. Creates Lesser Room for Mistakes
Using an Invoice allows you to save on money and time since it empowers you to work proficiently and permits expenses and quotes to naturally show up while limiting blunders.
3. Provides Smoother Billing Processes
The point of making an invoice is so that the customer is able to keep a detailed account of every expense made. This is to ensure that the customer has a clear understanding of what he or she has to pay for.
4. Promotes Professionalism
Having an Invoice allows you to showcase your skills and talents, especially for contractors or freelancers working in the field of design. Having an invoice also denotes professionalism among clients as it serves as a receipt of payment and enables them to keep if for record purposes.
5. Aids in Bookkeeping and Accounting
A company's system in terms of keeping records related to sales can be more organized if there are invoices that can specify the transactions that the business has made with specific clients. This will allow the business to have a more effective and precise process for accounting and bookkeeping.
6. Helps to Quickly Keep Track of Debt
Using an invoice will help the business track the payments of clients. If you own a business, providing invoices to your customers and following a systematized invoice system will allow you to ask for updates about payments in a more formal and professional manner. All one has to do is to make sure that he properly creates the invoice, and attaches it to an e-mail so the client may be able to assess as to why he or she is in debt.
Invoice Distribution Form
Invoice Distribution Form in PDF
Generic Invoice Payment Form
Proforma Invoice Form
Sample Proforma Invoice Form
Free Proforma Invoice Form
Sample Proforma Invoice Form
Vehicle Invoice Form
Sample Vehicle Invoice Form
Car Sales Invoice Form
Vehicle Bill Sale Form
Invoice Request Form
Invoice Private Sale Form
 Invoice Request Form Example
Sales Invoice Request Form
What Does an Invoice Include?
Invoice forms are pretty general in form. You can easily choose from our wide array of Invoice Forms to download and use. Whether you need a supplier invoice form or a  Commercial Invoice Form, we got you covered. More so, you may opt to use Customs Invoice Forms or Blank Payment Invoice Forms if you want to design and format your business' own invoice forms.
If you are new to an industry and are wanting to know more about Invoice, below are the usual sections that are included in an Invoice Form:
1. Date – You need to ensure that you're charging your clients right, which implies that you have to charge them when the clock ticks on their start date. This is particularly true for organizations that include the rendering of administrations where representatives are being paid by the hour.
As a business, you need to make sure that you will also look on the sustainability of the processes that you will follow. Ensure that you will include the payment deadlines and other terms and conditions that you would like to address in the invoice. With this, the clients will have an idea on the due date that they need to take note of so they can pay you on or before that specified date.
2. Name and Address of the Vendor – Having your company logo on your Invoice Forms as well as the company's names, address, and contact details does not only exude a sense of professionalism and legitimacy; it also allows your clients to contact you and is essentially useful in bookkeeping and in the accounting  process in order for them to track company expenses and where exactly the money was allotted to.
3. Name and Address of the Consumer – Showing your customer's name and physical address can be really helpful, particularly in the event that you don't hone web-based invoicing or on the off-chance that you don't utilize a bookkeeping program. Having your customer's address can permit you to mail out the bill or the letter to them. You should likewise ensure that all names and addresses are right and are precisely spelled. There is nothing more irritating than getting a bill that bears a wrongly spelled name – or more terribly, the wrong name!
4. Description of Items – One of the things that you should be very keen about when writing an invoice is the description of the items that are needed by the customers. There are items that differ in terms of sizes, color and other characteristics which is why you need to be specific when describing the items that you will write in an invoice. Your item descriptions do not need to be too long. A phrase about the item to be purchased is already fine. This description should be particular and directly pertains to the item that you will provide your customer with. If it is a specialized service that you will give to a client, make sure that you have a breakdown of the total cost that you want your client to pay. This is so they will be aware on why they need to pay the amount that you want them to give in exchange of the particulars of your services.
5. Payment Terms – To make sure that there is a clear understanding between the payment methods, terms and deadlines; the invoice that you will make should include a direct to the point discussion of the terms of payment. Specify the date or the time duration that you would like your client to follow in terms of payment. As an example, you can give a thirty day period for the total amount to be paid. Also, you can specify the penalties and other fees that you can charge your client with should the payment be late or delayed.
Authorization to Invoice Form
Sponsor Authorization to Invoice Form
Invoice Payment Authorization Form
Sponsor Billing Authorization Form
Third-Party Invoice Authorization Form
Sales Invoice Form
Printable Invoice Form
Basic Invoice Form
Free Invoice Format
Contractor Invoice Form
General Contractor Invoice Form
Contractor Invoice Form Example
Service Contract Invoice Form
Payment Invoice Form
Advance Payment Invoice Form
Request for Non-Invoice Payment
Residency Invoice Form
Artist Residency Invoice Form
Residency Invoice Form in PDF
How Do You Send an Invoice to a Client?
Before anything else, you need to remember that Invoices are only sent to the customer right after you have shipped or delivered the items that have been ordered or right after the service has been completed. After which, you can then begin to:
1. Know your customer. To identify the customer that made a purchase or acquired a service is a great start in creating an invoice. Knowing your customer will help your business provide special offers and other items within the invoice that can help you get client loyalty.
2. Provide a complete list of the purchased goods before sending the invoice. A purchase order is an important tool in assuring that the business and the client are at the same page in terms of transaction expectations. In identifying the purchased goods, make sure that you will maximize the fullest potential of the tool by using it as your own checklist as well.
If the invoice contain the list of services that your client acquired, your invoice should include details of the hours of the services that you have rendered or the specific items that you have provided to the client. As an example, a graphic designer invoice may have the number of hours that the graphic designer used to finish a design item or it may also have the particular graphic design services that he/she has done for a project.
3. Precisely state the payment terms. We have stressed this item strong enough within the entire discussion as it is not just important to exactly specify the amount of the transaction but also to provide a guide on how the payment shall be made. Payment terms should be well-curated so the client will know whether installments are allowed or there are specifics when it comes to the expected dates of payment.
It is also advisable for businesses to include the special discounts given to loyal customers or those who will pay fully in cash so clients will be motivated to have repeat transactions.
4. Check the invoice number. The invoice number per transaction should be different from one another. Make sure that no invoice number has been doubled as it can affect the record that you will create. More so, the invoice number should also be stated in the sales receipt for easier checking should disputes occur within the transaction period.
Invoicing and Freelancing
If you are into the field of Freelancing, or you are independently working as an artist, a graphic designer, a writer, a blogger, etc., then you will need to practice the art of invoicing to make sure that you get paid right and you get paid on time.
As a freelancer, the capacity to deal with your income assumes a major part in your calling. Everybody needs to be paid on time and keeping a record of your income is one basic piece to ensuring that you and your business remain above water.
Invoices allow businesses to be protected when payment schedules and conditions are needed to be met. On the other hand, clients can assure that they are paying the specific services and/or products that they need when these are clearly stated in the invoice. Generating invoices is a great way to breakdown all the details of the transaction. Whether you are an establishment or a freelancer, having an invoice will make it easier for you to be paid on the time that you have included in the tool as you have indicated the payment request in a formal manner.
Using an invoice exudes professionalism and the legitimacy of your work, and while we're at it, if you are a graphic designer, the design of your Invoice also showcases your work.
Download our Free Invoice Sample Forms online. We also offer varied types of sample forms. Download our Agreement Forms, Purchase Order Forms, Receipt Forms, and many other sample templates.