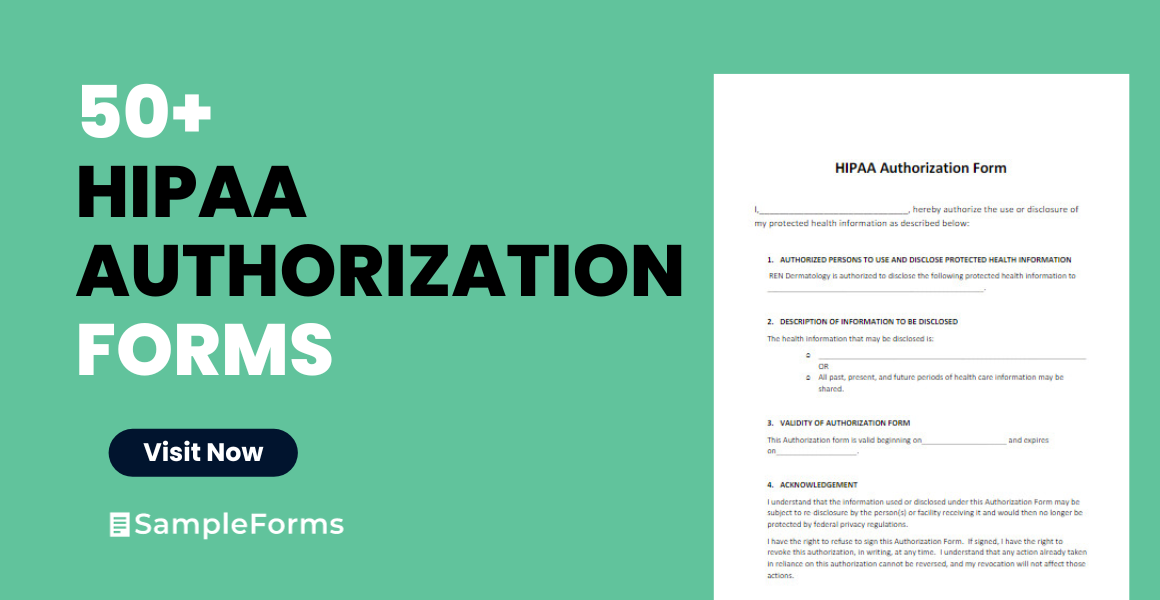 The HIPAA Authorization Form stands as a sentinel in the world of healthcare, ensuring patient data privacy while facilitating necessary information flow. A product of the Health Insurance Portability and Accountability Act, this form is a passport for one's personal health information to traverse various medical landscapes. Its nuances, ranging from distinct types to meticulous creation methods, are vital for both patients and providers. Embarking on this exploration, we'll uncover its essence, manifestations, crafting guidelines, and best practices to ensure optimal data protection and sharing.
What is a HIPAA Authorization Form ? – Definition
A HIPAA Authorization Form is a legal document that allows an individual to give permission to a specific entity, such as healthcare providers or insurance companies, to use or disclose their protected health information (PHI) for designated purposes, which are generally other than treatment, payment, or healthcare operations. Originating from the Health Insurance Portability and Accountability Act (HIPAA), these fillable form ensures that an individual's PHI is safeguarded and only disclosed with explicit consent, respecting their privacy rights while accommodating the needs of healthcare operations.
What is the Meaning of a HIPAA Authorization Form?
The meaning of a HIPAA Authorization Form centers on the principle of informed consent in the realm of health data privacy. It signifies an individual's deliberate choice to allow specified parties to access, use, or disclose their protected health information (PHI) under certain conditions. The form acts as both a shield and a gatekeeper; while it protects an individual's rights by restricting unwarranted access to their medical records, it also facilitates necessary communication of health data for purposes that might not fall under direct care, such as research or legal matters. Essentially, it ensures transparency, choice, and control for patients in how their PHI is handled.
What is the Best Sample HIPAA Authorization Form?
While the best sample HIPAA Authorization Form would be one tailored to a specific organization's needs and legal counsel's advice, here's a generic sample to provide an idea of the standard components:
Patient's Details:
Full Name: ___________________________________
Date of Birth: __________
Address: ___________________________________
Purpose of Disclosure: (Describe each purpose, e.g., medical treatment, insurance claim, research, etc.)
Information to be Disclosed: (You can list specific types of information like medical history, diagnoses, treatment plans, etc.)
Name or Specific Identification of the Person(s)/Entities Authorized to Use/Disclose the Information:
Name or Specific Identification of the Person(s)/Entities to Receive the Information:
Expiration Date: (This could be a specific date, event, or condition)
Initial Below for Special Medical Information:
_____ HIV/AIDS-related information
_____ Mental health information
_____ Genetic information
_____ Alcohol/drug abuse treatment
Acknowledgments: I understand that:
I can revoke this authorization at any time by notifying the disclosing entity in writing, but that won't affect any actions taken before receiving the revocation.
If the entity disclosing my information isn't a health plan or healthcare provider, the disclosed information may no longer be protected by federal privacy regulations.
Signature of Patient or Representative: ____________________________ Date: _________
Description of Representative's Authority: ____________________________
---
This template provides a basic structure. It's essential to ensure that any actual form used complies with HIPAA's requirements and any other state-specific regulations. Institutions should also seek legal guidance when creating their forms. You can also browse our HIPAA Release Form.
FREE 50+ HIPAA Authorization Forms
51. HIPAA Client Authorization Form
How do I fill out a HIPAA Authorization Form correctly?