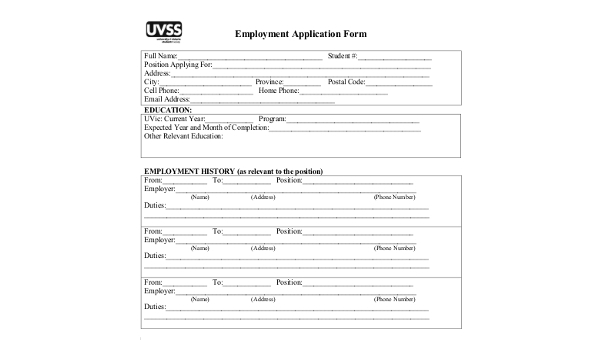 Application Forms are the perfect solution for recruiters or employers to easily trim down the list of potential hires and make interviews less of a hassle. When a job vacancy opens, the queue of applicants can sometime be a drag. A recruiter's initial response is to figure out a way to make the hiring process quicker and more manageable.
Through the use of Employment Application Forms, those in charge of employment save time by going through all the necessary information they need that's already available in these forms. These forms allow them to assess if these people have the necessary qualifications to take the position being up for hire.
Customizable Employee Job Application Form
Generic Employment Application in PDF
Standard Job Application Form
Generic Job Application Form
Basic Job Application Form Example
An Employee Application Form is a standardized form that is filled out by applicants which typically requires them to indicate details relevant to the job they are applying for.
Aside from allowing a recruiter to process applications conveniently, Employee Application Forms also diminish the possibility of the applicant indicating fraudulent information. Everyone knows that a CV or a resume brought in by a candidate is specially designed to highlight an applicant's achievements and to make him look good. It does not, however, show more questionable instances, such as an employee's habit of hopping from one job to another in a span of 3 months, or that he was terminated by his boss 2 weeks ago.
Employment Application Forms allow applicants to provide genuine information about themselves and their work history, off the top of their heads. When they are in your office, filling out an application form, it will be pretty difficult to match their employment history with what is exactly indicated in their resume, especially if they omitted a past employer for whatever reason.
Find more samples of our Generic Employment Application Forms by simply downloading them and customizing them according to your needs.
Enumerated below are the essential contents of an Employment Application Form:
The Employee's Personal Details
The first portion of an Employment Application Form usually asks the applicant to provide his personal information such as his name, age, date of birth, address, e-mail, contact information, and ID numbers.
Title Being Applied For
The employee is then asked to provide the job vacancy that he is applying for and if he is applying for a full-time or a part-time position.
Educational Background
One way for employers or recruiters to guarantee that you fit the requirements needed for the vacancy and that you have the potential to perform the obligations required of you is to check and validate your educational background.
Educational requirements vary according to the type of position being applied for, the work responsibilities, and the company's preferences.
Generic Blank Employment Application Form
Generic Printable Employment Application Form
Free Generic Employment Application Form
Generic Restaurant Employment Application Form
Skills and Languages Spoken
Applicants are also required to indicate their special skills and abilities in an Employment Application Form.
Work History
Most application forms require an employee to indicate their employment history in order for them to validate the authenticity of their experience.
Some companies require work experience for certain job titles, and an employee listing down a history of his experiences helps them gauge if they meet the requirements or not. This is also a method for recruiters to do a background check on an applicant's character with previous employers or to validate their claims.
References
The last part of a Job Application Form is usually a list of references that the applicant must provide. References may be former or present supervisors or employers, colleagues, or academic professors who can vouch for an applicant's skills, character, and ability.