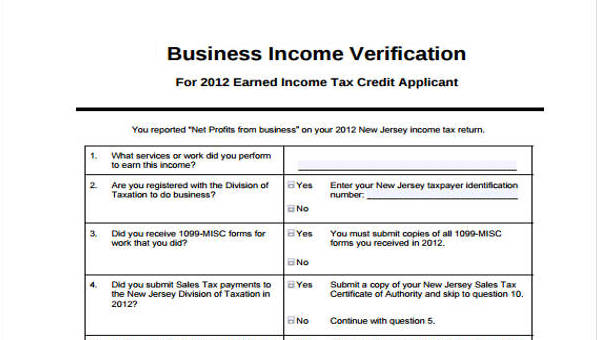 There are many ways to verify an inquiry, such as searching online, books, records, and all other references which are open to the public. However, there are certain pieces of information which are not readily available for sharing with just anybody. This data will only be given if the inquiring individual will present a legal document called a Verification Form.
Verification Forms are random in appearance as it depends on the organization or agency, and the user of the form. This document is an instrument in confirming a subject's accurate statements. Scan through this article to view various formats of Verification Forms.
Employment Verification Forms
Medicaid Employment Verification Form
Child Care Employment Verification Sample
Rental Verification Forms
Rental History Verification
Sample Rental Verification
Free Rental Verification
Rental Verification Request Form
Income Verification Forms
Parent Income Verification
Income Tax Return Verification
Student Income Verification
Business Income Verification
Landlord Verification Forms
Sample Landlord Verification
Free Landlord Verification
Printable Landlord Verification
Basic Landlord Verification
Why Use a Verification Form?
The reasons for using a Verification Form is countless, ranging from easing up a transaction, to documenting a client's inquiry. Firstly, if you are a client trying to verify your account information from a bank, the form will ease the transaction by immediately letting the bank teller know what you want since the form had an indicated title.
Secondly, the authorized person, such as the teller, will be able to know which of the client's information requires verification without wasting time conducting an interview since the client's data was already stated on the form. This form will also help the agency or organization in tracking which clients requested verification and validation. In the business and employment industries, the form will aid the management in hiring proficient employees by using an Employee Verification Form which aims in verifying the status and skills of the applicant.
Fraud information and identities can be cleared by undergoing a verification process. In addition, this form will also help in the industry of healthcare. Just by completing a Healthcare Insurance Verification Form, doctors, physicians, and medical centers will know if their patient is a beneficiary of a policy holder or not.
Wage Verification Forms versus Salary Verification Forms
Wage and salary are two words which are related to financing, accounting, and employment. Although these terms are usually used together when introducing a newly hired employee to the industry, each has a different meaning. A wage refers to the payment granted to an employee per hour that he is at work. The Wage Verification Form will contain the approximate hourly rate of the employee. On the other hand, a salary consists of a summation of the employee's wage in a given period.
In a Salary Verification Form, an individual will have to state his annual salary from his previous employment. These documents are commonly used when a person will be applying for an assistance program, such as the SNAP (Supplemental Nutrition Assistance Program) in the United States, and whenever a new employer is asking for details about his employment records. It is important that the data stated is accurate and true, since the agency who will be using the information will investigate and gather more documents with the help of the references that the employee has stated at the end of the Verification Form.
Medical Verification Forms
Health Insurance Verification
Medical Eligibility Verification
Medical Director Verification
Insurance Verification Forms
Insurance Benefits Verification
Dental Insurance
Health Insurance
Wage Verification Forms
Employer Wage
Child Care Service Wage Verification
Wage and Salary Verification
Kinds of Verification Forms
The types of Verification Forms will vary depending on where it is to be used, and who is the one who verifies the information. Here are the various kinds of verification forms:
Employment Verification Forms – Verifying an employee's eligibility has been in the job promotion and application process of every company for a long time. A company's recruitment staff will have to use an Employment Verification Form when going through this process. The form will contain the employee's achievements, skills, educational attainment, and his job proficiency.
Child Care Employment Verification Forms – This is the type of document which is often required by Child Care Providers when an individual who is under the minority age is applying for benefits and subsidiaries. Contents of the form will include the details about the company or the employer who hired the child, the responsibilities and duties of the child, and his work schedule. A Child Care Service Wage Verification Form may also be used for knowing the minor's hourly rate in the period of his employment.
Rental History Verification Forms – This form is used by landlords who want to assure the capability and identity of their prospective tenants. Questions regarding the tenant's period of stay, attitude, attentiveness of paying on time, and meeting the terms of the Tenancy Agreements are stated in the form and are required to be answered by the previous landlord of the tenant. Another alternative for this document is a Rental Verification Request Form and a Tenant Residency Verification Form which contains more inquiries for verifying the prospective tenant's residency and citizenship information.
Parent Income Verification Forms – This is the type of document to be completed by a student who is applying for educational financial assistance. The student will have to indicate the actual income that his parents are receiving and the details of his parent's employment. There are a lot of qualifications that needs to met by the student before the financing agency will consider granting him the loan.
Income Tax Return Verification Forms – As an employed citizen of a country, an individual is required to file taxes which are regulated by the government, and one of these is filing an Income Tax Return. This form will be of great use whenever a person will have to verify if he had been on track in paying his taxes or if he may have skipped a payment.
Student Income Verification Forms – One requirement in applying for a scholarship is to complete and submit this type of form. The form will contain information regarding the student's employment income and if he had been receiving benefits by the employer.
Tenant Income Verification Forms – A landlord does not yet completely give his trust to a new tenant, especially in dealing with rental payments and other financial matters. This form will help the landlord know his tenant's employment information and the eligibility of the tenant's income to pay the monthly rent.
Landlord Verification Forms – Some governments in other countries require this type of form as proof of the landlord's residency. The amount of paid electricity bills and other expenses are vital sections that should be indicated in the form. Further details about the landlord's owned property and his required rent amount is also found within the document.
Health Insurance Verification Forms – Emergencies can happen anytime, therefore, a family should always be prepared by reaching out to insurance companies. This type of Verification Form is used for inquiring information about the insurance plan, and the coverage that the insurance agency is granting to their members. An individual may also use an Insurance Benefits Verification Form if he wants to verify the specific benefits that he will receive from the insurance provider.
Job Verification Forms
Job Employment Verification
Employment Verification
Tenant Verification Forms
Tenant Employment Verification
Tenant Residency Verification Disclosure
Tenant Inspection Request
Tenant Income Verification
Rental Verification in Doc
Basic Job Verification Form
E-verification Systems and Paper Verification
Due to the advancement of technology, verifying information is now easier and faster. An individual will only have to connect to the internet, sign into the agency's website and input the information that he needs to verify. However, some downsides in using an E-verification system is the capability of verifying information which is owned by other people without their authorization. This may be solved if the agency will have preventive measures with regards to disclosing information of their members, such as sending an EVC (Electronic Verification Code) to the person whose information is needed to be verified. This is a 10-character alphanumeric code and is valid for the next seventy-two hours from the minute of receiving it. Banks also use Account Verification Forms online with the aid of a person's bank details, such as their account numbers and passwords.
Paper Verification or Physical Verification have been used ever since the day that people needed security. These physical documents are more dependable than e-verification systems in terms of privacy, since only the person who verifies and the authorized personnel will be involved in the information transaction. An individual may download a Verification Form from a trusted source, fill it out, and submit it to the agency on site. However, keeping physical documents can take up space in an agency or organization, which then adds a positive point to an e-verification system. However, no matter what form of verification a client will choose, it depends on the agency as to how they will manage the client's inquiry and verification.
Three Important Sections of a Verification Form
Since every verification form meets different purposes, for example, a Job Verification Form is for employment purposes, and a Transfer Verification Form is for checking if a title or a property had been transferred, it is no longer necessary to name every part of the form. However, it will be helpful if you know the significant sections found in any Verification Form.
The Details of the Filer. This will include your name, as the person filing the form, and your contact information.
The Purpose. Your main purpose of why you require this verification is important.
The Questionnaire. This area needs to be answered with full honesty. If the agency will ask for particular documents as proof of your answers, you should be able to present those for accuracy purposes of the information you stated.