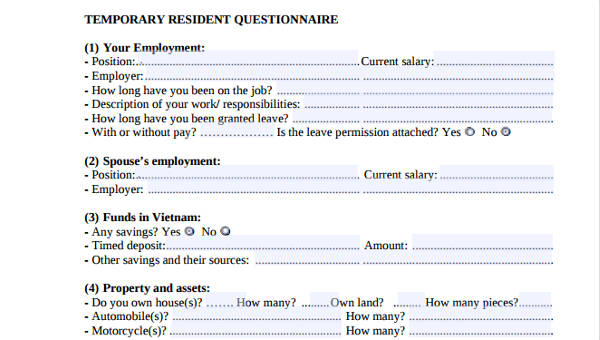 Various companies and organizations use questionnaires and surveys to gather or collect data and information for various purposes. They could be for market research to improve the quality of their products, or to gather information on how employees perceive their company and management.
It is important to weigh the different advantages and disadvantages of questionnaires before using Questionnaire Forms as a means to gather information. For market research, if you want to reach a more diverse group of people and have the questionnaires answered as soon as possible, using online questionnaires may be a more practical choice. For smaller companies, the use of paper Questionnaire Forms may be easier.
Interview Questionnaire
Job Interview
Exit Interview
Sample Questionnaire
Residence Questionnaire
Temporary Resident Questionnaire
Supplemental Residency
Core Residency Questions
What is a Survey Questionnaire?
A Survey Questionnaire is a set of questions designed to collect data or information from a selected number and group of people from a total population, called a sample group. This information is then analyzed and conclusions are drawn from the analysis. Survey questionnaires are used by companies for statistical purposes, such as in market research, to improve products and services or gather insight on how they are perceived by the public or their constituents. Employment Questionnaire Forms are also used for this purpose.
Guidelines in Making a Questionnaire
Planning
The first step in making a questionnaire is to plan two things: what information do you want to gather and how do you plan on using it? Knowing the answers to these questions can help you formulate the right questions that will help you gather the information that you need.
Questions
Depending on what kind of information you want to gather, you may use open-ended or close-ended questions, or a mixture of the two. Close-ended questions are used to gather specific answers to questions, while open-ended questions are used for gathering feedback or suggestions. You should also ask questions that allow you not to be seen as biased and misleading. These tips are also applicable for Medical Questionnaire Forms.
Medical Questionnaire
Adult Health Questionnaire
Medical History
Driver Health Questionnaire
Health Questionnaire Forms
New Patient Health Questionnaire
Student Medical Form
Patient Health Form
Client Health Form
Sample Questionnaire Form
Client Information Questionnaire
Food Questionnaire Forms
Food Frequency
Supplier Approval
Health Survey Questionnaire
Financial Questionnaire
Family Financial Questionnaire
Confidential Financial
Personal Financial
What is a Directions Questionnaire?
A Directions Questionnaire is used by the court to gather and collect information on a claim if a case is likely to progress, so that it can be decided which procedural track it will be assigned to. There are three possible procedural tracks that a case can be assigned to – small claims track, multi-track, and fast track. A Directions Questionnaire is sent to both the claimant and the defendant for them to provide information that is relevant to the case, such as the witnesses, evidences, and details of the claim.
Different Types of Questionnaires
A questionnaire can be divided according to its structure and according to the nature of the questions it asks.
Structure
Structured questionnaire: These types of questionnaires are those that are prepared in advance. They ask definite questions and are usually used for formal situations.
Unstructured questionnaire: This type is more of the informal type and is usually used as a guide for interviewers.
Nature of Questions
Close ended questionnaire: For this questionnaire type, the respondent's answers will be limited to the choices provided on the questionnaire. The answers could just be a mere yes or no, or any other specific answers. For this questionnaire type, the respondent cannot elaborate or state his opinions on a certain subject matter. Food Frequency Questionnaire Forms are a good example of this.
Open ended questionnaire: This is a questionnaire type that can be used to gain a respondent's feedback and suggestions, and allows them to provide a more in-depth answer to the questions presented. In this questionnaire, a respondent can freely express his opinions and views on a subject matter.
Mixed questionnaire: This is a type of questionnaire that is a mixture of close-ended and open-ended questions. Some Health Questionnaire Forms are mixed, because there are times when patients are required to provide more information on a surgery or injury.
Satisfaction Questionnaire
Patient Satisfaction Questionnaire
Employer Satisfaction Form
Disability Questionnaire
Pain Disability Questionnaire
Questionnaire for Disabled Dependent Health Benifit
Buyer Questionnaire
Official Buyer
Employment Questionnaire
Employment Intake Questionnaire
Pre-Employment Questionnaire Form
New Employee Questionnaire
Activity Questionnaire
Work Activity
Return to Work
Flexible Work Arrangement
Job Questionnaire
Job Analysis
Job Description
*** Please write 200 words (2 Questions) here
First Question – how to analyse a questionnaire? (100 words, Include "Interview Questionnaire Forms " words in it)
Second Question – what is the ages and stages questionnaire? (100 Words, Include "Survey Questionnaire Forms" words in it) (will put this at the last box because no more space)
Guidelines in Analyzing a Questionnaire
The first thing to consider before you start analyzing the responses you get from a questionnaire is the purpose of your survey questionnaire or research. Keeping this in mind will help you find the right way to analyze the information you have obtained and present it in a manner that it will be useful.
Categorize the responses you have gathered based on attributes that would make sense and are important for your business. You may categorize them based on demographics so that you can analyze the frequency of responses given by a certain group of people. For example, for Interview Questionnaire Forms, you may notice a trend in the strengths and weaknesses of your employees or potential employees based on what group they belong to in your categorization, such as level of education or age groups.
You may also observe and measure the changes in the responses to your questionnaires over a period of time. This will help you gain insight on how your company or organization has developed or improved over the years or over a given period of time. Survey Questionnaire Forms are after all a tool used for the betterment and improvement of a company.
Criminal Questionnaire
Criminal Record
Criminal History
Criminal History Questionnaire Sample
Personal Questionnaire
Personal Injury
Personal Information
Personal Data
Travel Questionnaire
Pre-Travel Questionnaire
Patient Travel
International Travel
Simple Travel Questionnaire Form
Sample Vendor Questionnaire Form
What is an Ages and Stages Questionnaire?
An Ages and Stages Questionnaire is filled out by a parent or legal guardian, along with a parent consent form, to monitor and track the development of a child from birth to six years of age. This will help parents know if the social and emotional development of their child is right on track or if the child has to be referred to a professional for a developmental checkup. The results on an Ages and Stages Questionnaire can also be used by parents when speaking with a teacher about their concerns on their child's development. We also have Financial Questionnaire Forms in PDF format. They are used to keep one's financial affairs in order.
Tips to Writing the Perfect Survey Questionnaire
Avoid using leading words or vague words, such as "might", "could", or "should". If you want to gather clean data and prevent ambiguous answers, use strong and definitive words on your questions.
Use the funnel method when deciding on the order of questions to be asked. Ask more general and broad questions at the beginning to serve as a warm-up, then move to the more specific questions at the last part to really gather in-depth information.
Avoid the use of jargon and acronyms to ensure a higher response rate from your respondents.