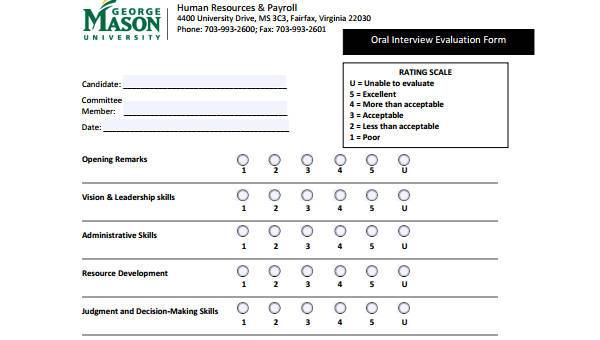 An organization's Human Resources Department plays a very vital role in the success and stability of any company or organization. The employees or constituents of a company or organization are one of their assets, and it would be impossible for a company to succeed without them. The Human Resources Department of a company are the ones who handle various responsibilities and tasks related to employee relations, which is why they are very important.
In their daily dealings, they utilize various forms, called HR Forms, to properly handle a company's employees. You may download our samples below or check out our other articles about HR Forms to find more samples. You're sure to find ones that you can use for your HR department.
Free HR Feedback Forms
HR Induction Feedback Form
Interview Feedback Form
HR Customer Services Survey Form
HR Employee Performance Feedback Form
HR Complaint Forms
HR Complaint Intake Form
Employee Complaint Form to HR
HR Employee Complaint Form
Discrimination and Harassment Complaint Form
HR Warning Notice Form
Warning Notice Form
HR Appraisal Forms
HR Performance Appraisal Form
HR Employee Appraisal Form
Sample HR Staff Performance Appraisal Form
HR Self-Appraisal Form
Roles and Responsibilities of the Human Resources Department
To have a good grasp of the importance and purpose of HR Forms, it is important to understand the roles and responsibilities of the Human Resources Department in a company. Here are a few:
Recruitment – A company's success relies on the skill and motivation of their workforce. It is one of the HR Department's roles to make sure that the employees they hire are those who are really qualified, not only by skill, but by physical fitness as well. HR personnel post job vacancies on various platforms to attract the kind of people they want. Then, they screen applicants and conduct interviews for shortlisted candidates. For these job interviews, an HR personnel may use an Interview Assessment Form.
After an applicant has been interviewed and taken every step in the recruitment process, the HR personnel is then responsible for conducting a job offer, where the chosen applicant/s are then provided the requirements they need to acquire to start their job. The HR personnel also work hand in hand with the respective managers for the vacant positions to make sure that the chosen applicant is really fit for the job.
Compensation and Benefits – After the applicant is offered the job, then comes the discussion of provided compensation and benefits, which varies depending on the position, and the skills and experience of the applicant.But the responsibility of the HR personnel does not stop there. He also coordinates with various government agencies, health insurance providers, and retirement plan providers to ensure that the benefits of the employees are in place.
He also makes sure that the employees are duly compensated and that any deductions for such benefits are computed properly. At times, when a company chooses to, they can have a different department, called the payroll department, handle the computation of the employees' compensation each month. Ensuring that the employees are properly compensated is an important factor in Human Resources, and for this role, an HR personnel can use Employee Payroll Forms.
Training and Development – Before an employee can actually start performing his responsibilities in a company, he has to be trained first. He has to be provided with the proper tools and knowledge to succeed in his roles and duties and perform them to the best of his abilities. Leadership training can also be provided for employees who are promoted to a managerial position. Various Training Feedback Forms can be used to improve the courses, trainer, and methods of training to tailor-fit the needs of the trainees.
Aside from these kinds of training, development programs, such as tuition assistance, can also be provided to employees to help them with their career and personal growth and development. This can be beneficial to both the employee and his employer.
Free HR Payroll Forms
HR Payroll Action Form
HR Payroll Profile Form
Employee Action Request
Salary Advance Request Form
HR Evaluation Forms
HR Oral Interview Evaluation
HR Job Evaluation
HR Candidate Evaluation
HR Employee Self Evaluation
HR Form Templates
HR Daily Attendance
HR Personal Data Form Example
New Hire Reporting
HR Clearance Forms
Faculty and Staff HR Clearance Form
HR Personnel Clearance
Safety – It is every organization's responsibility to make sure that their employees are safe and healthy. It is also every company or employer's responsibility to ensure the safety of their employers under the Occupational Safety and Health Act of 1970. Aside from the moral responsibility, there are legal implications if an employer fails to ensure that the workplace is safe. It is the HR department's responsibility to conduct risk assessments with the aid of various types of Risk Assessment Forms.
Risk assessment is the process of identifying risks and health hazards present in the workplace, and eliminating or reducing those risks. In the process of the reduction or elimination of such risks, an HR personnel can conduct safety training to the employees who are exposed. It is also his responsibility to ensure that works are duly compensated if they have an accident in the workplace.
Compliance – It is the HR department's role to make sure that their company or organization is compliant to the various employment and labor laws governing their state and country of location. This helps in avoiding complaints regarding unfair employment practices, and unsafe or unsatisfactory working conditions. This is important because they can affect an employee's productivity, which can ultimately affect a company's profitability and financial stability.
Aside from making sure that the company or organization is compliant to various labor laws, it is also the HR department's role to make sure that the employees are compliant to organizational rules and policies. Whenever an employee is non-compliant, the HR personnel can issue a verbal or written warning to the employee. He is also responsible for issuing Employee Warning Notices if the employee does not show improvement with the issuance of a verbal or written warning.  In issuing such notices, the degree and nature of the offense, and the number of instances it was committed, have to be considered.
Employee Relations – The HR department is the middle man between the employer and the employee. That being said, they are responsible for strengthening the working relationship between the two. They record employee complaints by the use of Employee Complaint Forms, which would provide the basis of the evaluation, planning, and implementation of necessary improvements to alleviate the complaints of the employees. The proper handling of employee complaints ensures employee engagement and overall job satisfaction, which ultimately ensures productivity and profitability. The HR department may also communicate with labor unions to assist in protecting the rights and interests of workers or employees.
HR Requisition Forms
HR Job Requisition Form
Employee Requisition Form
Position Requisition Form
HR Termination Forms
Employee Termination Form
Termination or Retirement Form
Employment Termination Checkout Form
HR Action Form
Customer Service Feedback Form
Types of HR Forms
With the myriad of responsibilities of a Human Resources personnel, there are various HR Forms that he can use in his daily dealings with employees and other organizations. Here are some samples:
HR Feedback Forms – Feedback Forms are important in assessing the performance and improvement of employees in various departments, and that includes the HR department themselves. A timely and thorough evaluation using such feedback forms can help identify areas for improvement and address them right away. Aside from assessing employees, these forms can also be used in assessing candidates for a certain vacant position. This will allow a side-by-side comparison of the candidates so that the hiring manager can choose the candidate who is best fit for the job.
HR Complaint Forms – Complaints are inevitable in every organization. That is one of the weaknesses of being human. It is very important for each organization to provide healthy ways for their employees to voice out their complaints and concerns with management, rules and policies, or their working environment. This is why HR Complaint Forms, like any other complaint forms, are very vital to have in every organization.
Listening to the employees' complaints can make the employees feel that they are valuable to the company. This will surely motivate them to be more productive and reduce a company's attrition rate. An organization or company can show that they are listening by responding appropriately and promptly to the complaints raised, and planning ways to act on those complaints as soon as possible.
HR Warning Notice Forms – These can also be referred to as Employee Warning Notice Forms, which are forms used for giving warning notices to employees who do not abide with company rules and regulations.Every organization has set rules and regulations to protect their interests, instill discipline among employees, and create a conducive working environment. Notice Forms are used to properly document the disciplinary measures taken for legal reasons, in case the unresponsiveness of an employee would lead to termination.
HR Appraisal Forms – Companies and organizations conduct performance appraisals from time to time to assess the performance of their employees. Certain factors are considered in the appraisal, such as the employee's quality of work, job knowledge, punctuality, compliance, professionalism, and other things that the HR department deems necessary.
The items on an HR Appraisal Form depends on the nature of the company's business. The employee's performance is assessed and quantified, and the data collected can be used as a basis for a pay increase or a promotion.
HR Payroll Forms – This is used for collecting employee information necessary for payroll purposes. One example is the use of Salary Advance Request Forms to request for a salary advance. Payroll Forms are also used to take note or record changes that might affect the reporting of an employee's compensation or salary to the SSA, such as name or address changes. The use of HR Payroll Forms is crucial since it involves the compensation of employees. Improper recording of employee information can have have serious implications.